<!Top headline>
Odyssey White Hot 7
<!Top image>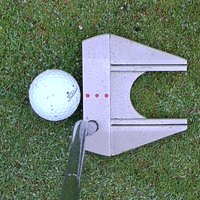 <!Text begins>
How does it look behind the ball?
The Odyssey White Hot 7 shape is a fairly futuristic design with some angular edges and not much soft styling. The finish is high quality, just as you'd expect from Odyssey, but it'd be hard to say it was an attractive putter.

But even if you don't think it's the prettiest putter in the pro shop, there are compensations. The major benefit of all those angles and sharp edges is that it's easy to aim. The three dots on top of the putter head seem to link up well with the straight edges at the back of the putter to give you a very clear idea of where you're aiming.

Another feature of the putter we liked was the curved shape of the chunk cut out of the rear of the putter. Because it's the same shape as the outline of the ball and because there are straight edges connected to it that are parallel to the aimline you get a real sense of where you're aligning the head.

Overall therefore, you'll find alignment of this unusual shaped putter surprisingly easy.




How does it feel?
The long putter version of this putter felt to us to be a bit dead, although that's not unlike most long putters. We absolutely love the white hot and White Ice inserts Odyssey makes, but you might be wishing it had a harder face for more feedback in the long putter version.

The weighting of the clubhead also seemed only just adequate for the length of the shaft and you might find it hard to get a sense of the distance if you were using this putter on slow greens.

It seemed to be extremely light. You need to give it a good bash to get the ball up to the hole. We tested it on medium-to-fast greens and nothing came close to scaring us in terms of the speed at which the ball came off the putter face.

It's probably a great putter for lightening fast greens and not so good for slower nappy surfaces.


How does it roll the ball?
<!Logo image>

No complaints with the Odyssey White Hot 7L here, the roll is first class, as with all Odyssey putters.








Sorry, this function of our site is in development and will appear here shortly. Please check back soon!






Sorry, this function of our site is in development and will appear here shortly. Please check back soon!




Sorry, this function of our site is in development and will appear here shortly. Please check back soon!






The level of feel you get from the Odyssey White Hot 7L isn't what we'd describe as great. It's essentially a rather dead putter so it'll play brilliantly on fast greens, but probably not so well on slower greens. The looks and roll make it a good purchase otherwise.


Others to consider:



Never Compromise Voodoo Daddy Belly Putter

Super-long aimline and futuristic design. Solid, affordable belly putter.



Ping Crazy E

One of the easiest putters to line up we've ever tested, but feel is hollow



Odyssey 2 Ball

The iconic putter of the 2000s - easy to aim, great feel



TaylorMade Rossa Kia Ma Fortuna

A highly refined mallet from TaylorMade - recommended!



Odyssey White Ice 5

D Shaped blade with original, classic White Hot insert... beautiful.



Odyssey White Ice 5

Classic face balanced D shape with silky soft Ice White insert!



Yes Natalie (C-Groove)

Futuristic design with amazing roll and super long aimline.



Return to Odyssey Putters Page

Return to the Best-Putter.com homepage


For more information on the Odyssey White Hot 7L Putter, click here

Not sure whether an Odyssey White Hot 7L is right you? Click here for our guide to choosing the right putter for your stroke.