Choosing a Putter? 
Read this first to make more putts...
Choosing a putter that fits your game is the most overlooked, but most vital thing you can do to lower your score. It's crucial to get it right.
The following tips make it easier to select the right club for you and save the irritation of bad putting!
1. Select the putter balance that fits your stroke... Disregard the rest!
(In my view this is the most important secret in choosing a putter):
Putters are weighted differently to suit different types of stroke. If you have a pronounced arc, open-square-closed stroke - like Tiger Woods or Phil Mickleson - then you should be choosing a putter which is
toe weighted
.
---
---
If, on the other hand you are trying to achieve a moderate arc - like probably 80% of PGA tour players - or a straight back and straight through stroke (now a rarity on tour) the best style of putter for you will be a
face-balanced putter
(see image).
You can see what is meant by face balanced and toe weighted in the picture above. Imagine you had the putter balanced on your palm - or on a table as in the picture. If the face points up to the sky, parallel to the horizon, then it's a
face balanced putter
. If the toe settles lower than the rest of the putter then it's a
toe-balanced
or toe-hang putter.
There are varying amounts of toe-hang. Most people describe the amount of toe hang by reference to a clock face. For example, the putter on the left in the picture hangs vertically, so that would be a 6 o'clock toe hang, which is quite rare. The putter in the middle is more typical of a toe hang putter - it falls at about 7:30 on the clock face. Scotty Cameron and some others describe this as a 1/4 toe hang.



... on a toe weighted putter
A
face balanced putter
is designed to stay as square to the putter path as possible through the stroke. You would think therefore that everyone should be choosing a putter like this, but you'd be wrong. Most people putt with an open-square-closed stroke where the putter moves on a slight arc (sometimes known as an in-to-in stroke or a barn door stroke). This is the most natural way to putt and
toe weighted putters
are designed to work most effectively with this type of stroke.
As I write this article 6 of the world's top 10 players use toe weighted putters and the remaining 4 are using a face balanced putter.
Because the putter weightings are designed for these different styles of stroke, the last thing you want is a putter that's working against the shape of your stroke. When you're choosing a putter, weighting should be your first consideration.
So make that decision now and you make the job of choosing a putter a whole lot easier by eliminating about half of the options.



... on a face balanced putter
---
2. Choose a Putter Style That Looks Good To You...
Heel and Toe Weighted Putters
The
Ping Anser
putters of the 1960s popularized the heel and toe weighted (or "perimeter weighted") style of putter design. So called because they have their weight concentrated in the heel and toe areas, these putters have the largest sweetspots of any putters (the sweetspot is the area where true hits can be achieved).
Heel and toe weighted putters have been shown to twist less than any other style of putter with an off centre hit. This means that the difference between where putts end up if struck by the sweetspot as compared with off-centre hits is as small as possible.

... on heel and toe weighted putters
Blade Putters
This style is a favourite amongst purists for its traditional good looks. Because the shaft enters the head at the heel, this also moves the sweetspot towards the heel. Putting guru, Dave Pelz suggests therefore that people who tend to miss the sweetspot towards the heel of the face would be best off choosing a putter with a blade shape.
Blade putters are heavily toe weighted (see explanation above), so are great for open-square-closed strokes and disastrous for straight-back, straight-through strokes.

... on a blade putter
Nike Method 003

The Nike Method putter favored by Tiger Woods. A heavily toe-weighted putter with classic looks. Fantastic if you have an open-square-closed stroke.
Odyssey White Ice 5

Larger than average blade with original White Hot insert... beautiful to look at and great feel.
Odyssey PT 82

Brought out to cash in on Phil Mickelson's move to Callaway and Odyssey in 2009. A limited edition putter, which is lovely to look at and has the best-feeling insert on the market
Odyssey White Hot 9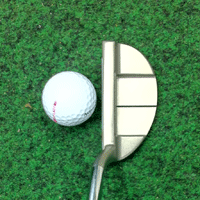 Classic blade shape with amazing weighting and feel. A superb putter - highly recommended.
Ping Tess

In our opinion, Ping's best effort at a blade putter. Beautiful feel and design, but hard to get hold of...
Ping J Blade

Possibly the ugliest putter Ping has ever made ... and it feels dreadful too!
Rife Abaco

A good looking wide-backed blade which resembles the Major winning TPA putters of the 80s & 90s
Rife Bimini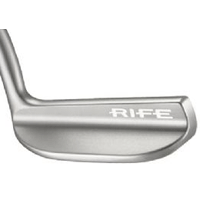 A little thin in the top portion of the blade, but otherwise a great looking putter with good blade feel
TaylorMade Rossa Kia Ma Fortuna

A highly refined mallet from TaylorMade - recommended!
Wilson 8802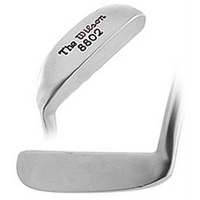 This is THE classic blade, used by the stars of 1950s, 60s and 70s. The kind of putter that gives you confidence the moment you pick it up
Wilson 8882 Staff
A dramatic updating of the classic Wilson blade. Tremendous feel and drop dead gorgeous, too
Yes Sophia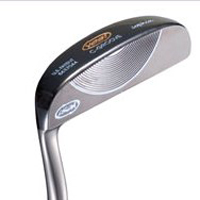 Good looking blade putter which won Jim Furyk a $10 million bonus in the 2010 Fed Ex Cup
Yes Morgan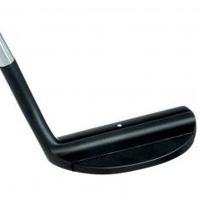 Very Pleasing on the eye, and has perhaps the best feel of any Yes putter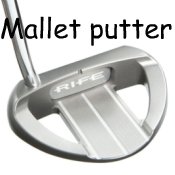 Mallet Putters
The weight in a
mallet putter
is distributed further towards the toe end of the face than in a blade putter and therefore this style will favour you if you tend to miss the sweetspot towards the toe end of the face.
Depending on where the shaft enters the head, a mallet putter can be either face balanced or toe weighted.


... on mallet putters
Center Shafted Putters
i) These come in two guises - Modern
center-shafted putters
which are almost always face balanced (see explanation above) are excellent if you're trying to produce a straight-back, straight-through stroke.
ii) The "Bullseye" style of putter which was popular in the 1950s - 1980s. Although elegant, these brass putters have become much less popular due to tests proving that they have the smallest sweetspot of all putter designs. Choosing a putter like this can be disastrous if you're a beginner, as beginners miss the sweetspot more than more proficient players.


... on center shafted putters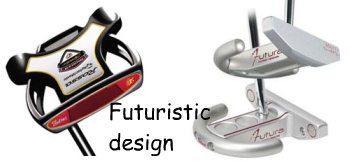 Futuristic Design
The hottest things in putter design.
Futuristic putters
such as Scotty Cameron's Futura Putter come in all different shapes and sizes.
Futuristic putters
have been designed with function rather than appearance in mind and generally have large sweetspots. They are almost always face balanced and looking down at them takes some getting used to!


... on futuristic putters
3. Find the Right Putter Length
Although there is a standard length for conventional putters (men's are 35 inches - 90cm, and women's are 33-34 inches - 84-86cm), don't be afraid of
altering the length of your putter
if you feel uncomfortable with it.
Current theory amongst teaching professionals is that the more upright you stand when addressing your putts, the better visual perspective you have and therefore the better you can judge distance and break immediately before you take the putter back.
This suggests that choosing a putter with a longer shaft will make you a more effective putter. However there are people who advocate using a shorter putter. They say it increases feel, especially on very fast greens.
Click here for info on choosing a putter with the ideal length
4. Find the Right Putter Weight
Some putters are light and others are heavier. There's no hard and fast rule which one you'll like best, but here's a guideline:
Light putters are generally thought to be easier to putt well with on fast greens and heavy putters are usually more successful on slower greens.
Relatively recently a line of extremely heavy putters, have appeared on the market. Their major selling point is the stability of the putter through impact. As yet I have not had a chance to try or review a heavy putter, but if you don't get on with standard weight putters, you might want to check it out by clicking here.


5. Find the Right Putter Lie Angle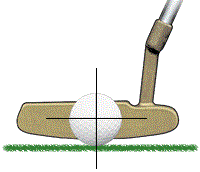 Putters aren't generally available in the same wide range of lie options as irons. This makes choosing a putter to fit your body shape and address position difficult unless you know a good clubfitter.
Finding a putter that lies correctly - i.e. so that the sole of the putter sits flat on the ground when you address the ball is generally considered to be fairly important. Therefore the taller you are, the more upright your putter will need to be and the shorter you are the flatter your putter's lie angle can be.
However, unlike iron clubs which your local pro or golf outlet can alter relatively easily, you can't get a putter easily adapted to suit you. In order to alter the lie angle of a putter your club pro will need a type of vice and only high quality club fitters have them.
Unless you know of a very good club fitter near you, your best bet will probably be to send the putter back to the manufacturer (especially if it's an expensive one) so they can custom fit it for you.
Even though it's time consuming to send it away, don't risk any "home improvements" to alter the lie of your putter (I speak from experience here!).
The Reason? You will almost certainly bend the putter in more than one direction (or plane) - in other words, you'll probably add or take loft off the putter by bending your putter yourself, and that can spell absolute disaster for the roll your putter puts on the ball.
Technicians and putter makers have spent countless hours working out whether to put 4 degrees of loft or 2.5 degrees onto your putter to make it roll the ball best - a careless nudge or hammer blow to your putter when it's clamped in a vice could change that from 3.5 to 6 degrees and you'll be putting with a chipper!
Whatever you do, leave it to the professionals - in this case, the putter manufacturer.

And finally... always, always try out a putter before you buy (before returning to Best-Putter.com to find the best price of course!)
There really is no substitute to giving a selection of putters a try. A lot of golf shops have now installed astro turf putting greens in their shops to help you in choosing a putter, but in my experience, these are NOT the best places to try them out.
Make sure you get onto a proper putting green when choosing a putter. A good way to try out a putter is to try out your playing partners' putters while playing a round. This way you can try two or three putters a round on real greens... then you can come straight back to Best-Putter.com to find the best new and used prices!



Return to the Best-Putter.com homepage