Offset Putters
What makes offset putters different?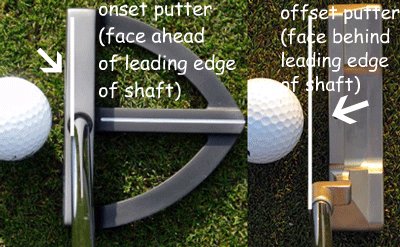 Offset putters are those where the top edge of the putter is behind (i.e. further away from the target than) the leading edge of the shaft.
Almost all putters produced today are offset putters. because most people putt better with an offset putter. This is because it encourages the hands to lead the head through the stroke and when this happens, off-center hits twist the face less.
Over time, putter manufacturers have realised that handicap and professional players putt better with an offset putter and that's why onset putters (which for some people are easier to align) are actually quite hard to find. 

| | |
| --- | --- |
| | on offset putters... |
Why offset putters will help your putting
If your hands lead the putter head through the ball you'll find you're far more likely to have passive hands through the strike and the putter head will twist less on off-center hits. If your hands are behind the ball (as they're more likely to be with an onset putter) you'll be more likely to flick, flip or twist your hands through impact. All of these factors increase the likelihood that you'll send the ball off line.
However, I did say you'll "most likely putt better" with offset putters! It's not an exact science. If you're one of the few people who find an onset putter easier to align at the target (there are a few in every thousand), then this would make that style of putter the more sensible choice for you. For more information on onset putters, click here.
The Anser style putter - the most common offset putter style
Ping's Anser putter design is by far the most common style of offset putter. Copied a thousand times by other manufacturers, it remains the most popular and successful putter design, despite being first produced by Ping in 1966. Take a look at our Anser-style putter reviews here.
One problem with offset putters
The only issue I have found from my experience of using dozens of different offset putters is alignment. If the hosel obscures your view of a significant part of the leading edge at the heel end, then you lose a significant visual aid to correct aiming. Manufacturers have worked extensively to give other alignment aids, such as long lines on the back of the putter or the Odyssey 2-ball design. 
The main effect this covering of the heel of the leading edge can have is a tendency to close the putter face as you instinctively bring the toe end of the putter into line with the front of the hosel, which aims the putter left. 
However, visual perception of putter aiming is a highly individual thing and you will have to experiment with different models to see what works for you. 
Best-Putter.com's offset putter reviews

Callaway Golf
Callaway Tuttle

The Tuttle is certainly original - a putter that definitely looks like a driver. The good news is that it performs better than it looks!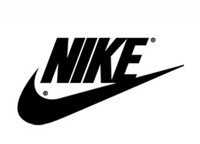 Nike
Nike Method 001

A minimalist anser head that looks just a little lightweight. The roll is pure and the feel is good.
Nike Method 002

Most similar to a Ping Zing shape, this putter has a simple no-frills look, a good roll, but a high price tag.
Nike Method 003

The Nike Method putter favored by Tiger Woods. A heavily toe-weighted putter with classic looks. Fantastic if you have an open-square-closed stroke.
Nike Method 004

Face balanced version of the Method 001. Favor this putter if you're trying to produce a straight-back-straight through stroke.
Nike Method 005

Face balanced mallet which looks like it's got a good bit of meat behind the head. For our money the best looking in the Method range.

Never Compromise
Never Compromise Alpha

This putter seems to stay square for ever! Feel's not great, but you'll love it if you use a square-to-square stroke
Never Compromise NCX Ray
Nice face balanced belly putter with a big, but light head.

Odyssey
Odyssey 2 Ball

The iconic putter of the 2000s - easy to aim, great feel
Odyssey White Ice 5

Larger than average blade with original White Hot insert... beautiful to look at and great feel.
Odyssey White Ice 5

Classic face balanced D shape with silky soft Ice White insert!
Odyssey 2 Ball Blade

Padraig Harrington used this combination of blade and 2 ball design to win majors, but what's it like?
Odyssey Black iX 1

Perhaps Odyssey's best effort yet to eclipse the Scotty Cameron and Ping Ansers.
Odyssey PT 82
Brought out to cash in on Phil Mickelson's move to Callaway and Odyssey in 2009. A limited edition putter, which is lovely to look at and has the best-feeling insert on the market
Odyssey White Ice Progressive Terron Mid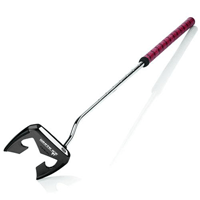 Sharp edged star ship of a putter - you need to like futuristic shapes to use this one!
"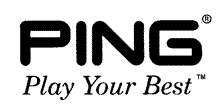 Ping
Ping Anser

The Anser is the putter that has been copied a thousand times - now available from Ping at a variety of prices.
Ping Redwood Anser

The design which has won more pro events than any other, now with top quality materials.
Ping Zing 2

A much more attractive version of the original without the copper head that oxidizes in the sun!
Ping Karsten Anser

Unbeatable on price and right up there for feel and design.
Ping Crazy E

One of the easiest putters to line up we've ever tested, but feel is hollow
Ping Anser G5i

A hideous beast to look at, but beautiful to use.
Ping iN Wack-E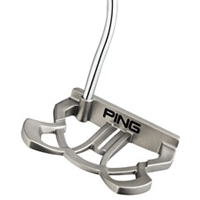 A radical spin off from the successful (but hollow-sounding) G5i Craz-E
Ping Tess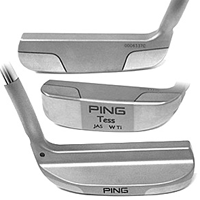 In our opinion, Ping's best effort at a blade putter
Ping IN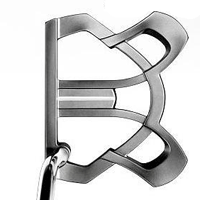 Technology has led the Ping designers to create a holy mess of a putter. If you love the weird and the wacky, you might (just) like this
Ping J Blade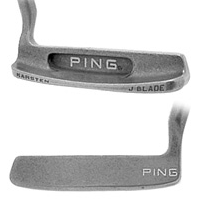 Possibly the ugliest putter Ping has ever made ... and it feels dreadful too!
Rife
Rife Abaco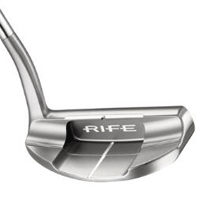 A good looking wide-backed blade which resembles the Major winning TPA putters of the 80s & 90s
Scotty Cameron
Scotty American Classic 3 Heavy Flange

A surprising remake of the classic bullseye flange shape. More forgiving and more immediate with feedback than the original
Scotty Cameron American Classic 3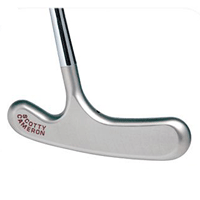 A simply gorgeous reworking of the Bullseye shape. New materials and great Scotty Cameron workmanship make this a beautiful putter to look at. Still not that forgiving, though!
Scotty Cameron Bullseye Platinum Heavy Flange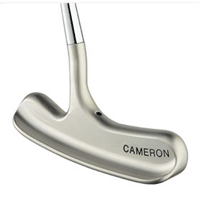 A Bullseye putter worthy of consideration! The offset neck and flange aren't quite what you'd want if you're a purist looking for a bullseye, but it putts better.

Seemore
Seemore FGPw

A nice re-working of the classic FGP from Seemore. Unfortunately only available with an offset shaft that doesn't make full use of the wonderful riflescope aiming system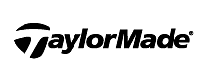 TaylorMade
TaylorMade Rossa Kia Ma Fortuna

A highly refined mallet from TaylorMade - recommended!
TaylorMade Rossa Kia Ma Daytona

Good looking Anser style putter - Part of TaylorMade's resurgence as a designer of high quality putters
TaylorMade Rossa Spider
Lots of hype when this putter launched, but pros who rely on their putters have not stuck with the Spider
TaylorMade Ghost TM-110

Beautiful square-designed Anser with great aimlines - well worth a look!
TaylorMade Rossa Daytona

Well constructed Anser style putter - excellent if you're after a good putter at a lower cost - gunmetal color looks classy - feels good too!

Wilson
Wilson 8802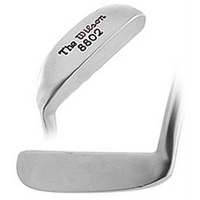 This is THE classic blade, used by the stars of 1950s, 60s and 70s. The kind of putter that gives you confidence the moment you pick it up
Wilson 8882 Staff
A dramatic updating of the classic Wilson blade. Tremendous feel and drop dead gorgeous, too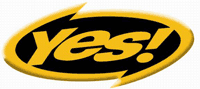 Yes C-Groove
Yes Tracy 2 (C-Groove)

In our view the classiest Yes putter - anser-style head with the amazing C-Groove for a terrific roll.
Yes Donna (C-Groove)

Wide bodied anser-style head with the amazing C-Groove for a terrific roll.
Yes Emma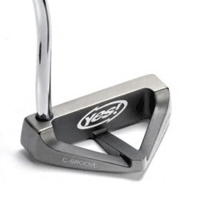 The least attractive of the Yes belly putters - although that's just our opinion
Yes Sophia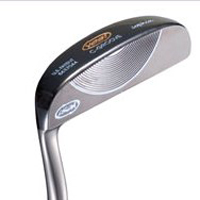 Good looking blade putter which won Jim Furyk a $10 million bonus in 2010
Yes Victoria II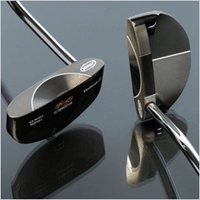 Straightforward D shaped mallet with C-Groove roll
Yes Tiffany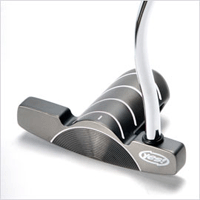 Futuristic design, with excellent aim-bar behind hitting surface
Yes Morgan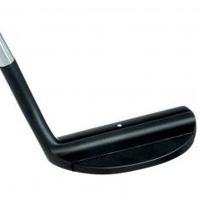 Very Pleasing on the eye, and has perhaps the best feel of any Yes putter
by

William John
Site Owner
Return to the Best-Putter.com homepage