Golden Bear Putter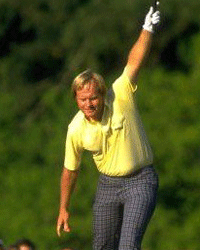 The Golden Bear putter has been around since the playing days of the great Jack Nicklaus whose nickname was the Golden Bear. They were manufactured by Nicklaus Golf, a company that is still owned by Jack himself. Nicklaus Golf stopped producing golf clubs in the early 2000s
They were never as popular as the big name putter brands, but for a while they sold well and and are still a good bet today if you're looking for a budget to mid-range putter.
Here, PGA Professional
James Melcer
gives you his opinion of this big name in the world of golf.
| | |
| --- | --- |
| | on a Golden Bear putter... |
Just in case we forget... who is Jack Nicklaus?
Jack Nicklaus is one of the greatest golfers of all time. His record of 18 major victories still stands to this day, as do many of his other accomplishments on the course.
Nicklaus has also loaned his nickname and inspiration to multiple lines putters over the years bearing the Golden Bear name. Many a Golden Bear putter has been produced, and Nicklaus Golf continues to churn out model after model even to this very day.
It all started back in the mid seventies with the Macgregor golf company producing the original Golden Bear putters and clubs during Jack's early playing days.
These putters featured a heel and toe weighted design and were cast from stainless steel.
3 lines of Golden Bear Putter to choose from
Most recently the Nicklaus Golf Company produces three different lines of golf equipment, and telling which one is which is not that easy, especially if you're thinking about buying a used putter online, so be careful!
The three collections, ranging from the most expensive and precision made, are the Nicklaus Premium Line, the intermediate Jack Nicklaus Golf Equipment line and then the most reasonably priced Golden Bear budget or beginner line. Each line has its own putter models so you will likely be able to find exactly what you are looking for.
Strictly speaking only the budget or beginner line are branded as the Golden Bear products, but each has the Golden Bear logo on them, so I'll give you some info about them all here.
Starting with the Nicklaus premium line there are two putters options - the JN Personal Edition which is a classic perimeter weighted design, and the Blackline which features a variety of head styles and a urethane face insert for soft feel.
What are the models like?
The mid-range line, known as the Precision Series offers a variety of head shapes from blade to mid-mallet and a stainless steel head with a face insert, these putters are also designed to produce a soft responsive feel and get the ball rolling well.
Finally, the Golden Bear Line the budget or beginner line of putters includes both the Bear Claw series and the Bear Line 3 series. The Bear Claw putters are cast putters and feature two different head designs - what they call a "blade" (but which I would say is actually an Anser style putter) and a center-shafted "mid-mallet".
The Bear Line 3 series features a more futuristic design with aggressive alignment aids and a polymer insert to enhance feel. They come in two toe-weighted mallet models. For beginners these would be a great buy. The long aim lines and large size give you great confidence when you line them up behind the ball.
---

---
The Golden Bear putter range continues to be popular with golfers of all abilities. Should you decide to try one you'll enjoy the variety of different styles offered and the confidence of knowing you're rolling the ball with a putter approved by one of the game's greats!
Other details
A little known fact about Jack Nicklaus and his putters is that the unique oversized blade putter he used to win the 1986 Masters tournament was recently used by the USGA to determine new size restrictions for putter head sizing!  The USGA determined that they couldn't make the putter that Nicklaus had used to win a major championship "illegal" so they set the size regulations using the putter itself! 

Return to the Best-Putter.com homepage