<!body-starts-here>
Left-handed Putters
If you're one of the millions of left-handed putters, you might have niggling questions in your mind such as:
Where can I buy a left-handed putter?



Is there any difference in quality between left and right handed putters?



Is being left-handed a disadvantage when putting?



Can you switch from left to right handed putting mid-round?
On this page, PGA teaching pro Allen Kelly answers these questions once and for all...



If you're left-handed, you might think you're at a bit of disadvantage in golf. Clubs and putters are harder to find and even the best manufacturers only make a token part of their ranges in left-handed versions.

But, it's not all bad news... Some of the greatest putters in history have been left-handed.

The most successful and famous "leftie" in golf is Phil Mickelson. He is also one of the most talented putters. Yet he is in fact a right hander who plays and putts left-handed using a left-handed putter.

Phil is famous for using a blade putter, and wields it with great success. Although he had a brief spell using the futuristic Scotty Cameron Futura he has to date won all of his majors with a blade, usually manufactured by Odyssey.

Phil's putting style is very aggressive, even from 2 or 3 feet from the hole he charges the ball in the back of the cup, shows a lot of confidence, but he also has a lot of return putts of longer length than the ones he started with.

One of the older players, Sir Bob Charles (pictured above) also uses a left-handed putter even though he is right handed. Famous for winning the British Open Sir Bob can still be seen playing in his native New Zealand, they have even named their local Tour after him.


"My golf shop has no left-handed golf putters, where can I buy one?"
This is a great question, doing a web search on left-handed putters brings up a myriad of options, however most of them seem to be "Home" brands rather than big name brands, this makes it harder to try before you buy and also harder to resell if the putter does not suit you.

Best option is to buy in a golf superstore such as Edwin Watts, Nevada Bob's etc or better still: buy online - use Best-Putter.com's search facility to find the best price on the model you want! Online stores are able to offer left-handed models in greater selection.

Another option of course is to go to one of the Superstores and try as many as you can before you buy to find one that "fits" you. This means it looks good as well as feels good!

Edwin Watts online store finds left-handed putters by doing a search, but Golfsmith and a few others come up with an error so you have to actually go to the shopping cart to see if you can select a left handed putter from there.

It seems Edwin Watts has a very large selection, once again buying online means you are buying without trying.


Is there any difference in quality between left and right hand models?
No, name brand clubs are made to a certain quality control specification regardless if they are right or left-handed. The real trouble for you if you're a left-hander is not quality, but choice.

The major manufacturers rarely make their full range available in in both left and right-handed versions, so you're restricted for choice.


Is being left-handed a disadvantage on the greens?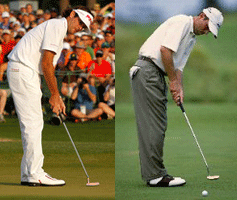 We will probably never know. Nevertheless great left-handed players such as Bob Charles, Phil Mickleson (both pictured above), Mike Weir and (less obviously) Bubba Watson (pictured right) are often spectacularly good putters, so a smaller selection of putters is obviously no restriction to being a great putter.

Personally I would say if you're a good putter, being right or left-handed will not make any difference. Putting is about being comfortable and confident.


Can you change from right to left-handed putting mid-round?
Yes, you can, and some people do it very well! PGA Tour pro Notah Begah III was the most recent and highest profile player who did this.

His was not so much a left-handed putter as a both handed putter.

Notah used an old Bullseye putter that on right to left breaking putts he used right handed, and left to right breaking putts he used left-handed.

This caused some stirs in the golfing world, but he was so good at it that some amateurs switched completely to left-handed putters as they thought it gave up the domination with their left hand instead of right, almost the same as putting left hand low.






Right handed putter or left-handed putter, if you are not confident reading the greens, or not very good at judging pace, it won't help you much, when you get the putter that fits you best and most of all gives you confidence, then spend some quality time practicing, don't go to the range just to hit balls, put some time aside for your short game, your scores will thank you.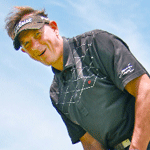 by Allen Kelly
Head Pro at Laguna National GC, Singapore




Return to the Best-Putter.com homepage




<!standard-footer-starts-here>