<!body-starts-here>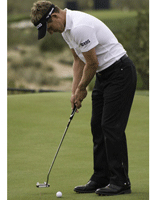 <!Top headline>
Luke Donald ... Golf's greatest putter?
Without doubt, Luke Donald ranks highly among the greatest putters of all time, not to mention his short game.

The former world number one owes a great deal of his success to his performance on the greens, producing scintillating statistics year after year out on tour.



---
Fact file :-

Date of birth: December 7, 1977.
Claims to putting fame: Lethal at holing out in matchplay, proven in countless pairs and singles matches in the Ryder Cup as well as a World Matchplay victory. Holed 90.2% of putts inside ten feet in the 2012 season.
Putters used: Odyssey White Hot XG 2.0 #7 (black series grip), Mizuno Bettinardi




on Luke Donald's putter:
---
Luke Donald's Putter
Donald started his career using Anser style putters made by Ping, Scotty Cameron and Mizuno, but has thus far had his best putting results with a face balanced Odyssey White Hot #7 putter.

This model is also known as "The Fang" because of its sharp teeth-like arrangement toward the back of the head. It is also the very same model that has been used by Ian Poulter, 2000 British Open Champion Paul Lawrie and the great Tom Watson.
The bigger head of this particular model makes lining up easy and the balance seems to suit Luke perfectly, another key element to creating a great tempo.

What can you learn from Luke Donald's putting?



When you think of Luke Donald's putting, the silky smooth rhythm is the first thing that springs to mind. The tempo of his stroke never changes, and more often than not the results are phenomenal. So how does he do it?
Well, the long and the short of it is that Donald concentrates on two things: speed and strike. It makes sense that, to be able to regularly judge the speed when putting, you must first develop a high quality strike so that you know how the ball will roll. Together, the combination should bear much fruit.
What Luke does that is different on all other players is to focus on a slightly longer backswing than follow through. Scientific putting guru, Dave Pelz, argues exactly the opposite, but this highlights the differences in their approach. Pelz is scientific and Donald is an artist on the greens.

The feeling of a longer backswing than follow through is one for the better player, because you've got to be able to ensure you do not decelerate. However, if you can do this, your level of feel will go through the roof!


"It's all in the set-up"
Donald's advice on getting great results is thus: "It's all in the set-up," he says. "You must have your eyes directly above the ball and your hands should fall straight below your shoulders because the arc of a putting stroke is determined by where your hands are."
TTo help you find the right positions, use this tip from Luke as a guide: "If your hands are outside the plane of your shoulders, you're going to have more of an arc to your putting stroke. If they are too far in, it's going to make the putting stroke go outwards. Golfers need to have their hands hanging directly beneath their shoulders."







by Murray Rose
Senior Contributor
@muzzarose
murraywilliamrose.blogspot.co.uk




http://www.golfmagic.com/putting-tips/golf-tips-luke-donald-on-putting/6443.html

http://www.geoffshackelford.com/homepage/2012/11/21/luke-donalds-pga-tour-putting-in-2012.html

http://www.todaysgolfer.co.uk/Golf/News/searchresults/November-2012/Video-Tips-From-Donald-Poulter-McDowell-and-More/Video-Tips-Luke-Don ald-On-Putting/

Return to the Best-Putter.com homepage



<!standard-footer-starts-here>