Putter Length - one of the keys to success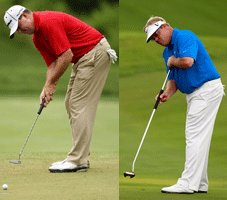 Is putter length really that important?
Well... take a look at the picture here. Two PGA Tour winners but with very different putters.
On the left is Robert Garrigus with his "baby putter", which measured 28.5 inches and on the right is Carl Pettersson with his 49 inch long putter which is about the standard length for a tall player.
Over 20 inches of difference - so how on earth are you meant to find the right length for you? It's a much more difficult question than you might think.
There are plenty of standard putter shaft length charts - click to see the standard length tables for
"normal" (i.e. short) putters
,
belly putters
and
long putters
below - but really the ideal length is the length that combines comfort and success for you. You'll only find this through trial and error.
"Normal" (short) Putters
Here is a table showing you the standard putter length for different types of putter:
| | |
| --- | --- |
| Type of Putter | Shaft length |
| Men's standard putter | 33 - 35 inches |
| Women's standard putter | 33 inches |
Belly Putters
Putter length for a belly putter is a more complicated question and varies according to the height of the player. Use the following table as a starting point:
| | |
| --- | --- |
| Player's Height | Shaft length |
| 6'2" plus | 45 - 47 inches |
| 5'9"-6'1" | 41 - 44 inches |
| 5'8 and less | 38.5 - 40 inches |
Long Putters
How long you should have a long putter is very much a matter of personal preference and can involve a great deal of trial and error. Where you anchor your long putter will largely dictate what putter length is right for you.
The following table gives you approximate lengths of long putters if you anchor the butt end in your sternum area:
| | |
| --- | --- |
| Player's Height | Shaft length |
| 6'2" - 6'3" + | 54 inches |
| 6'1" - 6'2" | 53 inches |
| 6'0" - 6'1" | 52 inches |
| 5'11" - 6'0" | 51 inches |
| 5'10" - 5'11" | 50 inches |
| 5'9" - 5'10" | 49 inches |
| 5'8" - 5'9" | 48 inches |
| 5'7" - 5'8" | 47 inches |
| 5'6" - 5'7" | 46 inches |
| 5'5" - 5'6" | 45 inches |
Putter length is ultimately a question of feel
Even though I have just listed standard putter shaft lengths in the tables above, I firmly believe that your putter is the one club in your bag for which "standards" should be your second consideration. Feel must always come first!
Therefore, you've got to do some trial and error and you've got to follow your instincts about what to try next. If you see a player on the television who has a similar body shape to you and they appear to be using a putter that's longer or shorter than standard, then give it a try.

Your local professional can extend or shorten your putter easily and cheaply. It doesn't take more than a day to do, no matter whether they need to fit an extension plug and then re-grip or cut the putter down and re-grip.

If you're a practical type of person, you can easily do it yourself, too. Click here for instructions on how to extend a putter and how to shorten a putter.

If you use a belly putter or long putter, finding the right shaft length is even more important than it is with a short putter. It's also more difficult, too.


Tour Pros using longer or shorter than standard putters
There have been plenty of great players on the world's tours who use longer than standard or shorter than standard putters. Multiple major winner Ray Floyd, who was renowned for his electric short game used a putter that was 38 inches long - extended well beyond the standards in the tables below.
Along with Robert Garrigus at the other end of the spectrum, European Ryder Cupper Barry Lane used a 29-inch putter with great success for many years.
For the record,
Tiger Woods' putter
is also slightly longer than standard at 35.25 inches.
The right putter length is just one element in finding the right putter. Click here for Best-Putter.com's complete guide to choosing the right putter for your stroke.
Return to the Best-Putter.com homepage