Why a milled putter is better (if more expensive) than any other type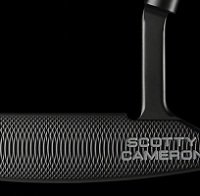 <!Text begins> What is a milled putter? How is it different from any other putter? and why are they so expensive? The answers are a bit technical and depends on how the putter has been made.
Bear with me here because it's worth finding out - these putters are so much prettier and feel so much better than other types of putters that it's worth knowing about!
Basically milled putters are created from a single block of metal which is cut and shaved using a milling machine until it's the exact shape desired. Milling was made popular in the 1990s by Scotty Cameron and Bob Bettinardi who milled initially by hand.
Now almost all of the high end brands produce at least milled putter design. You can tell milled putters from the arc shaped marks on the putter face made by the milling machine.
| | |
| --- | --- |
| | on a milled putter... |
---
How does a milled putter feel?
Because of the way they're made, a milled putter feels a lot softer than a cast putter (the previously dominant putter type until the 1990s). Because the manufacturing process means shaving away the metal originally by hand and now by extremely precise computer-controlled mills, you have to use a softer type of metal to start with.
Milled putters therefore offer greater feel and touch than cast putters which used to be a little springy off the face. Cast putters sounded great - the Ping sound was the trademark of the
Ping 1A
and early
Ping Anser putters
which even had a slot in the sole to allow the face to resonate and make a louder "ping"!
Nowadays, you will only find milled putters on the pro circuits. This is largely due to the improved feel they offer, but also because the major manufacturers have seen the opportunity to introduce premium lines to their ranges, giving them greater profit too. For top pros putting on lightning fast greens, the additional soft feel of a milled putter is essential.
By contrast for the average player, putting on medium-paced greens, a cast putter would probably be just as effective.
Why are milled putters any better than other putters?

The main reason is the feel, but beyond that, you can also create more complex shapes by milling, such as the futuristic putters that Scotty Cameron and Taylormade are now well known for.
But which is the best milled putter? Click below to read independent and unbiased reviews
(inactive links are for putters pending review - please check back soon)
Nike
Nike Method 001

A minimalist anser head that looks just a little lightweight. The roll is pure and the feel is good.
Nike Method 002

Most similar to a Ping Zing shape, this putter has a simple no-frills look, a good roll, but a high price tag.
Nike Method 003

The Nike Method putter favored by Tiger Woods. A heavily toe-weighted putter with classic looks. Fantastic if you have an open-square-closed stroke.
Nike Method 004

Face balanced version of the Method 001. Favor this putter if you're trying to produce a straight-back-straight through stroke.
Nike Method 005

Face balanced mallet which looks like it's got a good bit of meat behind the head. For our money the best looking in the Method range.

Ping
Ping Redwood Anser

The design which has won more pro events than any other, now with top quality materials.
Rife
Rife Abaco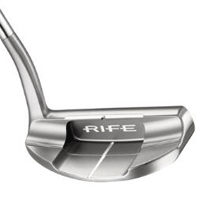 A good looking wide-backed blade which resembles the Major winning TPA putters of the 80s & 90s
Rife Bimini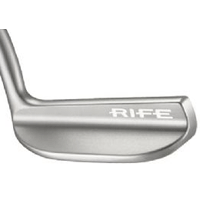 A little thin in the top portion of the blade, but otherwise a great looking putter with good blade feel
Scotty Cameron
Scotty Cameron Newport 2.5 Center Shaft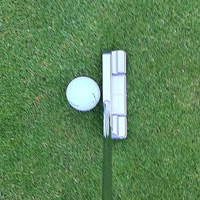 The classic shape, different hosel ... but same awesome feel.
Scotty Cameron Newport 2 Studio Select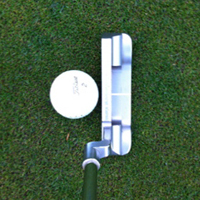 The affordable Scotty Cameron.
Scotty American Classic 3 Heavy Flange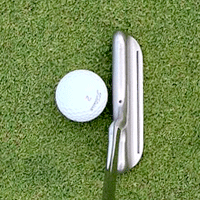 A surprising remake of the classic bullseye flange shape. More forgiving and more immediate with feedback than the original
Scotty Cameron American Classic 3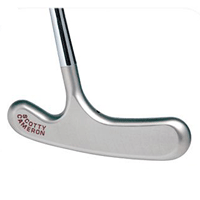 A simply gorgeous reworking of the Bullseye shape. New materials and great Scotty Cameron workmanship make this a beautiful putter to look at. Still not that forgiving, though!
Scotty Cameron Bullseye Platinum Heavy Flange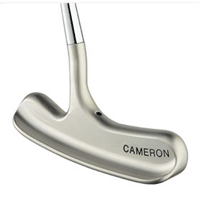 A Bullseye putter worthy of consideration! The offset neck and flange aren't quite what you'd want if you're a purist looking for a bullseye, but it putts better.
Scotty Cameron Napa California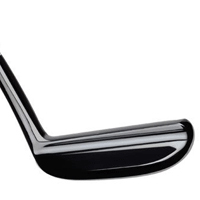 As you'd imagine from Scotty Cameron, this is a beautiful piece of equipment. Looks, roll, feel - it has it all ... and a price tag to match
Scotty Cameron Studio Select Kombi Mid

A big hulk of a putter - face balanced with a long aimline

Seemore
Seemore FGPw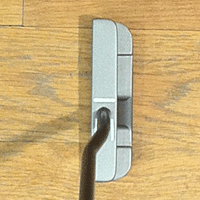 A nice re-working of the classic FGP from Seemore. Unfortunately only available with an offset shaft that doesn't make full use of the wonderful riflescope aiming system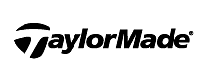 TaylorMade
TaylorMade Rossa Kia Ma Fortuna

A highly refined mallet from TaylorMade - recommended!
TaylorMade Rossa Kia Ma Daytona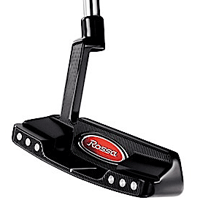 Good looking Anser style putter - Part of TaylorMade's resurgence as a designer of high quality putters
TaylorMade Ghost TM-110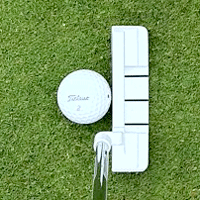 Beautiful square-designed Anser with great aimlines - well worth a look!
TaylorMade Rossa Daytona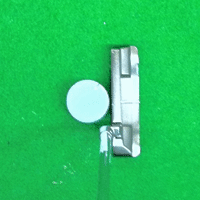 Well constructed Anser style putter - excellent if you're after a good putter at a lower cost - gunmetal color looks classy - feels good too!

Wilson
Wilson 8882 Staff
A dramatic updating of the classic Wilson blade. Tremendous feel and drop dead gorgeous, too
| | |
| --- | --- |
| | on a milled putter... |
---
Return to the Best-Putter.com homepage