<!body-starts-here>



Adams Putters
Adams putters were gaining in popularity, even before January 2011 when they purchased Yes Putters, the brand which is famous for C-Groove technology.



So far Adams seems to be keeping the Yes brand totally independent but they have wound up their own putter manufacturing business. Nevertheless, there are still a large number of good Adams putters out there, especially on the used market.

So why would you buy one when there are other brands like Odyssey, Ping or Scotty Cameron that have bigger profiles in putter design and manufacture?

PGA pro James Melcer gives us his take on the situation...

Who are Adams and are their putters any good?
Adams Golf is the company that was first made famous in the late 1990s for their "Tight Lies" line of fairway woods. Since then they have become a major player in the golf industry. You'll recognise their drivers, irons, hybrid clubs easily but they did also make putters.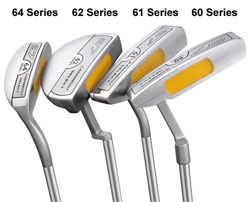 Adams A7 putters are the most commonly found on the used market. They delivered a similar quality of design and performance as the rest of the clubs in the company's line - in fact their head of design at the time, Tim Reed joined Adams from Odyssey. The factor that may interest you most is the price ... they are great value!

Adams putters are made using soft 304 stainless steel, and each one features a unique gold colored face insert. These inserts are produced with a urethane technology which Adams claimed was the be-all and end-all. But if you're asking yourself whether this is all just marketing hype, you're asking the right question!

The answer, I found, was that the the Adams A7 putters did have a good feel. I guess it's due to the insert material and construction, but whatever the reason, the sensation is both soft and responsive at impact.

I found the roll of the ball off the face to be pretty good, too. When you look at the price tags on these putters, which are somewhere between a quarter and a third of a top end Odyssey or Scotty Cameron, you start to see what good value they are.


Do any Tour Pros use them?
As I write this, I'm not aware of any PGA tour pros using Adams putters, but that doesn't mean they're not out there.

Many players' sponsorship contracts with big name manufacturers allow them to use putters which are made by different companies, but they don't make a big deal of it because they're obliged to promote their main sponsor's products.

There are, of course quite a number of players who use Yes Putters.


Which are the best models to go for?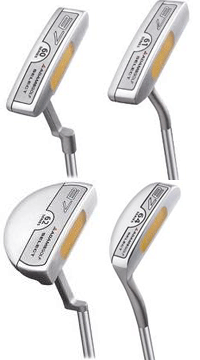 The most common Adams Putters are the A7 60 series series which are based on the classic putter shapes in golf.

The #60 is a classic Anser shape putter and the #61 takes its inspiration from the more heavily toe-weighted Tad Moore TM-4 putters of yesteryear.

The #62 is a classic face-balanced D-shape head, whilst the purists' best option is the #64 - a traditional blade design with a slight offset at the hosel.






These putters are still traded frequently as used putters on ebay and are a great buy, considering you can pick them up for under $50. They certainly qualify as putters I would recommend for you if you're a weekend player who wants a cheap putter without compromising on quality.


The Adams DiXX Putters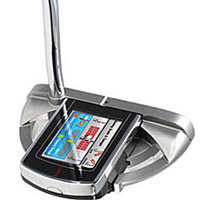 Adams also brought us the Adams DiXX training putters. Launched in 2008 these looked like regular putters but with a digital display mounted on the back.

Using a series of motion and contact sensors, the DiXX putter picks up key data about your stroke and feeds it back about a second after you have struck the ball. It gives you a clear graphic on stroke path relative the the target line, face angle at impact relative to the target line and whether you struck the ball out of the toe or heel.

It also collects the results over the last 10 putts to show you your overall tendencies.








The Adams DiXX is an interesting idea, and is the only quick and easy way we at Best-Putter.com have come across to get fast feedback about the keys to your stroke.

It's great for a mid handicapper, but whether it offers the required detail of feedback that you would want if you're a low single figure player is doubtful. For example, the readout showing whether you struck the putt off the heel or toe doesn't give any detail about the degree to which you missed the sweetspot, merely that you did. Click here for a video demonstration of how the Adams DiXX putters work.





by James Melcer
Class A PGA Professional






For more information on Adams Putters, click here.

Return to the Best-Putter.com homepage


Skimlinks Test

<!standard-footer-starts-here>