Jim Furyk - best putter in golf?
Jim Furyk has his ability as a great putter and an incredible all-round short game to thank for his long and prolific career on the PGA Tour.
With plenty of tour victories, a US Open victory and many Ryder Cup appearances,  Furyk established himself at his prime among the game's elite and his ability with the flatstick showed no signs of deteriorating with age. Throughout his career time, Furyk always said that putting is a strength of his, largely making up for him being one of the shorter hitters on tour. 
---
---
Fact file: Jim Furyk
Date of birth:
May 12, 1970.
Claims to putting fame:
Favors faster greens, hence an excellent US Open record. Consistent holer out and a regular feature among the top of the putting statistics. Hot, streaky putter in Ryder Cup matches.
Putter used:
Odyssey White Hot 2 Ball
, Odyssey Backstryke Sabretooth,
Odyssey White Hot #7
, Yes! Sophia.
---
| | |
| --- | --- |
| | on a putter like Jim Furyk's... |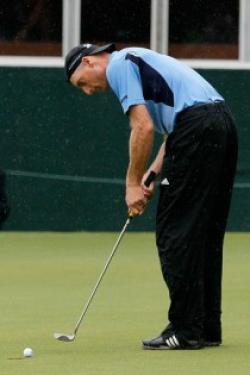 Jim Furyk's Putter
He may be a tour player, but Jim Furyk uses putters that you and I can afford too!
In 2010, he bought a second-hand Yes! Sophia putter for $39 at a discount golf store and went on to win The Tour Championship and FedEx Cup soon after, bagging a massive $10million. "It's got a nick on the back flange and it's got a little ding in the top line," said Furyk. "I never loft-and-lied it, which is rare for me because I've always got my putters on a loft-lie machine at home, and the way the grip is on it, it might be slightly off center, but that's kind of how I like it anyway. I guess we were meant to be, who knows." The moral of the story: stick to what works for YOU!
This hasn't been the only unorthodox change that Furyk has made with regards to his putting. He's also tried putting on a putter grip upside down so that the shaft is aligned with the forearms. Allied to his trusty left-below-right hand position, this controlled the release of the blade and stopped his wrists from breaking down. Until the Sophia blade came along, this was a formidable combination!
Jim Furyk has never been classed as a slow golfer. However, you will notice that his putting routine slows him down - deliberately. After addressing the ball, he backs off and starts his routine all over again. In other words, Furyk's routine is actually 2 routines joined together.
The idea behind this odd routine is that, when he sets up for the second time, it's like he has already hit the putt once. By doing this, he has two chances to assess the pace and line, ensuring he has made the correct choice.
This would probably be too slow for us weekend golfers, but it just goes to show that your priority if you want to be a great putter is to find solutions that work FOR YOU, rather than necessarily following the received wisdom.
Return to the Best-Putter.com homepage