Anser Style Putters - which models are the best?

Almost every manufacturer makes anser style putters. This demonstrates just how reliable and liked the anser shape is. This design of putter was by Karsten Solheim, the founder of Ping and now that the patent on his revolutionary heel and toe weighted design has expired, each club maker is free to launch their own version of this legendary design, which has won more tournaments worldwide than any other putter shape.
Read our review of the original Ping Anser - where all anser style putters were born! 
| | |
| --- | --- |
| | on an Ping Anser putter... |
---
It was the first putter to have a cavity hollowed out in its back. This has the effect of distributing much of the weight of the putter head to the heel and toe ends, which makes the sweetspot larger.
Because of this you get far less twisting of the face on an off center strike and therefore more of your putts should end up on target - or at the very least closer to it. Any putter that has this overall square shape with heel and toe weighting is thought of as an anser style.
What is an Anser-Style putter?
In case you don't know what the Anser shape is, here's a quick guide to the design which is used in about one-third of all putters today:
Designed by Karsten Solheim as one of the follow ups to his original
Ping 1A putter
, the
Anser
is a simple but highly effective putter which was revolutionary in its design.
The Scotty Cameron Newport - the Anser deluxe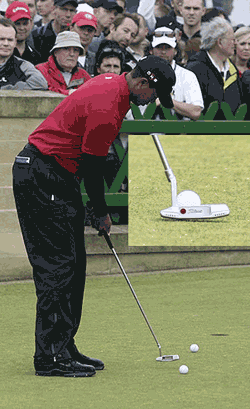 Although many have copied the anser shape, few have improved on it. However, this is how legendary putter manufacturer, Scotty Cameron, made his name. As early as the mid 1980s, Cameron was precision milling anser style putters for tour pros where Ping was casting their clubs.
Since milled steel is softer than cast steel, tour pros quickly caught onto the superior feel you could get from a Scotty Cameron Newport, as he called his anser shape range.
When Tiger Woods moved from his Ping Anser 2 to a Scotty Cameron Newport prototype, this was confirmation that the best anser style putters were no longer made by Ping, but by Cameron. Read our review of Tiger's Scotty Cameron here.  
| | |
| --- | --- |
| | on a Scotty Cameron Newport 2 like Tiger's... |
---
Best-Putter.com's reviews of Anser style Putters:
Scotty Cameron Newport 2 Studio Stainless

The "more affordable", but rather unimpressive Scotty Cameron.
Ping Karsten Anser

Unbeatable on price and right up there for feel and design.
Ping Anser

The Anser is the putter that has been copied a thousand times - now available from Ping at a variety of prices.
TaylorMade Rossa Kia Ma Daytona

Good looking Anser style putter - Part of TaylorMade's resurgence as a designer of high quality putters
TaylorMade Ghost TM-110

Beautiful square-designed Anser with great aimlines - well worth a look!
TaylorMade Rossa Daytona

Well constructed Anser style putter - excellent if you're after a good putter at a lower cost - gunmetal color looks classy - feels good too!
Ping Redwood Anser

The design which has won more pro events than any other, made with top quality materials. This Ping is a winner!
Yes Donna (C-Groove)

Wide bodied anser-style head with the amazing C-Groove for a terrific roll.
Yes Carolyne

A straightforward heel and toe design with great roll from the C-Groove
Nike Method 001

The best of the Nike Method putters. Favored by Tiger Woods while he was contractually obliged to use a Nike putter. A standard looking Anser style putter, with nice roll and feel. But not good enough to stay in Woods' bag once Nike gave up on the golf equipment industry.
Nike Method 004

Face balanced version of the Method 001. Favor this putter if you routinely pull your putts or you're trying to produce a straight-back-straight through stroke.
See some of the history and early advertising for the Ping Anser
here
.
Click here for the putters page on the Ping website
Not sure if an Anser style putter is for you? Click here for our article on choosing a putter to fit your stroke.
Return to the Best-Putter.com homepage