<!body-starts-here>
Golf Putters For Sale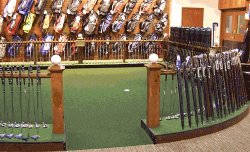 So, you're looking for golf putters for sale... Here's the Best-Putter.com guide to finding your perfect match...

How do know which one to choose?

How do you know where to shop?

How do you know if the putter you choose is right for you?


All good questions and whoever you ask will have a different reply, no doubt, but here's PGA Pro Allen Kelly's two-cents' worth...


Which model to choose:
As with all golf clubs, putters come in a myriad of shapes and sizes, blades, mallets, short ones long ones, I've even seen one shaped like the Starship Enterprise.

Buying a putter is a very personal purchase, my advice is try before you buy.

Going to a "golf superstore" where they have many different types of golf putters for sale and a good size putting area is an absolute must. The only thing that's better is a pro-shop which will let you try out putters on a real grass putting green.

I am not saying that you'll end up buying any of the golf putters for sale in either of these places. But at least try as many models as you can. Then you can always come back to our search page and key in the name of the model you're after to find the best used and new prices in the US and UK.


Is it better to buy online?
Finding golf putters for sale online can certainly save you a few dollars, but you do not have the luxury of "try before you buy". Make sure the web store is reputable, and has a good returns policy, eBay has a buyer guarantee, so if you find your club or transaction is less than 100% satisfactory eBay / Paypal will refund your money, it is nice to have peace of mind.


Which style is best?
Some people prefer a blade putter, I used to be a mallet man, the greens where I live can be very nappy and I couldn't bring myself to hit the blade style hard enough against the grain, and I found the mallet had more mass behind the head so I could stroke softer but the putt would travel further. You wouldn't know that without trying a few putters on the type of greens you play on first.

Also, even though I loved the feel and the roll, I always had trouble aligning a blade, and also found the longer mallet head made alignment simple.


Interested in a belly, long or standard putter?
Again this is a personal preference. Finding belly and long putters amongst the racks of golf putters for sale is harder than standard models, though, because pro shops and golf supermarkets still sell more short putters than extended ones.

Belly and long putters are popular because they take a lot of the hand action out of the stroke, so you are not as "yippy".

On the down side, though, I've found it hard to take the head back far enough to get distance on longer putts, as the grip is anchored to you. That makes the long pendulum swing needed to generate enough roll seem very strange. But on putts of 10 feet and in, long and belly putters are great.


Putter fittings - yes or no?
Another option is to get fitted for the putter, once you reach a certain level of ability, all your equipment should be fitted, including your putter.

Shaft length, head weight and grip size all matter, and most times buying a putter with a professional fitting will cost no more than an off the shelf purchase. Even if there is an extra charge, it's worth taking the fitted option.

Most good fitters will give you a warranty, so if you find the putter does not work as well on the course as in the shop, they will make adjustments for free until you are satisfied.

The most common adjustment that needs to be made is in the putter's lie angle. Some people's posture is a little different on course with varying length of putter than on an astro-turf mat with nothing more than a 10 footer to practise on, but even this only needs a quick tweak and then off you go again.


Finding the perfect putter
You will know if the putter is right for you if the putts roll where you want them to. Unfortunately this does not always mean they will go in though, that takes positive practice, and practice is another question altogether!






by Allen Kelly
Head Pro at Laguna National GC, Singapore


Still not sure which of the many golf putters for sale is for you? Click here for Best-Putter.com's guide to choosing the right putter for your stroke!

Return to the Best-Putter.com homepage




<!standard-footer-starts-here>