Nike Putter Range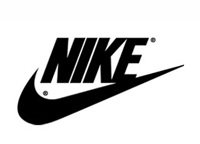 The Nike putter range was the new kid on the block in the putter world in the late 1990s. Nike effectively launched itself as a golf brand when Tiger Woods first came on the scene in 1997. Prior to that they had few models of drivers, irons and putters that could compete with top manufacturers.
They steadily improved the quality of their offering and their Method and Method Core Putters launched in 2010 and 2011. Despite initial teething problems, many players used them. In 2009 Lucas Glover won the US Open and in 2010 Stewart Cink won the Open with Nike Method putters, which helped to lend credibility to the ranges.
| | |
| --- | --- |
| | on a Nike putter... |
Not in the US? Click here for eBay listings for a Nike putter in your region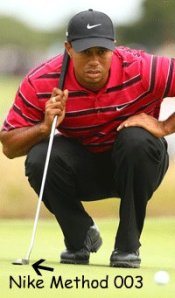 The major goal for Nike putter division was to persuade Tiger Woods - golf's biggest star - to use one of their putters. There was huge media excitement at the 2010 Open Championship when Woods changed from the
Scotty Cameron Newport
style putter he'd used to win 13 of his 14 Majors up to that point.
From then until 2016, Woods continued to experiment with Nike putters of one sort or another. This coincided with the longest winless streak of his career, but how much that's more likely to do Woods' well-publicised off-course troubles and how much to do with his putter, is up for debate!
For full details of Tiger's putter, including the actual specs he uses and all the gossip on which Nike putters he likes and loathes,
click here
.
2016 saw the end of the Nike golf equipment era. After finding the established manufacturers harder to dislodge from the market than they had anticipated, Nike were forced to concede that they were not making sufficient profit from the golf sector to make it worthwhile despite enormous player endorsement deals.
---

---
So where does this leave the Nike putter range? There's no doubt that their R&D budget produced some excellent putters towards the end of their participation in the golf market, especially when they were (legitimately) copying the Anser design. The Nike Method 001 & 004 especially are worth looking at. They'll be available as used putters for some time. 
Many of the more way-out designs will, we suspect, vanish from circulation in less time than the 9 years Nike spent making them.
Others to consider: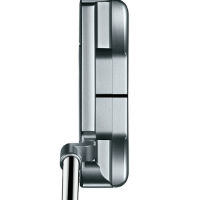 Scotty Cameron Newport 2 The original, best Scotty Cameron... and thankfully not the most expensive. This is Tiger Woods' putter and if you can putt half as well as he does...

Ping Anser

The Anser is the putter that has been copied a thousand times - now available from Ping at a variety of prices.
Nike Method 001

The best of the Nike Method putters. Favored by Tiger Woods while he was contractually obliged to use a Nike putter. A standard looking Anser style putter, with nice roll and feel. But not good enough to stay in Woods' bag once Nike gave up on the golf equipment industry.
Nike Method 002 Roughly speaking a blend of Anser and Zing designs. A couple of tour pros dabbled with it, but not as many as the Method 001.

Nike Method 004

Face balanced version of the Method 001. Favor this putter if you routinely pull your putts or you're trying to produce a straight-back-straight through stroke.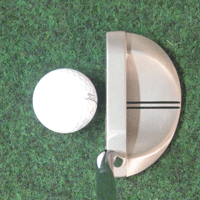 Nike Method 005 D-shaped putter which looks wholly based on the Odyssey Rossie design. Good roll. Could be a great putter on lightning-fast greens.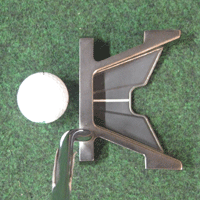 Nike Drone Way-out design that never really caught on. The lack of sight lines parallel to the target line is a problem.

Nike Drone 2 Better looking version of the original Nike Drone with better aimlines, solid feel through impact and a good roll. Worth considering, as they sell very cheaply as used putters.

Return to the Best-Putter.com homepage