<!body-starts-here>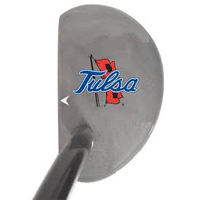 College Logo Putter
Looking for a college logo putter? They're gaining in popularity, and yet are still individual enough to express yourself with.

If you want to have your college crest emblazoned on your flat-stick, you could go for an off-the-shelf logoed putter or get creative and have your current blade customized.



There are lots of choices. To help guide you through it all, Best-Putter.com contributor and PGA Pro James Melcer set out to find the best options ...

What's the best way to show school spirit out on the course?

You could choose custom logo golf balls, bags, and shirts. If, however, you want something a little bit more unique, how about a putter with your college crest on it?

This is sure to be a conversation starter and show your friends that you're serious about your alma mater.


$59.99 for a College Logo Putter
... are they any good?
Should you decide that you're ready for a college logo putter there are a few places to pick one up online. In my experience www.collegegolfstore.com has the widest variety of different university logos to choose from, but they only feature one style of putter (pictured at the top of this page).

It's a fairly traditional mallet that they offer and whilst it isn't a disastrous choice, it's no Scotty Cameron, not by a long way.

These putters fall more into the novelty category than the performance category, but for $59.99 that's pretty much what you'd expect. They even feature a matching shaft to give you that truly custom look.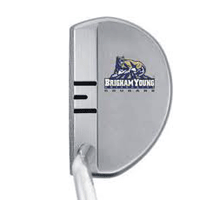 If you're looking for something a little more high performance check out www.shop.hometeamgolf.com. They've got a slightly smaller selection of college crests, but their putters are higher in quality and designed more for golf than just for show.

The website http://www.allauthentic.com/ has end of line Odyssey putters with quite a number of college crests.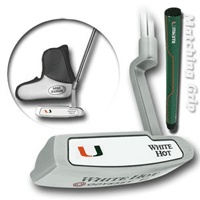 They're not the latest models, but they have got White Hots and 2 Balls,so they're still great putters to use, and come in at less than $150 included a college branded grip and headcover. This is by far the best deal for buying a college logo putter off the shelf if you're after a decent putter too.


Adding a logo to an existing putter
Now, if you've already got a putter and you want to add some school spirit to it, there are also a few options. With a Scotty Cameron putter, the choice is clear. Head over to www.scottycameron.com/customization and have them pimp it up!



Although you can't add a full college crest you can add custom color paint fill to match your school colors, and you can also have letters engraved and choose from custom grip options.

If you've got another type of putter (Odyssey, TaylorMade, Ping, etc) your best bet is to check with your local golf shop and see what college logo options they offer through their sales reps. Many of these brands offer college logo options, but they're often limited to the big, popular schools out there so keep that in mind.

If you really can't find what you're looking for, the next best option would be to look for a freelance artist who can add colors and designs to your putter, but that's more likely to be something you search for locally as you won't find many artists or websites who focus specifically on painting putters on a mass scale.


Other options - headcovers and grips
If you're not keen on a cheap logoed putter and you're not sure you want to apply paint or new lettering to your cherished blade, then a college logo headcover is a comfortable halfway house.

For college logo headcovers, I'd once again recommend www.collegegolfstore.com simply because of their massive selection of different college insignias on offer.

Finally, for custom college logo grips I've had great experience with C-thru grips (www.cthrugrips.com). It's important to find an installer who knows what they're doing when putting these grips on, however, as they can easily be ruined if installed improperly.

So to sum it all up, you pretty much get what you pay for when it comes to equipping yourself with a college logo putter. The $59.99 putters are little more than gimmicks for the serious golfer and customizing your present putter with paint or lettering is best left to the professionals, but it can take a while for the putter to be sent back to you and end up rather costly.

For my money, I'd go for my favorite putter with a custom grip and college logoed headcover every time.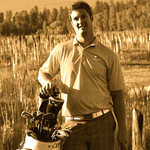 by James Melcer
Class A PGA Professional




To see loads of designs for a college logo putter, click here.

Return to the Best-Putter.com homepage




<!standard-footer-starts-here>