Ernie Els - a great putter despite ups-and-downs
Ernie Els is by and large, regarded as a great putter, despite some serious ups-and-downs in his putting game. He has used the left hand low grip and a belly putter, but Ernie always seems to make his fair share of putts.
As an international player, he has had to deal with all grasses around the world, and has, quite frankly, mastered all of them. So in a way, Els has followed in the footsteps of compatriots Bobby Locke and Gary Player, thus continuing South Africa's run of great putters. 
---
Fact file: Ernie Els
Date of birth:
October 17, 1969.
Claims to putting fame:
Sunk a winning 20-footer on the 72nd hole for the British Open at Royal Lytham and St Anne's in 2012. Six World Match Play victories and and two US Open wins on tough, fast greens.
Putter used:
Odyssey White Hot Rossie, XG and #1,
Scotty Cameron Newport 2
.
| | |
| --- | --- |
| | on a Scotty Cameron Newport 2 like Ernie's... |
Not in the US? Click here for eBay
and Amazon listings for a Scotty Cameron in your region
Ernie Els' putting - change isn't necessarily a bad thing!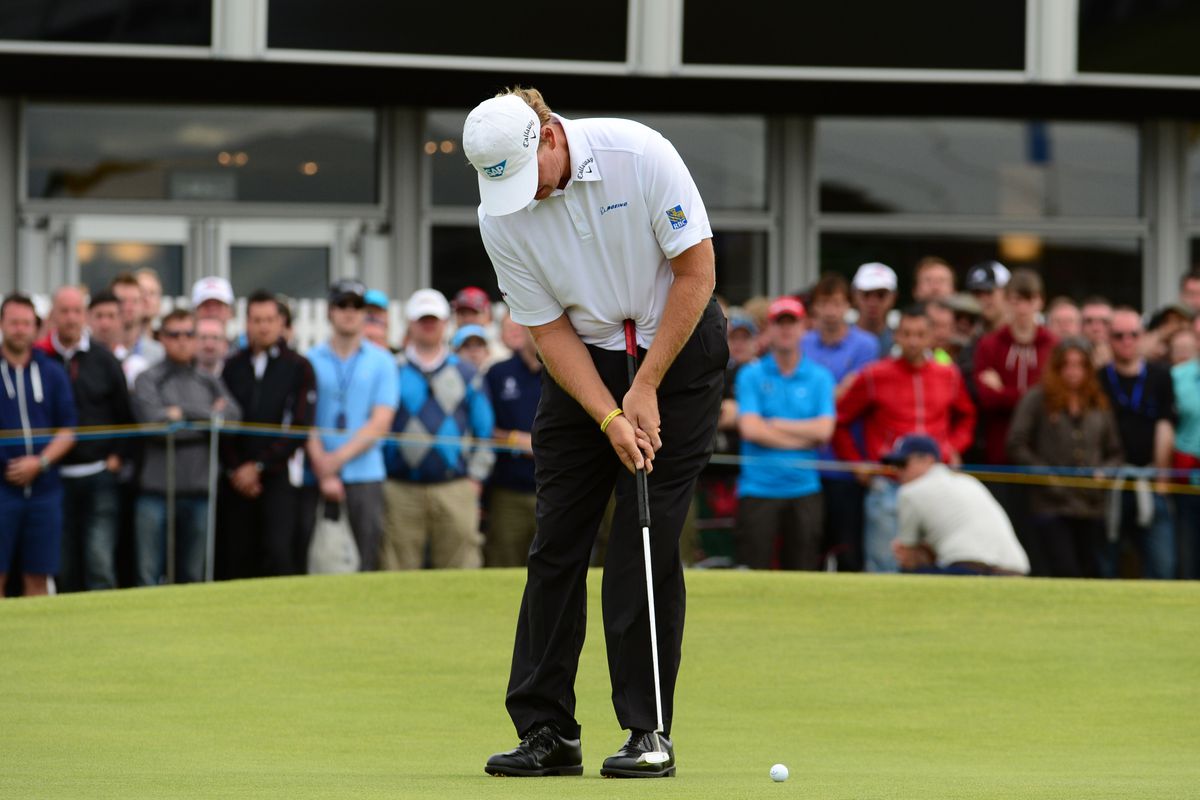 One obvious characteristic of Els' putting has been how often he has changed styles. He has never been afraid to try new grips and styles as he battled with putting demons over short putts, but he was never down for long. Despite a couple of bad runs, Ernie has almost always seemed to bounce back and hole putts by the bucket-load. Ernie is a candidate for "great putter status" as much for recovering from his troughs as much as maximising his peaks.
When the belly putter was allowed, Ernie took full advantage and even though he himself claimed it was like cheating, he used a putter anchored in his midriff to win his second British Open title at Royal Lytham and St. Anne's in 2012. Indeed he holed a beautiful 20-footer across the last green to do so!
With the ban on anchored putters coming into effect, Els has now been forced to try a few conventional designs and he has largely opted for conventional head shapes and has tended to revert back to the classic Anser-style for the most part of his career.
What we can learn from Ernie Els' Putting..?
The way in which Els hones his putting ability seems to lie within a few simple steps, steps which you could incorporate into your game! Firstly, the routine of the round-the-clock drill before heading to the first tee not only breeds confidence when you see and hear the ball dropping into the cup, but also gets you ready for putts of all the different breaks. Secondly, Els is a firm believer in the feeling of the hands, arms and shoulders working together as a unit. Remember, there's only one thing actually hitting the putter: the putter face, so why not channel all that energy into one motion?
Els' philosophy has always been not to take too much time when over the ball. According to Ernie himself, this Snedeker-like mentality was something that deserted him on his blue patch on the greens. After seeing some footage of himself in his younger years, he realised he was 'knocking them in' more frequently because he just got on with it.
Sometimes, over-thinking something really is over-thinking. Executing the putt at a brisk pace eliminates the chance of any positivity being spoiled by even a smidgeon of doubt.



by Murray Rose
Senior Contributor

Return to the Best-Putter.com homepage