Futuristic Putters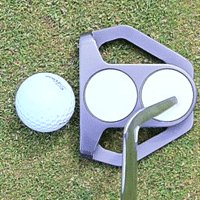 Futuristic putters are the latest development in putters. They're designed with almost no regard for looks, and offer the best technical advantages of high M.O.I. (moment of inertia, or resistance to twisting).
They are almost without exception face balanced putters, so will best suit a stroke that does not have a great deal of arc to it.

 In general, this type of putter has every type of technical advantage that's possible. They are built for performance and not for looks. If you can get used to the appearance of the putter, then this may well be a great choice for you.
Although the feel may not be the same as a classic blade putter, unless you're a very low handicapper the design features of these putters will help you far more than any loss of feel might hold you back.  Give one a try!
The most futuristic putters out there...
The Taylormade Spider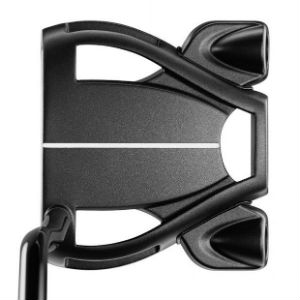 Taylormade Spider
The Taylormade Spider re-wrote the text book on what shapes of putter were normally seen on the world's professional tours. Although they were way out when they launched, as soon as major champions and top tour stars like Dustin Johnson, Jason Day, Rory McIlroy and Jon Rahm started using them, they became mainstream.
The advertising hype surrounding these putters would lead you to believe that they possess so much science that you could barely miss with one, but we found them an acquired taste, and not all that easy to line up despite the long line on the top, so it's well worth giving one a thorough trial before shelling out the $100s they cost brand new. Alternatively, buy a used one, just to see what they're like. 
| | |
| --- | --- |
| | on a Taylormade Spider... |
The Scotty Cameron Phantom Range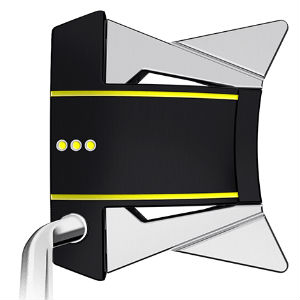 Scotty Cameron Phantom X12
Scotty Cameron jumped on the big-tech futuristic bandwagon in the mid 2000s with the Futura. This wholly unattractive putter stayed in Phil Mickelson's bag for a season or so before he went back to more conventional shapes. Since then Scotty Cameron has introduced the Futura X and Phantom styles which are heavy looking mallets with weights in all sorts of places.
The later models with black inserts are the best of these, combining great roll and high tech with a surprising amount of feel. Not quite up to Scotty's more conventional styles, but good nonetheless.
| | |
| --- | --- |
| | on a Scotty Cameron Phantom... |
The Ping Wolverine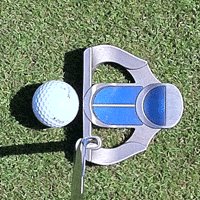 Ping have always produced angular, ugly futuristic putters to go alongside their beautiful and minimalist Anser range. Amongst the weirdest were the Ping Craz-E, which we really liked when we tested it back in 2009. 
---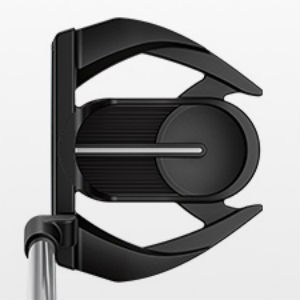 Ping Wolverine
Towards the end of the 2010s, the Ping Wolverine became the manufacturer's oddest shape. With Ping, you're always guaranteed good feel and a good roll, so even if you are the only one who thinks one of these models is good to look at, then it'll be worth giving a go, especially on the second-hand market.

| | |
| --- | --- |
| | on a Ping Wolverine... |
Click on the links below to find out which blade putter is the best with www.Best-Putter.com's independent, hands-on reviews, you'll also find where to buy them at the best prices!
Not sure whether a futuristic putter is for you?
Click here
for our guide to choosing the right putter for your stroke.
TaylorMade Spider

Lots of hype when this putter launched, but initially the pros who rely on their putters didn't stick with the Spider. Since then it's evolved into a great putter
Odyssey 2 Ball

The iconic putter of the 2000s - easy to aim, great feel
Odyssey Backstryke

One of the most revolutionary designs in putting. Love it or hate the look, the results are good
Odyssey 2 Ball Blade

Padraig Harrington used this combination of blade and 2 ball design to win majors, but what's it like?
Odyssey White Hot 7

Super popular shape available in many different models with a winning alignment system and amazing feel
Odyssey White Ice Progressive Terron Mid

Sharp-edged spaceship of a putter - you need to like futuristic shapes to use this one!
Ping Crazy E

One of the easiest putters to line up we've ever tested, but feel is hollow
Scotty Cameron Futura

Phil Mickelson toyed with the Futura, before heading back to a blade. The first of the truly futuristic putters, and probably about as attractive as they're ever going to be
TaylorMade Ghost Corza

Odd-looking putter to start with, but a great putter in terms of roll and feel with a look you can get used to. Justin Rose used this putter for his first PGA tour win.
Yes Natalie (C-Groove)

Futuristic design with amazing roll and super long aimline.
Return to the Best-Putter.com homepage