Mallet Putters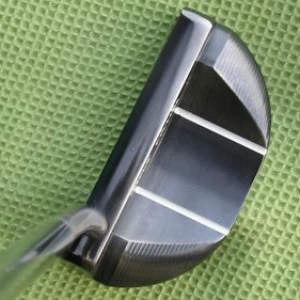 Mallet putters are so called because they look a bit like croquet mallets - a solid lump on the end of the shaft. Almost without exception mallets are face balanced putters, so will only really suit an square-to-square stroke. Whereas older mallet models look like the image here, manufacturers now produce much more futuristic looking designs which are carefully balanced to give higher moments of inertia - in other words they resist twisting better on off-center hits. 
Examples of more futuristic mallet putters include the Odyssey #7 shape and Taylormade Spider, pictured below:
| | |
| --- | --- |
| Odyssey #7 | Taylormade Spider |
Pros who have had great success with a mallet putter include Ray Floyd, Colin Montgomerie, Padraig Harrington, Jon Rahm and world beating putters Jim Furyk and Luke Donald.

Find the best prices on mallet putters
Click on the links below to find out which mallet putter is the best with www.Best-Putter.com's independent, hands-on reviews, you'll also find where to buy them at the best prices!


Callaway Golf
Callaway Tuttle

The Tuttle is certainly original - a putter that definitely looks like a driver. The good news is that it performs better than it looks!

Cleveland Golf
Cleveland T Frame
Surprisingly well finished futuristic putter. If you like see through frame designs this is a good value-for-money option
Nike Method 005

Face balanced mallet which looks like it's got a good bit of meat behind the head. For our money the best looking in the Method range.

Never Compromise
Never Compromise Alpha

This putter seems to stay square for ever! Feel's not great, but you'll love it if you use a square-to-square stroke
Never Compromise Voodoo Daddy Belly Putter

Super-long aimline and futuristic design. Solid, affordable belly putter.

Odyssey
Odyssey 2 Ball

The iconic putter of the 2000s - easy to aim, great feel
Odyssey Backstryke

One of the most revolutionary designs in putting. Love it or hate the look, the results are good
Odyssey White Ice 5

Classic face balanced D shape with silky soft Ice White insert!
Odyssey White Hot 7l

Great looking long putter with slightly dead feel - excellent for fast greens
Odyssey Rossie II Belly Putter

Classic D shaped head used by Annika Sorenstam amongst many others!

Ping
Ping Crazy E

One of the easiest putters to line up we've ever tested, but feel is hollow
Ping IN

Technology has led the Ping designers to create a holy mess of a putter. If you love the weird and the wacky, you might (just) like this

Rife
Rife Two Bar

A putter that looks and feels good behind the ball. Just a bit firm on the feel side.
Rife Hybrid Tour Mallet

Despite the Tour element to this putter's name, we haven't seen any of them actually on the pro tours. One of the least impressive of Rife's range
Rife Mr. Beasley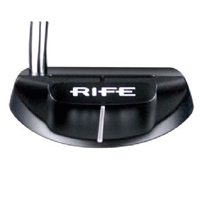 Nicely finished and reasonably priced mallet - well worth a look

Scotty Cameron
Scotty Cameron Studio Select Kombi Mid

A big hulk of a putter - face balanced with a long aimline
TaylorMade
TaylorMade Rossa Spider

Lots of hype when this putter launched, but pros who rely on their putters have not stuck with the Spider
TaylorMade Ghost Corza

Beautiful square-designed Anser with great aimlines - well worth a look!

Yes C-Groove
Yes Natalie (C-Groove)

Futuristic design with amazing roll and super long aimline.
Yes Emma

The least attractive of the Yes belly putters - although that's just our opinion
Yes Victoria II
Straightforward D shaped mallet with C-Groove roll
If you're not sure whether this style of putter is for right you,click here for our guide to choosing the right putter for your stroke.
Return to the Best-Putter.com homepage