Bobby Locke "the greatest putter in history"?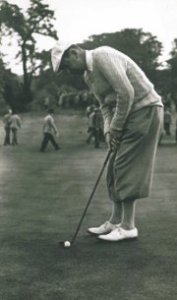 Bobby Locke is regarded among the connoisseurs of the game as perhaps the greatest putter of all time. Gary Player has always maintained that Locke's talent and confidence in his putting method were the greatest.
He may even have become a better putter had it not been for his unfortunate automobile accident in 1959 which effectively ended his career.
At the age of nine, Locke was given a putter by T.D. Lighthouse, who had been watching him practice at Germiston golf club. Bobby kept this hickory-shafted steel blade putter from then on, staying with him in numerous professional competitions and all of his Open championship victories. The "rusty old blade" stayed in the bag until the very end of his career.
His putter was longer than most, and he positioned his hands high on the grip, thus helping him to create the slow, deliberate stroke that reflected his laid back personality. 
---
Fact file:
Date of birth:
November 20, 1917.
Claims to putting fame:
Coined the phrase "You drive for show, but putt for dough." Had the ability to putt on grainy greens without the need to allow for the direction of the grain because of the consistent roll he put on the ball. Mastered the art of links putting on his way to four Open Championship victories. One of the first non-Americans to succeed on the PGA Tour with consistently high-class putting, as well as setting the current record of the highest victory margin ever, 16 shots, while there.
Putter used:
Hickory shafted putter given to him by a friend when aged 9.
| | |
| --- | --- |
| | on a hickory putter like Bobby Locke's... |
---
What can we learn from Bobby Locke's putting?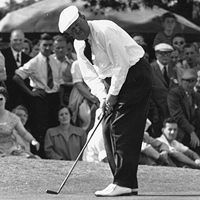 Locke was a genius on the greens despite an unusual putting style. Eyewitnesses say that he "hooked putts", a technique that provided a different way of releasing the blade. He was known for giving putting clinics wherever he went, preaching that he believed he could put spin on putts to almost help the ball on its way to the hole.
There was nothing unorthodox about grip Bobby Locke used. However, he didn't change anything from his full swing - an overlapping grip, with his thumbs straight down on the shaft. Like Ben Crenshaw, he had a light grip pressure for better feel in his hands and fingers. For the most part, Locke was not a wrist putter. He putted more with his complete upper torso as a unit, making his action a more dependable one.
Bobby Locke will forever be remembered for addressing the ball with his feet closed to the putt's path. He pulled his right foot back a couple of inches to close his stance and ensure a backstroke which went inside the putt line then he would strike the ball with a sharp rap and a closed clubface. This meant he could keep to his greatest tip of all: "never cut a putt."
Locke believed in keeping the putter low to the ground, brushing the tops of the grass blades in a bid to avoid sidespin. His technique of delivering a repeatable, unflappable roll on the ball also gave him great distance control, with the ball constantly rolling smoothly, and without much deviation, towards the hole.
Bobby Locke developed his stroke for the extremely grainy bermuda greens of his era which were needed to survive hot summers without much water. His method has not been used by top pros since the advent of softer more durable grasses on which grain is not such an issue.
Bobby Locke's Putting Philosophy:
Locke believed that pace was primary, and break came after. He believed that the final three or four feet of the putt was crucial, given that the putt would be losing speed by that time. He studied this area most closely in order to use it to his advantage: "I examine the line of the putt, concentrating particularly on a radius of about three feet around the hole," he said. "This is where the ball completes its run, and what happens here is going to make or mar the putt."
You will in some ways find Locke's beliefs on reading greens similar to
Nick Faldo
's: "All putts are straight putts. If the contour of the green creates a right to left breaking putt, you aim at a point where you believe the ball will begin to turn toward the hole and hit the putt straight at that point."
This simplified approach enabled him to believe that the hole was bigger than it actually appeared to the naked eye. Locke felt the hole had four 'doors' - a front, left, right, and back door. Locke would see it that if he aimed for the front door he had three chances of sinking the putt. He also greatly emphasized confidence over the ball, just the same as
Brad Faxon
, saying: "second guesses in putting are fatal."
Solid contact was just as important to Locke - something that he believed most golfers could do better. Doing this exercise from the man himself should see you strike your putts more consistently: "Look at the ball's original position until the ball itself vanishes from sight. If your head moves, everything is for naught."
Other articles you might like:
Bobby Locke's entry in the World Golf Hall of Fame
Wikipedia entry - Bobby Locke



Return to the Best-Putter.com homepage