Taylormade Rossa Kia Ma Fortuna
How does it look behind the ball?
The TaylorMade Rossa Kia Ma Fortuna has all the feeling of an ultra modern, high-tech, glitz-and-glamour putter. However, I was pleasantly surprised when I put it behind the ball. It's anything but flash and fancy. Instead the look is solid and reassuring.
It's a classic D shaped head with heel and toe weights which make it look a little like a chunky Ping B60 or even a rounded back
Ping Anser
. Everything's square except the back of the head and with the long aim line it's super easy to line up.
---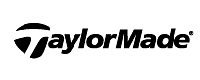 TaylorMade

... on a TaylorMade putter
---
How does the Taylormade Rossa Kia Ma Fortuna feel?
Yet again nothing flashy here. The feel is responsive and solid. You get very little feeling of twisting or any other nasties through the ball. In this respect it's very similar to the
Odyssey 2 Ball
- a really solid, well made putter. The red insert material felt soft, but also gave good feel through the strike.
Obviously it's a
face-balanced putter
, so through the hitting zone you get very little feeling of clubface rotation which will appeal to you if you're trying to produce a square-to-square stroke and will lead to pushes-galore if you favour the open-to-square-to-closed stroke.
How does it roll the ball?
<!Stock image>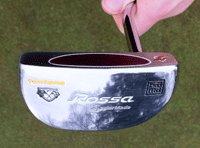 I loved the roll I got from the TaylorMade Rossa Kia Ma. It got rolling quickly and I made a ton of putts with it. There are horizontal groves on the face which I'm sure TaylorMade will say make all the difference, but this isn't the site for technical blurb. All I can tell you is that the roll I got was pure.
***z-verdict.shtml*** The TaylorMade Rossa Kia Ma Fortuna is a classy face balanced putter with good feel and a traditional look. ***z-others-to-consider.shtml*** ***z-otc-odyssey-2-ball.shtml*** ***z-otc-odyssey-white-ice-5.shtml*** ***z-otc-yes-natalie.shtml*** ***z-otc-never-compromise-voodoo-daddy.shtml*** ***z-otc-scotty-cameron-newport-25-center-shaft.shtml*** ***z-other-details.shtml***
Return to TaylorMade Putters Page
***z-home-page-link.shtml***
For more information on the TaylorMade Rossa Kia Ma Fortuna, click here
Return to the Best-Putter.com homepage