Dave Stockton... golf's greatest putter?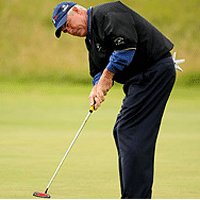 Dave Stockton is regarded by every generation of PGA Tour player as a great putter and fountain of knowledge for the art of putting. He won the PGA Championship in 1970 and 1976, alongside 8 other PGA tour in a good career, made into a Hall of Fame career by excellent putting.
Stockton won yet more tournaments on the Champions Tour - 14 in total - than in his so-called "golden years" on the PGA Tour, which suggests that he maintained his top-level putting ability throughout his career. When senior players hit the ball shorter from the tee it often puts more pressure put on their short game, which makes Stockton's achievements all the greater.
---
Fact file:
Date of birth:
November 2, 1941.
Claims to putting fame:
Sank a 15 foot par putt at the 72nd hole of the 1976 USPGA Championship to force a play-off and eventually go on to win. Writer of the best-selling book "Unconscious putting." One-time coach to Rory McIlroy. Instrumental in helping Taylormade create their range of White Ghost putters with his invaluable experience.
Putter used:
Taylormade Rossa, Taylormade Ghost Spider
---
Return to the Best-Putter.com homepage