Dave Stockton... golf's greatest putter?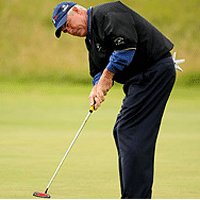 Dave Stockton is regarded by every generation of PGA Tour player as a great putter and fountain of knowledge for the art of putting. He won the PGA Championship in 1970 and 1976, alongside 8 other PGA tour in a good career, made into a Hall of Fame career by excellent putting.
Stockton won yet more tournaments on the Champions Tour - 14 in total - than in his so-called "golden years" on the PGA Tour, which suggests that he maintained his top-level putting ability throughout his career. When senior players hit the ball shorter from the tee it often puts more pressure put on their short game, which makes Stockton's achievements all the greater.
---
Fact file:
Date of birth:
November 2, 1941.
Claims to putting fame:
Sank a 15 foot par putt at the 72nd hole of the 1976 USPGA Championship to force a play-off and eventually go on to win. Writer of the best-selling book "Unconscious putting." One-time coach to Rory McIlroy. Instrumental in helping Taylormade create their range of White Ghost putters with his invaluable experience.
Putter used:
Taylormade Rossa, Taylormade Ghost Spider
---
| | |
| --- | --- |
| | on a TaylorMade putter like Stockton's... |
Not in the US?
Click here for
eBay
and
Amazon
listings for a Taylormade putter like Dave Stockton's
What can you learn from Dave Stockton's putting?
Stockton preaches a simple checklist in order to promote consistent results on the greens.
He believes that your eyes should be over the ball no matter what. From there, the stroke is a relaxed one that must not be over-thought; there is no technical aspect to it at all - feel first and let the stroke follow. "It's not about 'trying' to do this or that. I don't use that word when I'm coaching," he once said. "It's all about feel and stroking the ball."
Dave Stockton compares putting to taking a shot in a game of pool:
"What's the point of a practice stroke? If you're shooting pool you don't take a practice stroke. Why should you when you're putting?"
So with no practice stroke to gauge the pace, Stockton does all his preparation while reading the green. In a similar vein to Aaron Baddeley, Stockton always looks at a putt from the low side and nowhere else. He'd rather have the wrong read and think he has the right one rather than look at a putt from a number of angles and get confused.
In terms of routine, Stockton is a brisk, no-nonsense putter. He's making his stroke soon after he's addressed the ball. He does, however, place his putter down IN FRONT OF the ball when he first takes his stance.
Here's why you should do the same: "I've always done it because I don't want the putter head to stop moving." Then once the putter reaches the normal position, you can just "pick the spot on the ground and roll the ball over it."
Return to the Best-Putter.com homepage