Corey Pavin - A great clutch putter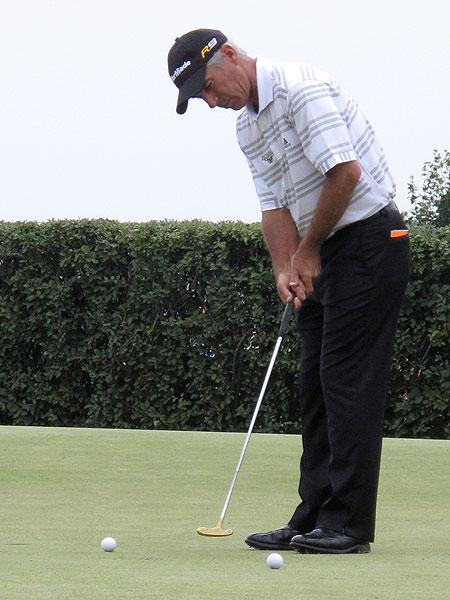 Corey Pavin's pressure putting at the Ryder Cups from  could be placed among the list of great putters solely on his performances in the Ryder Cups between 1991-1995.
But Pavin's putting led him to success in major championships too, with 12 top-10s in Grand Slam events, despite being just about the shortest hitter on tour. The fact that he hit a 4 wood shot into the last hole at Shinnecock shows just how short he was, but the fact that he outscored the field, leaving golf's biggest hitter of the time - Greg Norman - in second place shows just how effective his putting was. 
As the standard of his golf game diminished, Pavin took on the responsibility of Ryder Cup Captain for the 2010 matches at Celtic Manor. However, his putting touch stayed with him into his playing career on the Champions Tour. 
---
Fact file:
Date of birth:
November 16, 1959.
Claims to putting fame:
An acclaimed putter with his own style of both grip and stroke. Won 1995 US Open at Shinnecock on fast crusty greens and holed many a clutch putt for the USA in Ryder Cups between 1991 and 1995.
Putter used:
Titleist Bullseye & Bullseye flange
| | |
| --- | --- |
| | on a bullseye putter like Pavin's... |
Corey Pavin's Putter
Pavin or "Bulldog" as he is known among his peers first picked up a Bullseye putter for the first time in 1984 and has used it with a short break for the whole of his career since then. This loyalty to one putter (even one brand) is rare among professionals, who often search for an advantage with a new style of putter or new technology.
"Obviously I like the Bullseye putters in general," Pavin said in an interview with Sports Illustrated. "But the shaft on this one is really good. It's soft and it just feels very good to me. So for me, it has a lot to do with the shaft, but that shaft probably wouldn't work on another head." Though Pavin hasn't a clue what model shaft is attached to his Bullseye, he knows it works for him - something that you should always bear in mind when choosing a putter.
Pavin's Putting Tips:
There is one small idiosyncracy that Pavin has when putting. It is what analysts all over the world can only describe as "turning the hands out." When gripping the putter, Pavin rotates his hands in such a way that it locks his elbows more tightly into his torso, preventing the wrists from breaking down. If you want to try it, here's how to do it: 1) Address the ball as normal with your standard grip (right-below-left for a right-handed player).
2) Relax the grip pressure in both hands and turn them out roughly half a turn each (clockwise for the right hand, anti-clockwise for the left). This is very much like the grip advocated by putting legend Paul Runyan. For more info click
here
.
3) Make sure that you have achieved the feeling of both elbows being locked into position whilst maintaining a light grip on the putter.
While this may not be the everyone's answer to better golf, it is a small change with a big difference for Corey Pavin.
For details on Corey Pavin's 1995 US Open win, click here



by Murray Rose
Senior Contributor

Return to the Best-Putter.com homepage