Putter Reviews -
Find out whether the putter you're about to buy is actually any good!
<!Text begins> Our putter reviews are totally independent. We're not paid by any putter manufacturer, so say "goodbye" to marketing blurb and "hello" to honest opinion from an honest hands-on reviewer.
Our goal is to help you find the best possible putter for you, at the best price. You can search for any putter on the planet using the search box below and our most popular reviews are linked below.
Search our entire database of putter reviews here:
How do we put our putter reviews together?
It's very simple: we try them out. That's right - when we say they're hands-on reviews, our tester has actually putted with them and can therefore report the feel of the putter from personal experience. 
Because feel is such an important part of using a putter, there's really no other way to find out what a putter is like, other than to hold it in your hands and use it. 
Who are our putter reviewers?
At various times our testing panel has included tour pros, club pros and low-handicap amateurs. You can check out our biogs here. Just like you, we're serious about the game and serious about putting better, so we take time to think about the putter reviews we write. 
If you're interested in contributing your own reviews and possibly getting paid for it, get in touch via the contact link at the bottom of the page!
Meantime, here's a list of the putters we've so far reviewed. Click through to read our full review and find the best prices on new and used putters of that type:
Never Compromise Alpha

This putter seems to stay square for ever! Feel's not great, but you'll love it if you use a square-to-square stroke
Never Compromise Voodoo Daddy Belly Putter

Super-long aimline and futuristic design. Solid, affordable long or belly putter.
Odyssey 2 Ball

The iconic putter of the 2000s - easy to aim, great feel. Now available in many different styles and designs
Odyssey Backstryke

One of the most revolutionary designs in putting. Love it or hate the look, the results are good
Odyssey White Ice 5

Larger than average blade with original White Hot insert... beautiful to look at and great feel.
Odyssey White Ice 5

Classic face balanced D shape putter with the silky soft Ice White insert!
Odyssey 2 Ball Blade

Padraig Harrington used this combination of blade and 2 ball design to win majors, but what's it like?
Odyssey Black iX 1

Perhaps Odyssey's best effort yet to eclipse the Scotty Cameron and Ping Ansers.
Odyssey White Hot 7l

Great looking long putter with slightly dead feel - excellent for fast greens
Odyssey White Hot 9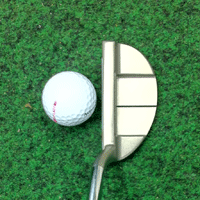 Classic blade shape with amazing weighting and feel. A superb putter - highly recommended.
Odyssey Rossie II Belly Putter

Classic D shaped head used by Annika Sorenstam amongst many others!
Ping Anser

The Anser is the putter that has been copied a thousand times - now available from Ping at a variety of prices.
Ping Redwood Anser

The design which has won more pro events than any other, now with top quality materials.
Ping Zing 2

A much more attractive version of the original without the copper head that oxidizes in the sun!
Ping Karsten Anser

Unbeatable on price and right up there for feel and design.
Ping Crazy E

One of the easiest putters to line up we've ever tested, but feel is hollow
Ping Anser G5i

A hideous beast to look at, but beautiful to use.
Ping 1A

The first putter Ping ever made. A collectors' piece now. Not great to use, and very loud!
Ram Zebra

Iconic putter from the 1980s & 90s. Face balanced and with a great alignment aid.
Scotty Cameron Newport 2.5 Center Shaft

The classic shape, different hosel ... but same awesome feel.
Scotty Cameron Newport 2 Studio Select

The affordable Scotty Cameron.
Scotty American Classic 3 Heavy Flange

A surprising remake of the classic bullseye flange shape. More forgiving and more immediate with feedback than the original
Seemore FGPw

A nice re-working of the classic FGP from Seemore. Unfortunately only available with an offset shaft that doesn't make full use of the wonderful riflescope aiming system
TaylorMade Rossa Kia Ma Fortuna

A highly refined mallet from TaylorMade - recommended!
TaylorMade Ghost TM-110

Beautiful square-designed Anser with great aimlines - well worth a look!
TaylorMade Ghost Corza

Beautiful square-designed Anser with great aimlines - well worth a look!
TaylorMade Rossa Daytona

Well constructed Anser style putter - excellent if you're after a good putter at a lower cost - gunmetal color looks classy - feels good too!
Titleist Bullseye Flange

An extremely pretty putter. A favourite with some of the world's greats 50 years ago and excellent on fast greens. Unforgiving when compared with modern putters
Yes Tracy 2 (C-Groove)

In our view the classiest Yes putter - anser-style head with the amazing C-Groove for a terrific roll.
Yes Natalie (C-Groove)

Futuristic design with amazing roll and super long aimline.
Yes Donna (C-Groove)

Wide bodied anser-style head with the amazing C-Groove for a terrific roll.
Zen Oracle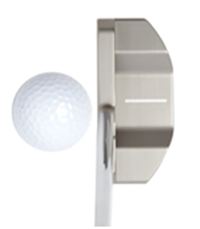 High tech putter from the Far East which is designed entirely with the outcome in mind. A great roll results
Return to the Best-Putter.com homepage