<!body-starts-here> <!Top headline>
Yes Natalie Belly Putter
<!Top image>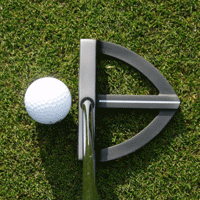 <!Text begins>
How does it look behind the ball?
The Yes Natalie belly putter certainly has a bold design - there are several things that make this an attractive putter. The long aimline for starters makes it easy to aim.

Then there's the straight shaft which allows you to see the whole of the top of the hitting surface.

The thing I liked least about the design were the two triangular shaped holes which mean you see the green below the putter when you address it and when you move the putter away. Somehow this "moving image" put me off my stroke. I'm sure after a while you'd get use to it.

<!find-best-used-price-icon>

on a Yes Natalie...

<!geo-targeted-ebay-link> <!other-ads> <!Logo image>


How does it feel?
A definite plus point of the Natalie is the feel off the face. It's as if you're brushing the ball along the green rather than striking it. Although I get the feeling with all Yes putters that the materials they use don't match the quality of, say a Scotty Cameron, an Odyssey or a Ping Redwood, this Yes putter certainly had a soft feel to it.

The reason I say the materials don't seem as good is because the sound the ball makes as it comes off the face is still a bit pingey.


How does it roll the ball?
This is where I was super-impressed. The Yes Natalie with the patented C-Groove rolled the ball like almost nothing I've ever tried before.

In fact it rolled it so well that I can still remember one of the first putts I ever hit with it. The greens that day were soaking wet after a serious downpour and everyone's putts were coming up short. I had a long putt to beat a small time touring professional friend of mine (who, ironically had loaned me the putter after I'd forgotten mind for the day).

When the ball left the putter face I thought it was short, as it rolled from 30 feet towards the hole, it looked like it would end up just on the edge of the cup, but as it got closer it seemed to have new momentum.

Not only did it make it, but it rolled in with just enough speed to hold its line as a last bit of break threatened it.






Positives: Awesome roll, long aimline, affordable price

Negatives: Slightly strange design, pingey sound off putter face.


Others to consider:

Ping Anser - The classic design is hard to beat.
Odyssey White Ice #5 - Great feel in a good sized face-balanced head.
Scotty Cameron Newport 2 Studio Select - Entry level Scotty Cameron, but with great feel nonetheless.

Odyssey 2 Ball - A firm favourite in futuristic design with terrific visual aiming aid.



Read the background behind the Yes Putters C-Groove








Return to Yes Putters Page
Return to the Best-Putter.com homepage
For more information on the Yes Natalie, click here




<!standard-footer-starts-here>