Tiger Woods Scotty Cameron Putter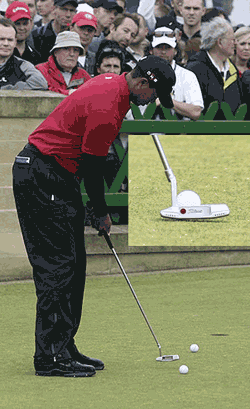 "What model is Tiger Woods Scotty Cameron?" is one of THE most posted questions we get on this site.

The answer is not as simple as it might seem. The straight answer is that Tiger's famous Cameron blade is a prototype putter which is closest in shape to the Newport 2 design produced by Scotty Cameron.

However, the putter is in fact a copy of the classic Ping Anser 2 design. These putters were available in stainless steel in the 1980s and 1990s.

Woods used this style of putter to win a record 3 US Amateur Championships during his amateur career, but for some reason stopped using the original in favour of the Cameron designed alternative.
EXACT SPECIFICATION of TIGER WOODS SCOTTY CAMERON:
Putter length
: 35.25" (89.5cm)
Putter weight: 326 grams
Swing weight: D7
Putter Material: German Stainless Steel.
At Best-Putter.com we try only to comment on putters we've actually held in our own hands. This is obviously rather difficult in the case of Tiger's putter, but our we understand from
our sources
that the specifications of his putter are as above.
Tiger's putter has at different times had a Ping grip and a Scotty Cameron grip. For commercial reasons the lettering on these grips is blacked out to make it invisible.
| | |
| --- | --- |
| | on a Scotty Cameron Newport 2 like Tiger's... |
Not in the US? Click here for eBay
and Amazon listings for a Scotty Cameron Newport 2 in your region
---
How to get your hands on Tiger's putter:
The closest you can get to buying Tiger Woods Scotty Cameron are a
Scotty Cameron Newport 2
(see listings above) or a
Ping Anser 2 in stainless steel
(see listings below) this was the putter that Tiger used for his entire amateur career. Both are terrific putters.
Follow the links or listings for more information about them and where you can pick them up at a good price, either new or pre-owned:
| | |
| --- | --- |
| | on a Ping Anser putter like Tiger's... |
Not in the US? Click here for eBay and Amazon listings for a Ping Anser in your region
---
Tiger's other putters
Although he has returned to his Scotty Cameron again and again, Tiger has used other putters, and you might like to look at those. A full run down of Tiger's putters is here. 
The most similar putter to the Anser-style that Tiger used was the Nike Method 002, which he used in order to fulfil his sponsorship deal with Nike when they started making clubs, a part of the business they closed in 2017. For this reason, of course, you'll have to search for a one on the used market. Here are the latest live offerings on eBay:
Others to consider:
Scotty Cameron Newport 2 Studio Stainless

The "more affordable", but rather unimpressive Scotty Cameron.
Ping Karsten Anser

Unbeatable on price and right up there for feel and design.
Ping Anser

The Anser is the putter that has been copied a thousand times - now available from Ping at a variety of prices.
TaylorMade Rossa Kia Ma Daytona

Good looking Anser style putter - Part of TaylorMade's resurgence as a designer of high quality putters
TaylorMade Ghost TM-110

Beautiful square-designed Anser with great aimlines - well worth a look!
TaylorMade Rossa Daytona

Well constructed Anser style putter - excellent if you're after a good putter at a lower cost - gunmetal color looks classy - feels good too!
Ping Redwood Anser

The design which has won more pro events than any other, made with top quality materials. This Ping is a winner!
Yes Donna (C-Groove)

Wide bodied anser-style head with the amazing C-Groove for a terrific roll.
Yes Carolyne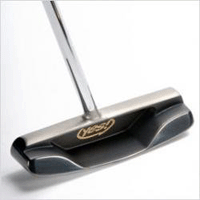 A straightforward heel and toe design with great roll from the C-Groove
Nike Method 001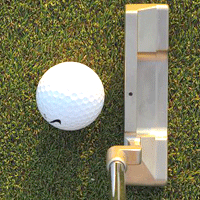 The best of the Nike Method putters. Favored by Tiger Woods while he was contractually obliged to use a Nike putter. A standard looking Anser style putter, with nice roll and feel. But not good enough to stay in Woods' bag once Nike gave up on the golf equipment industry.
Nike Method 004
Face balanced version of the Method 001. Favor this putter if you routinely pull your putts or you're trying to produce a straight-back-straight through stroke.
See some of the history and early advertising for the Ping Anser
here
.
Return to the Best-Putter.com homepage