Tiger Woods Putter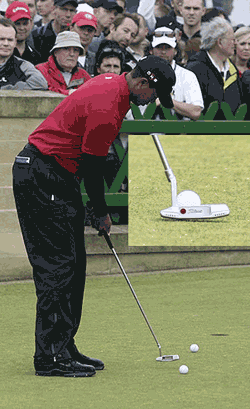 Q: "What is Tiger Woods putter?" (THE question we most often get asked at Best-Putter.com.)
A: For the vast majority of his career Tiger used a custom made Scotty Cameron Newport 2 prototype. It's the putter he's using in this picture.
It's a classic anser style head with some unique Tiger Woods lettering on the heel and toe weights and - ironically - a ping grip with the Ping lettering on the front of the grip coloured in black so as not to breach his equipment contracts. 
For more information on Tiger Woods Scotty Cameron putter, and its full spec,
click here.
If you're looking to buy a putter like Tiger's, then take a look at these live eBay ads for Scotty Cameron Newport 2s:
| | |
| --- | --- |
| | on a Scotty Cameron Newport 2 like Tiger's... |
---
When Tiger Woods putter changed...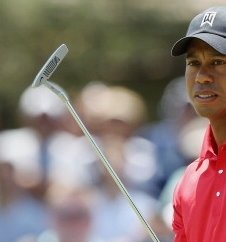 Along with Tiger's rocky personal life, the speculation over his inability to settle on a successful putter was a popular topic of conversation during the 2010 British Open.
After a decade of domination with his much trusted Cameron prototype, Tiger, then no longer world number 1 drastically switched to a Nike Method 001 in a bid to conquer the slower links greens at St. Andrews.
---
For Tiger, though, the greens at the Home of Golf only served to emphasise his putting woes. In the lead up to that Open, his former caddy Steve Williams had described his performance with the flatstick as "frustrating" and "substandard".

That Open was a disappointment and he decided another change was needed. This time he tried the "Method 003"model. 
Tiger with a blade putter?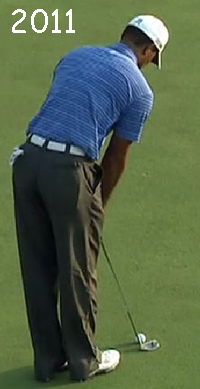 Although Woods has not been one to tinker too much with his equipment, he justified his change by saying that the blade design and 'toe-down' balance configuration (i.e. heavily toe-weighted) of the Method 003 helped him to release the putter through impact. This is a very different beast from the Tiger Woods putter of old.
This is how Woods explained his decision to split from his highly successful Anser-style Scotty Cameron model. However his early results were not all that impressive with the Nike designs.
---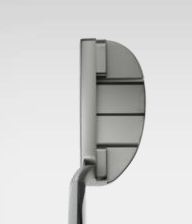 Nike are no longer making putters, but there are plenty of Nike Method putters on the used market:


... on a Nike putter
Not in the US? Click here for eBay listings for a Nike putter in your region.
Maybe that's why, during 2012 he's started putting with what seemed to be the Nike Method 001 again. This did bring success at the 2011 Chevron, but other indifferent performances have followed..
Woods's Nike putters have still followed the specifications of the Cameron he used before: They have the identical lie angle, an alignment dot on the head and the customary Ping grip (with the Ping logo coloured in black of course, to avoid commercial conflicts). Click here for the exact specification of Tiger's putter.

Is it all about the money?
Have you ever wondered why he bothered changing? You're not alone! We at best-putter.com certainly have.
Whether or not money came into the equation, the one good thing for all of us is that Nike obviously did manage to produce putters Woods is willing to use, which puts better putters on the market for us.


For more information on Scotty Cameron, the brand Tiger Woods used to win more tournaments than any other, click here.

Return to the Best-Putter.com homepage