Bullseye Putters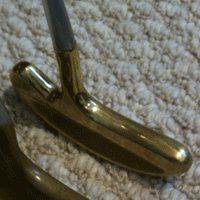 Bullseye Putters are not a brand but a design. In fact with their smoothly curving shape and shiny appearance, they're more or less the stuff of legend - a throw back to golf in a different era!
There are some variations of the classic bullseye design, but the hallmarks are a minimalist curved design with a center shaft, made usually out of brass. Although the history is not entirely clear, most people believe that the classic Bullseye shape started with the 1946 John Letters Golden Goose putter.
Its supreme touch meant that most of the top players between the 1940s and 1970s used a Bullseye. Jack Nicklaus used one to claim many of his early Major victories and since then Nick Faldo, Greg Norman, Corey Pavin, Tom Kite and Mark McNulty have been amongst the most famous golfers to use a Bullseye design.
And the same retro craze that brought us back the mini and the VW campervan has brought Bullseye Putters back into the limelight. Several of the major golf manufacturers have produced a model.
| | |
| --- | --- |
| | on bullseye putters... |
The advantages and disadvantages of bullseye putters
For starters, look no further than the pure feel these putters give you. If you putt on extremely fast greens where you are able to stroke the ball gently at all times, then you'll be able to benefit from excellent speed judgement with a bullseye. 
Fast greens though are a basic requirement for using this style of putter. This is because if you play on greens which require you to give the ball more speed, you expose the big weakness of this style - its tiny, no... miniscule ... sweetspot.
Taking a longer swing at the ball in order to get it to the hole means you're going to miss the center of the putter face more regularly and this - with a bullseye head - will lead to more twisting of the face and less consistency with your speed. Modern putters with heel and toe or "futuristic" weighting have far bigger sweetspots and will give you more consistency in terms of both direction and speed when you miss the middle. That said, the one putter we have tested that seemed to buck this trend was the Scotty Cameron American Classic 3 heavy flange which managed to deliver both feel and forgiveness.  
The simplicity of the bullseye design is for many people one of the plus points, many people find the simple line shape of the bullseye head easy to align. That said, what attracts one person turns others off - and there are plenty of people who reject this putter shape as old fashioned and lacking in game improving technology. 
There is also one big advantage if you're thinking of buying a used putter: to be blunt Bullseye putters are CHEAP! 
Click on the links below for independent, hands-on reviews of Bullseyes (inactive links are putters pending reviews).

| | |
| --- | --- |
| | |

Scotty Cameron

on a Scotty Cameron...
Scotty American Classic 3 Heavy Flange

A surprising remake of the classic bullseye flange shape. More forgiving and more immediate with feedback than the original
Scotty Cameron American Classic 3

A simply gorgeous reworking of the Bullseye shape. New materials and great Scotty Cameron workmanship make this a beautiful putter to look at. Still not that forgiving, though!
Scotty Cameron Bullseye Platinum Heavy Flange

A Bullseye putter worthy of consideration! The offset neck and flange aren't quite what you'd want if you're a purist looking for a bullseye, but it putts better.

Titleist

on a Titleist putter...
Titleist Bullseye Flange

An extremely pretty putter. A favourite with some of the world's greats 50 years ago and excellent on fast greens. Unforgiving when compared with modern putters
Return to the Best-Putter.com homepage