<!body starts here>
Odyssey Putter Clones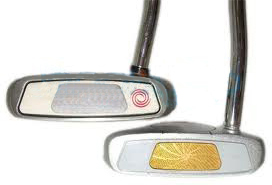 Odyssey putter clones are the fakes you're most likely to find on the virtual shelves of internet golf sites. It's been that way for years, and most of them are miles better than the one in this picture.

This situation is really no surprise as the genuine 2 Balls have been the number one best-selling putters for a long time now.

But, whereas the majority of Scotty Cameron or Ping Redwood putters are milled from a block of steel, the success of Odyssey depends considerably upon the soft "White Hot" or "White Ice" inserts, which unfortunately make them more likely to be duplicated because alternative materials to copy the insert material are cheap and easily available.

Trouble is, they're mostly of very poor quality indeed.

For example, in Asia, where cloning is done at the highest standard of all, a 2 ball replica could be made with very little difference unless examined closely, but in terms of performance you would feel a world of difference if you got the opportunity to use both putters side-by-side with each other.

As most fakes are sold online, almost nobody gets this opportunity and as a result dubious counterfeiters are making millions from clubs that are worth nothing. Here are a 5 easy keys to spotting Odyssey putter clones:
How to spot a counterfeit Odyssey:
1. The serial numbers on Odyssey putters are engraved at the back of the hosel.

Numbers found on any other part of the putter are not genuine. Some counterfeiters have wised up to the importance of this positioning and therefore print a number in the right place, but it is almost impossible to do this without it looking unprofessional i.e the letters are uneven. Callaway hold all serial numbers to Odyssey putters should you have any doubt.

You can also tell Odyssey putter clones by the colours of their paints. Ask yourself:

2. Are the colors in the correct places? - you can tell this by comparing the putter you're thinking of buying with pictures on the web (www.best-putter.com for example!)

3. Are the color tones consistent across the putter? - It's common for a fake putter to look faded or rough around the edges where the paints have merged.

4. When looking at the wording on the putter itself, check that model names, numbers and markings are all painted precisely. Counterfeits commonly highlight themselves by the fact that the paint on these markings spreads outside the lines or is inconsistent.

Simple as it may seem, something as little as spelling can be a counterfeit giveaway. If you're buying online ask for more pictures from the supplier. With a name such as Odyssey, any number of bad spellings are possible! Be careful, though - they which may not stand out even to you at first glance.

5. The standard Odyssey grip is an iconic work, and it will be obvious if the putter in question mirrors neither the feel of a genuine grip nor the colour scheme relevant to the range of putter (usually black/white or red/white).
Why do fakes sell?
Of course, for most of us, price is king. If two items appear on the face of it to do the same job, we usually look for the lower price tag.

Ironically, however, putters do not always follow this rule, especially with Odyssey. The durability which genuine Odyssey putters provide in the long run is greater value for money than any cheap knock-off.

It's very much a question of quality over quantity.

It's easy to t is easy to fall foul of such a scam, or even to want to get hold of a fake putter to save the cash. If you're on an economy drive, however, we recommend getting a used putter from ebay or your local pro shop. That way, at least the club you end up using was at least once in its lifetime a genuinely great piece of engineering produced to make putting as easy as possible.

If you're still not tempted to want a counterfeit, remember that Odyssey, along with other companies, cannot progress as manufacturers without the support of their customers, if we had all bought fake Pings, Odyssey and the 2 Ball design would probably never have come about.

Good luck finding a genuine putter and avoiding the Odyssey putter clones....

Murray Rose




For more info on putter clones (not just Odyssey putter clones) click here!

Return to the Best-Putter.com homepage