<!body-starts-here>
Belly putter ban
Is Woods' support driven by jealousy?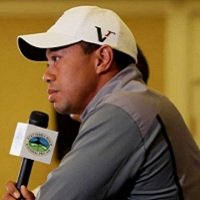 Tiger Woods added his voice to those calling for belly putter ban at the 2012 AT&T Pro Am tournament, saying he has spoken to The Secretary of the Royal and Ancient Golf Club on several occasions about how to word a ban.

And it seems that they have started to listen.

The Rule and Equipment Committee of the R&A in particular seems to be trying to persuade its American counterpart, the USGA, to push forward with a ban. Sources close to the committee say, however, that it will probably take years to implement.

Users of the belly putter the world over will probably feel this is a bit rich, especially coming from Woods - a man who has done quite a bit to drag golf's reputation through the dirt with his off course exploits.
Why is this such a big deal for Woods right now?
2011 was a watershed year for the belly putter and appears to have put a belly putter ban right at the front of Woods' mind. The victories of Bill Haas, Webb Simpson and most significantly Keegan Bradley were a obviously a bit much for him to take.

Granted, Haas did win $10 million in one week with the Fed Ex Cup with his belly putter, Simpson did spring from relative obscurity to claim two titles and rise from relative unknown to 2nd on the USPGA Money list with his, but it was probably Keegan Bradley's Major win at the USPGA Championship that tipped Woods and many others over the edge.

Is it a coincidence that he didn't win a Major during this upsurge in interest in the belly putter?
Surely there's a significant double standard at play here?
Over the preceding twenty or so years when players have been using the long putter, very few people cared much about the issue. Belly putters and long putters were largely thought to be for lost souls whose careers would be all but over, were it not for their extended putters.
But as soon as a handful of big tournaments were won by new talents who have barely if ever competed with short putters, Woods and others have started chiming up in support of a belly putter ban. You would not be alone if you think that envy might be playing a role here.
A personal vendetta on the part of Woods?
"It's amazing what clarity comes," a saying goes, "with jealousy."

If Woods had picked up a couple of majors between 2009 and 2012 instead of making headlines for different reasons, would he be so vocal in his calls for a belly putter ban?

Inhabitants of the golfing bloggersphere - ever willing to fan the flame of controversy - have even claimed that Woods might targeting Adam Scott in particular. It was the Aussie to whom Tiger lost his former caddie Steve Williams after he spoke to the press about Woods' off-course troubles.

Scott is one of the highest ranked players in the world to use the long putter, and most certainly one of the players who has benefited the most. Despite having been one of the tour's weakest putters between 2008-10, he came close to claiming the 2011 Masters with stunning putting on Augusta's treacherous greens.
What's the history behind the putters and the ban?
The truth is that Woods is not alone in his call for a belly putter ban. Over the years Padraig Harrington has been so strident as to say he thinks they already break the rules as they stand because you cannot attach part of the club to your body. He claims that wedging the butt of the putter in your belly achieves just this.

Lee Westwood has also said he feels they are against the spirit and possibly the rules of the game, but he adds he thinks it's already too late to change the rules and enforce a belly putter ban because they've been legal too long.

This, however, didn't stop the ban of square grooves in irons which came into effect on professional circuits in January 2010 after nearly 20 years of usage.
Do belly putters give you a real advantage?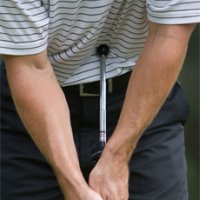 This is the real question that the governing bodies of the game have to answer.

Frank Thomas, former Technical Director of the USGA (and supporter of a belly putter ban), who made every ruling on equipment for the USGA for 26 years says anchored putters make a significant difference to the challenge of putting the ball in the hole: "There are five degrees of freedom in putting," he said - meaning five elements a player must control to putt well, "and these putters take away three of the five."

Supporters of the belly putter claim this fails to account for the added difficulty you get in judging distance with a belly or long putter.

It is now almost universally acknowledged to be more challenging to get the speed of long putts spot on with these putters, so what you make up for in greater stroke stability on short putts is at least in part counter-balanced by that fact that your long putts will more often than not end up further away with a long putter.

Fundamentalist rule makers who have never tried the longer putter have probably never experienced this, but it's unlikely to change their minds about whether or not to enforce a ban.
Will the current uproar come to anything?
There's no doubt that the current feeling seems to be pointing towards a belly putter ban at some point in the future, but when that might be is hard to say.

Judging by the snail-like speed of previous rulings, Woods and the others may well be waiting for a while before they get their way.

Other belly putter articles
How to use a belly putter (supposing there is no belly putter ban!)

Belly Putter Reviews




<!standard-footer-starts-here>