"Changing Your Putter - Absolutely, 100% the fastest way to lower your scores"
Have you ever felt totally let down by your putter? Imagine this... you've just walked off the 18th green having three whacked the last three greens for a miserable score - you've lost interest, lost money to your friends and lost all golfing self-respect!
And this is supposed to be FUN!

"That's it -

never again -

I'm through with golf!"

Now fast forward a week...

Same green, same fourball...
But... you've just sunk a sliding 10 footer to shoot your lowest ever score, win a club tournament and make back the wager you lost to your buddies the week before.
What's changed?
It all came from some key putts early in the round. Today you couldn't wait to get on to the greens...
... all because you bought a new Scotty Cameron (or Ping or Odyssey) mid-week and you've been dying to try it ever since. Best of all it was a complete bargain and matches your stroke perfectly.
Now you can really start to enjoy the game!
Want to become an awesome putter? Well, who doesn't?
I might as well have asked you whether you wanted to be better looking or richer. I can't help you much with looks or money, but I probably can help you hole more putts.
I'm an avid former professional golfer who's been trying desperately to sink a few more putts each round for the last 25 years, and I've found out quite a lot along the way...!
Now everything I've found out about putters and putting is on this website: www.Best-Putter.com. Enjoy!
A selection of articles on our site:
A few things you MUST know before choosing a putter: get them wrong & you make as many putts as you should. Get them right & you're one very happy golfer!
All the latest developments at Best-Putter.com. Read all new putter reviews and articles we publish, plus loads of other new stuff which is planned for the coming months ...
What is Tiger Woods Scotty Cameron? Tiger uses a Scotty Cameron prototype putter which is closest in shape to the Newport 2 design.
Rory McIlroy's putter was the the source of much discussion. In the 2010s endorsement dollars led him from the Scotty Cameron Newport GSS prototype to a Nike...
Seve Ballesteros' putter for the great majority of his career was cast Ping Anser. The Anser has become what most people think of as the 'standard' putter.
It's easy enough to regrip a putter yourself at home. You can fiddle with the thickness of the grip, make minor adjustments to the alignment all while saving money over what you'd pay to get a professional club repairer to do it for you.
Putting Books reviewed by Best-Putter.com. Independent, genuine reviews of our top picks
If you want to seriously improve your putting, these are the best putting tips you'll find anywhere
How and where to find cheap golf putters at the best prices, plus which of them is the best to play with in terms of feel, roll and looks
Odyssey putter clones are the fakes you're most likely to find on the virtual shelves of internet golf sites
Which is the best Scotty Cameron putter? What do they feel like to use and how do they roll the ball? Our hands-on reviews will tell you!
Searching for a Ping putter? They're some of the best and most recognisable putters of all time, but which models are the best? Our reviews will let you know!
Searching for a Yes putter? They come in all shapes and sizes, they all have the C-Groove, but what do they feel like to use and how do they roll the ball?
Searching for a Seemore putter? They all feature the unique gunsight aiming system, but which is the best?
A Kirk Currie putter is virtually a thing of legend nowadays. Kirk is a putter designer with over 20 yrs' experience designing for top manufacturers and pros.
While the STX putter may not be a household name like Odyssey or TaylorMade, they have been around since the 1970s.
Which is the best Cleveland Putter...? Find out with our genuine, hands-on reviews
Why choose a Tommy Armour putter? They don't have high profile advertising but they do have a well-established brand, a long heritage and affordable prices
Adams putters were popular in the 1990s & 2000s. Then they purchased Yes Putters and since they've been bought by Taylormade and no longer make putters.
Tour Edge Putters seem to be pretty new to the market, but in fact they've been around a little longer than you might think. The company was formed in 1985 and their putters are generally in the more affordable category.
Fisher putters - are they any good? Find out here with our hands-on reviews
Which is the best face balanced putter? www.Best-Putter.com's independent, hands-on reviews tell you! Also find out where to buy them at the best prices!
Which are the best Anser style putters? www.Best-Putter.com's independent, hands-on reviews tell you! Also find out where to buy them at the best prices!
What is a milled putter? How is it different from any other putter? And why are they so expensive?
A Center Shafted Putter can come in all shapes and sizes, but what do they feel like to use and how do they roll the ball? Our hands-on reviews will tell you!
Futuristic Putters - Find out which of these high-tech models are the best by reading genuine, hands-on reviews!
Insert putters - which model is best? Find out and find out where to buy them at the best prices with hands-on, unbiased reviews from www.Best-Putter.com
Which toe weighted putter designs are the best and where you can buy them at the best prices. Let www.Best-Putter.com's independent, hands-on reviews guide you!
Which are THE classic putters? This is our list of the greats. Read an independent, hands-on review of each and find out where to buy them at the best prices!
Onset putters are a little hard to come by, but can make a big difference to your putting. Click on any of the links below for an unbiased review of onset putters and to find out where you can buy them at the best price.
Bullseye Putters are not a brand but a design. The history is not clear, but most people believe the first Bullseye was the 1946 John Letters Golden Goose
Who is the best putter in golf? A definitive answer (is probably not possible)!
Bobby Locke is seen by connoisseurs as one of the greatest putters ever. Gary Player maintains that Locke confidence in his putting method beat all others
Renowned for getting out of trouble, Seve Ballesteros' putting saved him even more. Was he the best putter of all time? What you can learn from his putting?
Aaron Baddeley ranks as one of the greatest putters in modern day golf, despite not being a regular winner or a household name.
Ben Crenshaw was almost certainly the most naturally gifted putter in golf. For several decades he reigned supreme on the greens.
Loren Roberts is the definition of a great putter. With 4 major championship victories on the Champions Tour, he remained a putting god into his senior years.
Without doubt, Luke Donald ranks among the greatest putters of all time. The former world number 1 owes much of his success to his performance on the greens
Dave Stockton is regarded by every generation of PGA Tour player as a great putter and fountain of knowledge and coaching wisdom on the art of putting.
Corey Pavin could be placed among the list of great putters solely on his performance in the three successive Ryder Cup matches he played in
Webb Simpson goes very quietly about his work on the greens, but slowly, and surely he has become regarded as one of the great putters of his generation.
Jim Furyk has his ability as a great putter to thank for his long and prolific career on the PGA Tour
Brad Faxon holds many putting records on the PGA Tour. Was he the best ever to hold a flatstick? Possibly. What can you learn from his putting?
Nick Faldo was a great pressure putter. During the late 1980s and throughout the 1990s no pro holed more putts than him when it really mattered.
Ernie Els is by and large, regarded as a great putter, despite some serious ups and downs in his fortunes on the greens
Brandt Snedeker made his name as a truly great putter with a devastating run of putting form, when he started the 2013 season with three wins in four starts.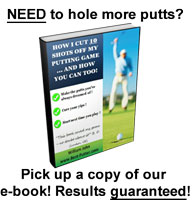 Need help choosing a putter?


Putter fitting queries?


The Best-Putter team gives free advice!
Click HERE to ask a question!