Rory McIlroy's putter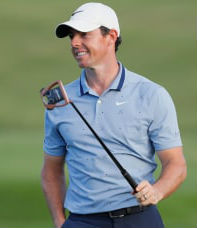 Rory McIlroy's putter, like Tiger Woods', has often been the subject of controversy. 
In January 2013 he went down the same route of changing his Scotty Cameron Studio Select Newport GSS prototype for a Nike Method 006. It wasn't a smooth transition! Despite signing a sponsorship deal worth a maximum of $150 million with Nike, Rory was unable to find a Nike putter he got on with better than the Scotty Cameron. He was still going back to his trusty Scotty throughout the whole 2013 season, especially in the Majors.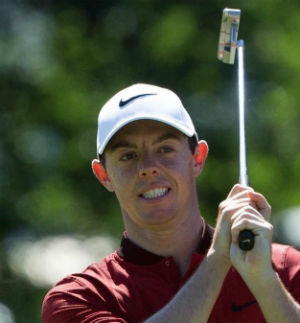 Rory McIlroy with his Scotty Cameron, to which he has always turned in a crisis
Rory' putting is one of his great strengths, however, and after this initial teething period, he putted just as well with the Nike as he did with his Scotty Cameron. In fact he's done better than Tiger did better with his Nike Method putter. Woods' winning streak in the Majors dried up at about the same time that he moved to using the Nike putter.
But when Nike pulled out of club manufacture at the end of the 2016 season, Rory was released from his contract and therefore had a free choice of putter once again and ... surprise, surprise, he went straight back to the Scotty Cameron he'd had such success with at the start of his career.
It seems like the mighty dollar really holds sway with Rory, however, as with his May 2017 signing as a Taylormade staff player, he agreed to have all 14 clubs in the bag from the big-name manufacturer, including a putter. 
---
Fact file: Rory McIlroy's putter
Models used:
Taylormade Spider and Black Copper Soto
,
Scotty Cameron Newport
&
Nike Method 006 Prototype
Putter length
: between 32.5" and 33" (82.5-84cm)
Putter weight: Scotty Cameron: 348 grams (6 grams heavier than standard)
Putter Face Material: Taylormade: polymer insert; Scotty Cameron: milled Steel; Nike: milled steel with a "Polymetal groove" face.
---
| | |
| --- | --- |
| | on a Taylormade Spider putter like Rory's... |
Keys to Rory McIlroy's putter success:
Rory's set up is the key to his putting success... A great strength is how quiet he keeps the lower half of his body.
Look carefully at his address position and you'll see that he has his knees pointing slightly inwards which solidifies the base to his stroke. This is one of the essential keys building a repeatable stroke that will fail you less, even in a pressure situation.
Rory won his first PGA Tour victory in style by holing a tram-liner of a putt on the last green at Quail Hollow to be under par for the infamous "Green Mile".
Rory's Putting Secrets
1) Rhythm
- Rory is well known for his brisk but elegant swing and this repeatable brisk rhythm is one of his strengths in putting. Having a fixed and repeatable putting stroke rhythm helps so much with distance judgement. Rory McIlroy's putter swings with the same rhythm over and over again. Next time you see him putt, watch his rhythm carefully... you'll see it could be likened to the pendulum of a grandfather clock, swinging as if pulled by weight alone and equidistant back and through.
2) A firm left wrist
- Thanks to his work with Dave Stockton, Rory's left wrist stays absolutely flat through the backswing, hitting zone and follow through. A left wrist that hinges or "breaks down" causes you to miss on both sides of the hole and un-does all good work you may have done with your set-up.
3) Keeping the putter low to the ground through the hitting zone
- In the run up to his US Open victory in 2011 at Congressional, Rory worked closely with Dave Stockton on getting his left shoulder up through the hitting zone. In turn this should help to keep the right hand pushing on towards the target.
Want a truer roll? Why not take a leaf out of Rory's book?

Top tip:
Rory likes to practice with a chalk line to help him line up when he's on the putting green. You can buy one of these in a hardware store. No need for tee pegs or training aids, just a straight forward tool that shows you the way from the ball to the hole!



by Murray Rose
Senior Contributor

Return to the Best-Putter.com homepage