Best putting tips from an ex-tour pro who retired with the YIPS but is now winning again!

---
Do you want to putt like a pro? On this page I've listed the best putting tips I've discovered over 35 years of my journey with the putter.
My personal experience is that great putting can be LEARNED without spending hours on the practice green.
I cut 10 shots off my putting while beating the yips and have sustained that improvement for more than 10 years. 
I want you to have the same results, so please take a look at the tips listed on the right, and consider signing up for my putting tips delivered FREE into your email inbox every week. 
If you want all my information in one hit, take a look at my putting e-book "How I cut 10 shots off my putting and how you can too" or pick up a copy on Amazon.
My Best putting tips (click to follow):
#1 Learn the perfect mental approach to putting from Tiger Woods
#2 The grip change that cures 80% of putting problems
#3 Three great feels to cut shots off your putting this weekend
#4 Figure out what YOU need to do to improve YOUR putting
#5 The three CRUCIAL steps your pre-putt routine MUST have
#6 What should you think about when standing over a putt?
#7 How to make more putts on less-than-perfect winter greens
#8 Should you use your wrists when you putt?
#9 Crucial stats to tell you when 2 putts are good... and why the Buddha would putt us all off the course 
#10 A very useful putting stat they never show on TV!
#11 When to putt aggressively (and when it will kill your score)
#12 The best and worst putting lessons I ever took
#13 So you had a sh*t putting round. What next?
#14 Simple speed strategy to save you 2-3 shots per round

#15 A putting roadmap to become a GREAT putter

#16 What we can learn from Brooks Koepka's major winning putting

#17 Use these three pre-round drills... forget the rest 
#18 How to beat longer hitting opponents with your putting!
My putting story
In the early 2000s I was a mini tour pro who couldn't putt to save my life.
When I got the full-blown YIPS, I had to quit.
But... 22 years after quitting the pro game, I've cut 10 shots off my putting game! And you can too!
I've searched and taken putting lessons from some legends of the game including technical instruction from Harold Swash, the Dave Pelz School and psychology sessions from Bob Rotella's right hand man.
I've read everything I could get my hands on about putting and while it didn't happen overnight, I'm confident that I've cracked putting and I'm confident that I know the fastest way for you to do the same. 
Beyond my best putting tips listed below, I have written a book on putting about how I beat the yips and cut 10 shots off my putting game. It's available on Amazon here and also for instant download in e-book format here.
I also write a regular putting tips email. You can receive these free by clicking here and be rolling your golf ball better in no time.
I have genuinely cut 10 shots off my putting!
That's right... during my worst run of tournament play as a pro I had an average of 39.45 putts. Last season I averaged 29.36 putts per round as a weekend player with a family and full-time job.

That would currently put me higher than 6 major champions on the PGA Tour putting stats. 

At the age of 46, I've started winning prestigious amateur events including my region's men's order of merit.
I was selected to compete for my county at the English national County finals where I won 3 out of the 4 matches I played, beating nationally ranked amateurs and players with scholarships on US College programs.
I put down to the importance of putting. My long game is consistent and decent, but it's on the green is where I'm able to make up serious shots!
Start your journey to becoming a good putter today. You may not get quite as good as Jack Nicklaus or Phil Mickelson, but you will certainly enjoy the game more when your putts are dropping more regularly from all parts of the green!
Tiger's awesome putting can teach you virtually everything you need to know about the mental game of putting, techniques you can use starting this weekend. Do what Tiger's dad taught him and "putt to a picture".
In other words, make your last look at the hole your "picture" and allow your subconscious brain to work out the rest. This gives you much better feel. 
This is one of the most effective ways to give you much better feel.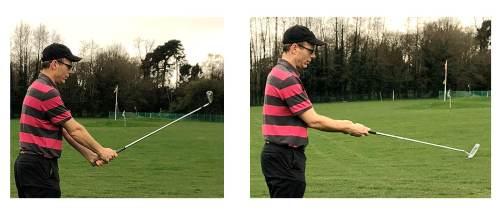 I find it incredible that so many golfers putt with their full-swing grip. The way you place you your hands on the putter is perhaps the most important thing in putting. 
The position of your hands and the grip pressure are very very different for putting and full swing shots because you're looking to do different things with the iron and the putter.
With the iron, your objective is wrist hinge to create power. With the putter, wrist hinge is exactly what you DON'T want. And you don't need a lot of power either.
In the picture on the left, I've got a mid-iron in my hands and you can see that there's a serious angle created between the arms and the shaft.

On the right I've got my putter and the shaft is flowing in a straight line from my forearms.

Are there simple changes to approach your putting or to your "feels" that can have a significant effect as soon as tomorrow?
You bet!
Although I often write tips based on technique, you can gain a great deal by changing the thoughts and feels you have when you're actually standing over the ball.
Here are 3 of my most successful thoughts and feels:
Short putts: Picture a wide hole rather than a narrow line
Drip the putts in from outside 8 feet
Think about nothing... just look and react
Read about these feels in full here...
What are reasonable assumptions for your putting and your level of golf? I use this list of reasonable assumptions to evaluate my putting: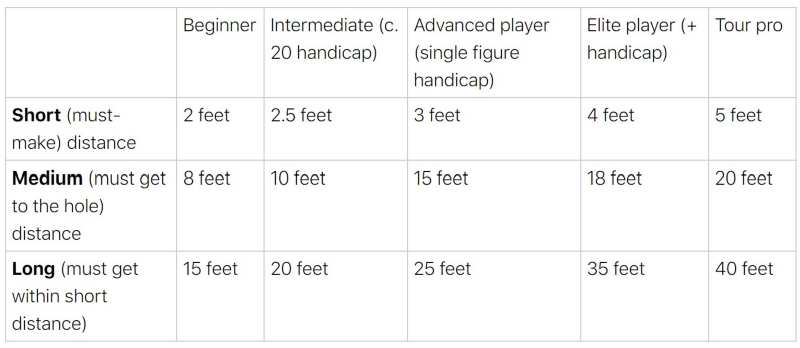 How many putts should you expect to hole depends on distance. Holing a high proportion of your shorter putts is key to success.
In the medium range, the goal is to pass the hole and with longer putts you are hoping to get the ball into the short, makeable range. Here distance control is the crucial factor. 
Working out how often you meet these standards and allows you to see whether you are meeting that standard, and if not, where you can improve.

Read more about diagnosing your putting issues here...
If you want to consistently putt your best, you need a consistent pre-shot routine with your putts. Obvious, right?

Doing the same things before you even stand over the ball is one of the secrets to putting success. Your routine needs to complete these steps for it to be successful:
Fully assess the speed and break of the putt to decide on a single, clear target.
Get the feel of the stroke you'll need to propel the putt the required distance.
Mentally commit to hitting the putt as you see it.
Read more about implementing these steps here...
We'd all love to know how to make more putts with less stress... Well, the route to this is your routine. 
The best putters have an absolutely consistent routine before they take the putter back. They read the green, pick a target and fully commit to hitting the putt they imagined in the same way every time.
Their sole objective here is to give themselves the best chance of holing each putt.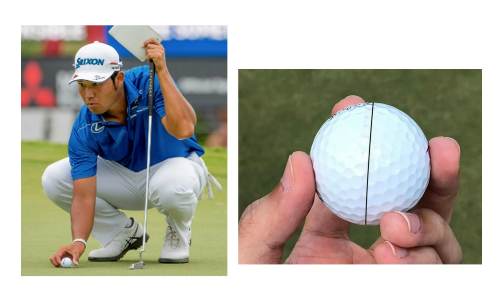 If doubt creeps in, they step away and start again. But what do you do when you're actually over the ball?

Align the putter (HARDER THAN IT LOOKS)
Pull the trigger (EASY!)
 Find out how to implement both of these pre-shot routine steps here...
When the winter comes around, the greens where I live get slow, wet and bumpy. Putting in these conditions is hard!
But being a better putter means doing your best, even when the greens are less than perfect. 

You need great roll, built on excellent technical fundamentals (grip, ball position and stroke path) AND a sound mental approach to give yourself a fair chance of making each putt, no matter what happened on the previous shots / holes.

Read these two tips to help you develop this approach:
The short answer to this is "no". Wristy putting strokes belong in the past along with the mega slow greens they can help you with. 
Unless the greens at your golf course are so slow that you struggle to get the ball to the hole, you will putt far better by taking the wrist motion out of your stroke. 
Crucial Stat # 1. From 33 feet PGA Tour players three putt as often as they hole The PGA Tour's strokes gained data show that from 33 feet, the best pros in the world have equal chance of making their first putt and three-putting.
In other words, as amateur players we both had no "right to expect" to hole our putts from around 30 feet. We have to lower our expectations of these long putts. 

Crucial stat #2. From 8 feet, the best putters in the world have equal chance of holing and missing. With putting being such a binary part of the game (you either make or miss), these knife-edge points often decide your fate in matchplay.
Continue reading here to understand how understanding these stats can make you a better player in the long run.
I've just been crunching some of my putting numbers as I do from time to time using my Putting Tracker Stats sheet (which for the moment is available free with every copy of my ebook).
One stat really surprised me:

Over my last 5 rounds I only had 23 putts from outside 20 feet. That's 

That's just 23 putts out of a total of 149 putts over 90 holes... which seemed like a very low number to me.
That compares with 39 putts from 5-20 feet out 
... and 87 putts within 5 feet.
This got me thinking... Which of these putts were the most valuable? Should I spend much time on practice putts outside 20 feet? 
The fact is that putts in the 3-5 foot range are by far the most important and to score our best we should pay close attention to these putts and practice them on a regular basis. 
Let's start by stating the obvious that way too much speed on a putt and way too little are both as bad as each other.

If you leave a 30-foot putt 10 feet short or hit it 10 feet past, you're chances of making either second putt are going to be pretty low.

But supposing you're able to control your speed fairly accurately, when does it pay to putt aggressively for the back of the hole?
Click here for a few stats-based rules you can follow...
The worst putting lesson I ever had was given by an established club pro with more than the odd gray hair on his head. In other words, he should have known better.

I was about 16 years old and starting to win some  local under-18 events, but already my yippy stroke showed itself from time to time.

After watching me putt a bit, he produced a box of a dozen Titleists from his pocket and put them down about 8 feet from the hole. Then put my ball about 6 inches in front of the box.
"Now hit that putt," he said with a smile, "BUT, if you touch the box on your backstroke, you have to buy the balls".
I now know that a short backswing and rapidly accelerating forward stroke he was teaching me is the last thing you want to do for good speed control, but it took me 15 years to work this out and in that time, I'd wasted the best golfing years of my life...  
If you're had a tough time with the flat stick it's important to look at your stats to see where you went wrong.
How well you putt is largely dependent on where you're putting from. If you miss three putts in a row from 2 feet you're likely putting far worse than if you miss three putts in a row from 8 feet.

According to Strokes Gained stats guru Mark Brodie, the two most important stats to check are your make percentage within 5ft and the percentage of putts within 20ft you leave short.
I've designed an excel sheet which enables you to track those and other crucial stats by simply answering a couple of questions per putt you took at the end of the round. It gives you a summary like this and then you know what to work on ... if anything!


At what speed should you try to hole putts? 
All putts need a speed strategy. When most of us look at a putt, we probably just go for the hole, right?

Well, my putting hero, Paul Runyan calculated (and I can vouch for this), that if you have a strategy to hit putts of different lengths at different speeds, you'll have a significant difference in the number of overall putts you take.
"Hit putts of different distances at different speeds" Like, duh... of course you have to do that William.
Click here to read what I mean...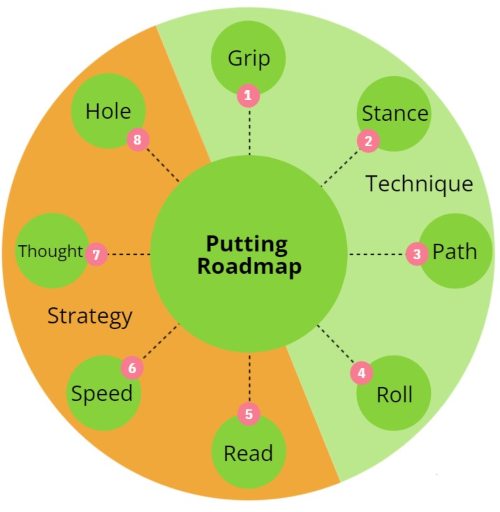 When I had the yips I lacked something I think most weekend golfers lack...  a PLAN, a ROADMAP to improve. I simply DID NOT KNOW what you had to do to putt at a high level.

Maybe you don't either... but it's not our fault...

Golf instruction focuses so much on long game that putting barely gets a mention, so it's no surprise that people putt with a sub-optimal grip or can't get their ball to roll true on their start line, because they've got something simple like their ball position all wrong.

Nobody's ever exposed them to the things that REALLY make a difference. But now here is my answer to this issue - a roadmap you can implement to improve your putting steadily and avoid one common mistake after another in the coming weeks and months.... 
Here's a simple tip inspired by Brooks Koepka's stunning 2023 major performances. 
It will help you if you currently have an out-to-in stroke path (75%+ of higher handicap golfers I play with do). You'll fix your stroke path issue and get a far better roll if you do what Koepka does with his set up....
Over many years, I've experimented with different pre-round preparation routines on the putting green and to be honest, I was never really convinced that what I was doing had any positive effect.

That was, until I read PGA Tour stats guru Mark Brodie's book "Every Shot Counts" which gives statistical analysis of which skills are important in golf, particularly on the putting green.
And now I just focus on his recommendations...They are:
 Short putts - from a 3-foot putt to 8 feet (most important skill on the putting green).
 Speed control (next-most important skill). 
The reason these are the critical skills is that they decide how many putts you take in a round and therefore how well you can convert your long game shots into a score.
The David vs. Goliath story of how Paul Runyan whipped Sam Snead's be-hind 8&7 in the final of the 1938 PGA Championship is absolutely one of my favorites in golf.
It shows the power and importance of putting
Runyan is my personal putting hero and this crushing defeat is the clearest possible demonstration of the value of putting and short game compared with long hitting.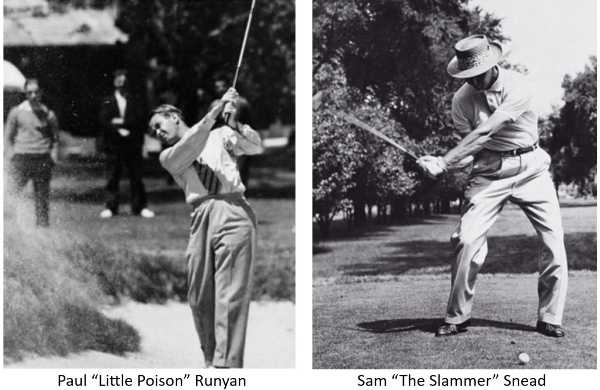 Sam Snead - the Tiger Woods of his day - outhit Runyan by 40+ yards off every tee!

Watching golf on TV, you can easily believe  that long driving is the only thing that matters in the game.

Don't believe it! It's often the person who takes the lowest number of putts who wins.
Return to the Best-Putter.com homepage