Odyssey Black iX 1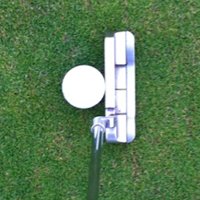 How does it look behind the ball?
On the face of it, the Odyssey Black iX 1 is a fairly standard Anser style copy putter. The two tone colour scheme makes it look a bit more modern than a regular Ping or Scotty Cameron, but for some reason it didn't appeal.
I'm sure you'd get used to the shape, so in the end it wouldn't matter, but I found it didn't have the clean lines of other putters in this price range, and just looked a bit too complicated - too many lines and levels. The aimline is also extremely short, and stretches only halfway from the back of the hitting surface to the flange.
You may not find that a problem, but I'm afraid I did.
How does it feel?
Just like all the putters Odyssey have ever made, the Black's insert face feels great. It's hard to describe, but their inserts seem to me to have the edge over all other
insert putters
.
Another thing I liked about the Black was that it feels relatively light in the toe, giving you the sensation that the blade is stable through impact and not trying to shut too aggressively.
---
| | |
| --- | --- |
| | on an Odyssey putter... |
---
How does it roll the ball?
The roll was top class. There was no hint of a jump. All round, extremely impressive.
---
---
Our Verdict on the Odyssey Black iX 1:
Great feel and roll. Only minus points are the unorthodox shape and short aimline.
Others to consider
Odyssey White Ice 5

Classic face balanced D shape with silky soft Ice White insert!
Odyssey White Hot 7l

Iconic Odyssey putter with the best feel and consistent roll we've ever tested
Odyssey White Hot 5

One of the most refined Odyssey White Hot putters. Strongly recommended if you're looking for a toe weighted putter.
Odyssey Black iX 1

Perhaps Odyssey's best effort yet to eclipse the Scotty Cameron and Ping Ansers.
Odyssey 2 Ball Blade

Padraig Harrington used this combination of blade and 2 ball design to win majors, but what's it like?
Odyssey Backstryke

One of the most revolutionary designs in putting. Love it or hate the look, the results are good
Odyssey Backstryke Blade
It looks like an Anser with an odd growth at the back, so hardly attractive - but is the Backstryke Blade any good? Find out here!
Odyssey Black iX 1

Perhaps Odyssey's best effort yet to eclipse the Scotty Cameron and Ping Ansers.
TaylorMade Rossa Kia Ma Fortuna

A highly refined mallet from TaylorMade - recommended!
---
Return to the Best-Putter.com homepage