Zen Oracle Putter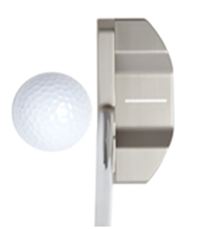 The Zen Oracle putter range is not new to the putting world, it won the Golf Digest Hot Product award in 2008, for both their mallets and blades, but Zen still is not a household name, which we think at best-putter.com think is a bad thing!
The range is extensive and their unique selling point is that they use ridges on the putter face which are claimed to reduce the dispersal of putts due to the uneven dimpled surface of the golf ball.
---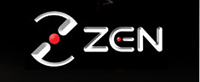 Zen

... on a Zen Oracle putter
---
The company has launched Mallets, Mid Mallets, Blades, Centre shafted putter designs and a training tool, the "Zen I".
They've also teamed up with "The House of Zen" - a high tech fitting centre in Singapore and their advanced putting training methods have added to the credibility of these already "playable" putters.
What do they look like?
The Zen Oracle putter design revolves around the use of face "ridges"... Don't call them grooves! "What's the difference?" I hear you ask.
Well, imagine roadwork construction. Grooves are drains, and ridges are speed humps, one has been cut out, one has been added on.
"A marketing play on words" I hear you say. But the engineers at Zen beg to differ. They call it RDE, Reduced dimple error. The ridges are designed to reduce off centre hits caused by the balls dimples.
The House of Zen, is based in Singapore, you can choose your head design, you are then put your stroke through a number of tests including being "lasered" on the SAM putt Lab, and you are recommended a shaft and grip combination as a result.
After some field trials you return to the House of Zen for any loft, lie or grip changes that are needed, these are always available with a Zen no matter how long you have owned it.
How does a Zen Oracle Putter look behind the ball?
The Zen designs range from traditional
Anser style
designs which Zen calls "blades" to quite futuristic "mid mallet" and "mallet style putters" all of which are face balanced.
I have always preferred a mallet style putter, it helps with my alignment, but after trying the mid-mallet Zim model I am back to a more blade-like model.
They class it as a Mid Mallet, but it looks more "Bladey style" to me… Mine is heel shafted.
How does it feel?
It is quite heavy and the shaft is a little longer than standard, that's what the stats recommend and it feels really good.
The level of customization available on a Zen Oracle putter is the impressive part - if you're someone who prefers your hands to be behind the ball at setup and impact, and if that's what gets the ball in the hole, then that is how your Zen is setup.
How does it roll the ball?
I have used many putters with grove technology throughout my career,
Yes
and
Rife
to name two, the Zen does feel different upon impact, the ball comes off the face with a much more positive roll.
The Zen I Tool
Training with the "Zen I" tool compliments the putter.
It easily attaches to any putter face, Mallet, Blade it does not matter. It trains the user in the correct backswing path, not too steep on takeaway else the ball slips out, correct transition and release technique.
Also teaching you to keep the ball on the correct target path, I feel it will improve your putting technique no matter what your ability level.
---

---
Having used and watched the process from the beginning of the new Zen Oracle putter series, I can highly recommend that you find and try one, I think you will be very pleasantly surprised by the look and the positive roll.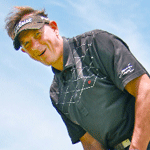 by Allen Kelly
PGA Professional based at Orchid Country Club, Singapore
Not sure if a Zen Oracle putter is for you? Click here for our article on choosing a putter to fit your stroke.
Others to consider:
Odyssey 2 Ball

The iconic putter of the 2000s - easy to aim, great feel and roll. There's literally nothing not to like here!
TaylorMade Rossa Kia Ma Fortuna

A highly refined mallet from TaylorMade - recommended!
Odyssey White Hot 5

One of the most refined Odyssey White Hot putters. Strongly recommended if you're looking for a toe weighted putter.
Odyssey White Ice 5

Classic face balanced D shape with silky soft Ice White insert!
Yes Natalie (C-Groove)

Futuristic design with amazing roll, super long aimline and nice ping sound!.
Return to the Best-Putter.com homepage