TaylorMade Rossa Daytona
How does it look behind the ball?
The TaylorMade Rossa Daytona putter is a good looking
Anser style putter
, but is it as good as the alternatives from
Ping
,
Odyssey
or
Scotty Cameron
? The TaylorMade Rossa Daytona is an elegant putter with a high quality gun-metal color finish which looks really good. The shape of the design is mainly square with perpendicular and parallel lines with the which give you a good feel for where the putter is aiming.
My only slight reservation (and this really is a matter of personal taste) is that the heel weight seemed a good bit chunkier than the rest of the putter, and certainly chunkier than other
Anser style putters
on the market.
| | |
| --- | --- |
| | on a TaylorMade Daytona putter... |
Not in the US? Click here for eBay listings for a TaylorMade Daytona putter in your region
All in all, though, this is a putter whose looks rival anything the big three putter manufacturers (
Ping
,
Odyssey
or
Scotty Cameron
) produce. <!Logo image>
How does it feel?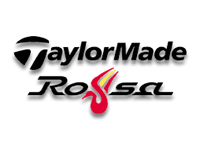 I'm going to be honest with you here - I trialled this putter three days ago - took my pictures, spent 20 minutes putting with it, made some notes and am writing it up now. Unfortunately when I look at my notes now I realize that I made no reference to the feeling off the putter - either positive or negative!
Therefore I can only conclude that the feel was perfectly good - I had no complaints - but at the same time that its nothing to write home about.
How does the Taylormade Rossa Daytona roll the ball?
<!Stock image>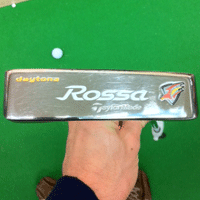 On the subject of the way the TaylorMade Rossa Daytona rolls the ball, however, I did make plenty of notes. Here's how it rolled it:
Left, left and more left.
Why this should be I have no idea, but I missed every single putt I hit with this putter ... left, which is not a normal occurrence for me. Not to say that my stroke is faultless (whose is?) but I would suggest that if you're interested in buying this putter you find one in a pro shop and trial it first on a real green before investing your hard earned cash.
---

---
Whilst we at Best-Putter.com think the TaylorMade Rossa Daytona is a very attractive putter, we were disappointed with the performance and suggest you trial this putter before thinking about buying one.
Please note: The Daytona shape is now available in many different TaylorMade putter families produced before and after the Rossa range. Click here for more information on TaylorMade's latest offering.
by

William John
Site Owner
Others to consider:
TaylorMade Spider

Lots of hype when this putter launched, but pros who rely on their putters have not stuck with the Spider
TaylorMade Rossa Kia Ma Fortuna

A highly refined mallet from TaylorMade - recommended!
Scotty Cameron Newport 2 Studio Stainless

The "more affordable", but rather unimpressive Scotty Cameron.
Ping Karsten Anser

Unbeatable on price and right up there for feel and design.
Ping Anser

The Anser is the putter that has been copied a thousand times - now available from Ping at a variety of prices.
TaylorMade Rossa Kia Ma Daytona

Good looking Anser style putter - Part of TaylorMade's resurgence as a designer of high quality putters
TaylorMade Ghost TM-110

Beautiful square-designed Anser with great aimlines - well worth a look!
TaylorMade Rossa Daytona

Well constructed Anser style putter - excellent if you're after a good putter at a lower cost - gunmetal color looks classy - feels good too!
Ping Redwood Anser

The design which has won more pro events than any other, made with top quality materials. This Ping is a winner!
Yes Donna (C-Groove)

Wide bodied anser-style head with the amazing C-Groove for a terrific roll.
Yes Carolyne

A straightforward heel and toe design with great roll from the C-Groove
Nike Method 001

The best of the Nike Method putters. Favored by Tiger Woods while he was contractually obliged to use a Nike putter. A standard looking Anser style putter, with nice roll and feel. But not good enough to stay in Woods' bag once Nike gave up on the golf equipment industry.
Nike Method 004

Face balanced version of the Method 001. Favor this putter if you routinely pull your putts or you're trying to produce a straight-back-straight through stroke.
See some of the history and early advertising for the Ping Anser
here
.
Return to the Best-Putter.com homepage