<!body-starts-here>


<!Top headline>
Nike Method 005
<!Top image>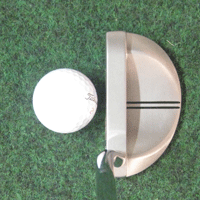 How does it look behind the ball?
My first impressions of the Nike Method 005 were that it's an elegant shape and is dominated by the long aimlines down the back of the putter.

It's a face balanced putter and as such it's rare because the shaft enters the head very close to the heel - most face balanced putters have a shaft insertion point which is much more towards the centre of the head to balance the face, but this must have some extreme weighting in the head to achieve the same face balance effect with the insertion point it has.

<!find-best-used-price-icon>

on a Nike Method 005...

<!geo-targeted-ebay-link> <!other-ads>

The advantage of this is that you get to see virtually the whole of the top line of the putter face and this helps with alignment.

What didn't suit my eye was the very small amount of offset in the shaft. I particularly like having my hands ahead of the putter face at address (as many top putting teachers suggest), and this had the effect of closing the face of this putter.

In order to square up the face, I really felt I had to bring my hands back level with the putter face, which felt unnatural, or deliberately open the face up. Either way, if you're like me and set your hands ahead at address this probably isn't the putter for you.

I'm sure this putter will appeal to some golfers, but if you put it alongside a Ping, Odyssey or Scotty Cameron I'm afraid it looks rather cheap. Somehow the material and finish just isn't up to a comparison with putters made by these market-leading names.

How does it roll the ball?
Until I had figured out how to align the Nike Method 005 correctly, the roll was pretty dreadful - smothered and left every time. In fact I could even see the ball jumping a bit as it got rolling - my stroke had obviously driven the ball into the green very slightly.

I'm glad to report that the roll did improve, however, once I had figured out where my hands needed to be aligned to present the face to the ball as the designer intended. It was a good, soft roll and I could imagine this putter being excellent on fast greens.

How does it feel?
Again once I had worked out how to properly address the Nike Method 005, and was making proper contact, its feel was excellent - soft and responsive. I got a good feeling of the energy of the putter being passed straight into the ball, and therefore distance was easy to judge, too.








If you have my style of address position, with the hands level with the ball and ahead of the putter head, then there's no way you should purchase this putter!

All you'll get is pulled putts.

However, if you give this putter a try and see that the ball is rolling beautifully right from the get-go, then there's no reason not to like the Nike Method 005. The looks may be a bit lightweight compared with other more expensive brands, but that's probably true of 90% of putters.



Others to consider:



Nike Method 001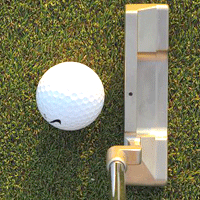 A minimalist anser head that looks just a little lightweight. The roll is pure and the feel is good.



Nike Method 002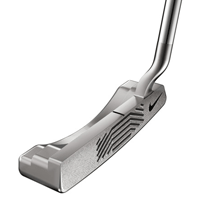 Most similar to a Ping Zing shape, this putter has a simple no-frills look, a good roll, but a high price tag.



Nike Method 003
The Nike Method putter favored by Tiger Woods. A heavily toe-weighted putter with classic looks. Fantastic if you have an open-square-closed stroke.



Nike Method 004
Face balanced version of the Method 001. Favor this putter if you're trying to produce a straight-back-straight through stroke.



Nike Method 005
Face balanced mallet which looks like it's got a good bit of meat behind the head. For our money the best looking in the Method range.



Not sure if a Nike Method 005 is for you? Click here for our article on choosing a putter to fit your stroke. Return to the Best-Putter.com homepage




<!standard-footer-starts-here>