<!body-starts-here>


<!Top headline>
Nike Method 004
<!Top image>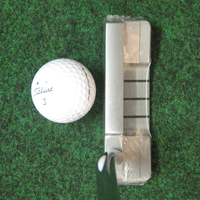 How does it look behind the ball?
The Nike Method 004 is to all intents and purposes an Anser style putter, but what strikes you when you address the ball is just how thick the top of the putter face is.

This unfortunately left me with the feeling that what I had in my hands was not a delicate, precision tool, but a somewhat blunt instrument, that I would get little feel or touch with.

The double-bend shaft used in this putter is also not the standard for an Anser shape. What this means is that the shaft inserts straight into the putter head (as you can see from the picture), rather than into an upward extension from it (Ansers usually have what's known as a "plumber's neck hosel").

<!find-best-used-price-icon>

on a Nike Method 004...
<!-ebay-ad-500x370>
<!geo-targeted-ebay-link> <!other-ads>

Why does this matter at all? Well, the advantage of having a double-bend shaft is that it obscures less of the leading edge of the putter, because there's less metal to get in the way. What I found with the Nike Method 004, however, was that this was anything but an advantage - you just saw more of the brick-like shape of the putter head, which is not its best feature!

How does it feel?
Thankfully my disappointment with this putter's appearance ended quickly - as soon as I struck a ball, in fact. The feel from the whole of the Nike Method 00 series is its real strength. It's a solid, yet soft feel which is good for all speed of greens.

Phew - at last something to like!


How does it roll the ball?
The roll of the ball from the face was great too. You could clearly see how the ball came out "end over end" without wobbling or deviating, and I'm sure anyone would make a good number of putts with this blade.








Perhaps my dismay at the look of this putter is unjustified. After all I loved the roll and the feel.

But for me, there just has to be some feeling of subtlety and delicateness in a putter head's appearance if you're going to have real confidence in your ability to slot a slick downhill four footer when the pressure's on.

Unfortunately the Nike Method 004, just didn't have it.


Others to consider:



Nike Method 001

A minimalist anser head that looks just a little lightweight. The roll is pure and the feel is good.



Nike Method 002

Most similar to a Ping Zing shape, this putter has a simple no-frills look, a good roll, but a high price tag.



Nike Method 003

The Nike Method putter favored by Tiger Woods. A heavily toe-weighted putter with classic looks. Fantastic if you have an open-square-closed stroke.



Nike Method 004

Face balanced version of the Method 001. Favor this putter if you're trying to produce a straight-back-straight through stroke.



Nike Method 005
Face balanced mallet which looks like it's got a good bit of meat behind the head. For our money the best looking in the Method range.



Not sure if a Nike Method 004 is for you? Click here for our article on choosing a putter to fit your stroke.. Return to the Best-Putter.com homepage




<!standard-footer-starts-here>