<!body-starts-here>

<!Top headline>
Rife Two Bar Putter
<!Top image>
How does it look?
You will find that the Rife Two Bar putter is very much like the Odyssey White-Hot 2-ball from above, with a large alignment aid and "hybrid mallet" shape.

Visually the Rife Two Bar is easy on the eye in every way, and in addition sits squarely when flat on the ground without much manipulation. There is nothing garish about the paintwork either - a common stainless steel finish with the two bars justifying the name of the putter and pointing you in the right direction.




for a Rife Two Bar Putter
How does it feel?
It seems that on the whole the Rife Two Bar's sole purpose was to make setting up to make easier for all types of player. Having said that, though, you may benefit more from its intricate adjustable weighting system if you're a lower handicapper. The idea of the weighting system is that you can alter the weight configuration in order to accommodate varying speeds of greens.

It is also one of the best putters I've tried for making a stroke without involving the wrists. After hitting a few putts, you will soon notice that the natural centre of gravity makes it very easy to develop a even pendulum motion.

This gives it a very reassuring feel indeed.
How does it roll the ball?
The Two-bar range comes with 'roll groove technology', essentially meaning milled grooves designed to increase the grip on the golf ball and consequently reducing skidding. You will notice the sound off the face is a deliberate one too despite the putter having an insert. An advantage of this is of course knowing when you've hit a well-struck putt!






I found the effect of the Rife face technology similar as the Yes C-Groove face (but not quite as good). Although the delivery of the ball did seem to be true and more forgiving than a regular milled face..

The Rife Two Bar Putter is great value for money in comparison to its mallet rivals. A new one at retail will set you back about $200, and you can get a pick up a used model for less than half that.


Others to consider:





Odyssey Backstryke

One of the most revolutionary designs in putting. Love it or hate the look, the results are good



TaylorMade Rossa Spider

Lots of hype when this putter launched, but pros who rely on their putters have not stuck with the Spider



Odyssey Backstryke Blade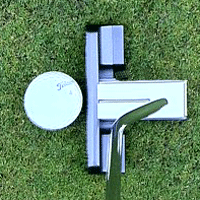 It looks like an Anser with an odd growth at the back, so hardly attractive - but is the Backstryke Blade any good? Find out here!



Ping Crazy E

One of the easiest putters to line up we've ever tested, but feel is hollow



Yes Donna (C-Groove)

Wide bodied anser-style head with the amazing C-Groove for a terrific roll.



Never Compromise Alpha

This putter seems to stay square for ever! Feel's not great, but you'll love it if you use a square-to-square stroke






by Murray Rose
Senior Contributor
@muzzarose
murraywilliamrose.blogspot.co.uk

Not sure if a Rife Two Bar putter is for you? Click here for our article on choosing a putter to fit your stroke.

Return to the Best-Putter.com homepage




<!standard-footer-starts-here>