Yes Eleanor
<!Top image>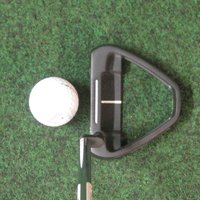 How does it look behind the ball?
The Yes Eleanor has an interesting hollowed-out design - almost like a
Ping Anser
putter with a curved back bolted onto it and nothing in between. My feeling is that this is going to be a "love-it" or "hate-it" design. Not being a fan of hollow putters put it in the latter category for me.
That having been said, the shape does offer one advantage that I liked. When you address the ball, you get a feeling that you're lining the putt up from two points. Firstly from the center of the curved back of the putter and then the T shape lines on the top of the putter.
| | |
| --- | --- |
| | on a Yes putter... |
Not in the US? Click here for eBay listings for a Yes Putter in your region.
Because you're lining these two points up at the target, it almost feels like you're lining up a bow and arrow or a shot at pool. You get a real sense of where the putter is lined up from this.
I also liked the fact that so much weight of the putter is high up off the green - right behind the center of the ball. This gives you the feeling that you'll get a great roll before you even take the putter back.
How does the Yes Eleanor feel?
This was a big surprise for me - normally hollow putters have a dreadful feel and make a high pitched tinny sound, but the Yes Eleanor is different. The strike feels good and you don't get this with too many
futuristic putter designs
such as this.
The putter is much lighter than its size suggested it would be, however, and with such a big head, I would have expected a more meaty feel to the clubhead.
How does it roll the ball?
The hugely impressive Yes C-Groove face design takes care of the roll well from this putter and the ball comes off it with a beautiful end-over-end roll.
Unfortunately, for whatever reason, the dispersal of balls from the face of the Yes Eleanor during my test was far greater than I would have expected and this would make me wary of buying one.
---

---
The unusual looks are likely to be your biggest sticking point with this putter. If you like them, great, if not, then don't bother buying (there are better Yes putter designs to choose from!)
Others to consider:
TaylorMade Spider

Lots of hype when this putter launched, but initially the pros who rely on their putters didn't stick with the Spider. Since then it's evolved into a great putter
Odyssey 2 Ball

The iconic putter of the 2000s - easy to aim, great feel
Odyssey Backstryke

One of the most revolutionary designs in putting. Love it or hate the look, the results are good
Odyssey 2 Ball Blade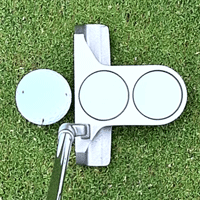 Padraig Harrington used this combination of blade and 2 ball design to win majors, but what's it like?
Odyssey White Hot 7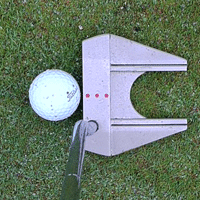 Super popular shape available in many different models with a winning alignment system and amazing feel
Odyssey White Ice Progressive Terron Mid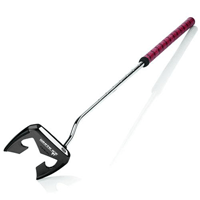 Sharp-edged spaceship of a putter - you need to like futuristic shapes to use this one!
Ping Crazy E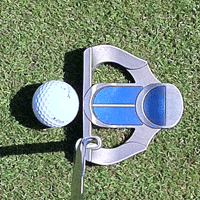 One of the easiest putters to line up we've ever tested, but feel is hollow
Scotty Cameron Futura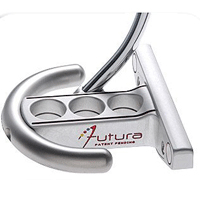 Phil Mickelson toyed with the Futura, before heading back to a blade. The first of the truly futuristic putters, and probably about as attractive as they're ever going to be
TaylorMade Ghost Corza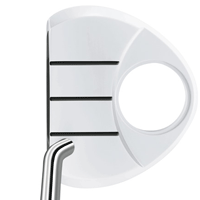 Odd-looking putter to start with, but a great putter in terms of roll and feel with a look you can get used to. Justin Rose used this putter for his first PGA tour win.
Yes Natalie (C-Groove)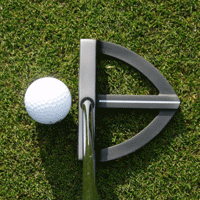 Futuristic design with amazing roll and super long aimline.
Not sure if a Yes Eleanor is for you? Click here for our article on choosing a putter to fit your stroke.
Return to the Best-Putter.com homepage