Superstroke Grip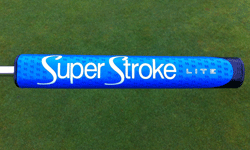 Padraig Harrington using a Superstroke Grip in the 2011-12 season created a great buzz around oversized grips - could they make you hole more putts? Could they even take your overactive hands out of the stroke? Ever since then, oversized, particularly the Superstroke grip has become one of the standard grips in the game. Most manufacturers now offer these or similar grips to brand new putters.
It seems like they might be a solution for many of us who have struggled with overactive, twitchy hands. But are they actually any good and surely they take away some of your feel?
We decided to find out...
| | |
| --- | --- |
| | on a Superstroke putter grip... |
Not in the US? Click here for eBay and Amazon listings for a Superstroke grip in your region.

How does a Superstroke grip feel?
The first thing you notice about the grip apart from its size (it really is fat) is that it's very light and feels quite hollow. We tested the Superstroke grip they call the Fatso Lite, and while it feels solid and secure on the putter head, it's doesn't have the same feel as a conventional rubber grip.
Not a worse feel, just different.
The size is genuinely a shock if you're not used to fat grips, but I found I got used to it remarkably quickly.
The other thing about the feel of the supersize grip is that the finish is really good, the surface is super tacky and gives you confidence when you take up your grip. It feels like a quality product.
Another good feature is that when you fit the grip to your putter, you can experiment with its position, rotating the flat part of the putter so that it's either on the top, bottom of side of your club.
Does it work?
Well, I was impressed!
In terms of its effectiveness, It felt like as though my hands were being almost entirely removed from the stroke, and you absolutely feel as though your stroke is coming from your shoulders. If this is what you're looking for, then I would recommend you give this a try.
Does it take away from your feel for the putter head? This might be the one downside of the grip. I found I initially left quite a number of putts short and had to swing harder to get the putt to the hole.
I felt that this was probably because I was no longer using my hands as a source of power in the stroke.
It did feel as though your hands were slightly less sensitive to the feel of the ball coming off the face, but if you're currently flipping or twitching your putts, this is probably a small price to pay, and the stability of the putter in your hands will be more than enough of a benefit.
---

---
I was a big fan of the Superstroke grip and have considered getting one myself. If you're struggling with over-active hands this may well be the answer. It's less of a change from normal putting than, say, the
2 Thumb Grip
, and after just a few putts on the practice green, you'd feel pretty confident to take it to the course.
by

William John
Site Owner
For more information about the Superstroke Grip click here
Return to the Best-Putter.com homepage