Cleveland Classic Collection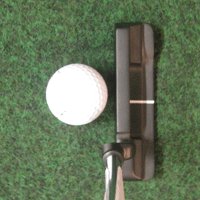 How do they look behind the ball?
The Cleveland Classic Collection is a selection of
milled
putters from an equipment manufacturer which has been around for decades, always sitting just below the top brands.
In an attempt to capture some of the market that's held by
Ping
,
Odyssey
or
Scotty Cameron
, Cleveland has gone for the high-finish, low-frills approach with this range and the results are good.
The designs are all basically copies of classics which are now out of patent protection, so you'll see the
Ping Anser
shape in the #1 design (pictured above) and there's a
Ping Zing
and a Tad Moore copy as well. All legitimate and well finished putters that look good.
---

... on a Cleveland putter
---
Produced in both black and steel finish, there's probably something for every taste. I particularly liked the black finish which made the white alignment line stand out well.
How do Cleveland Classic collection putters feel?
Cleveland's aim was obviously not to do anything revolutionary with this range of putters and their caution pays dividends when standing over the ball. The feel of the putter in your hands gives you confidence.
As you'd expected for a milled putter, the feel from the Cleveland Classic Collection range is good. You get good response from the strike of the ball and this will make feeling the distance of your putts easy.
What I can say for sure, however, is that they're not as good as the top named brands I listed above. The feel is just a shade off what you'd get from a top level Scotty Cameron or from any of Odyssey's
insert putters
.
That having been said the Clevelands are quite a bit cheaper.
How do they roll the ball?
The roll of the ball from the face seemed at first sight to be very good. However, I had less confidence in the roll when I saw the dispersal of my putts around the hole. I putted several groups of balls and consistently found them more spread out that I would have liked.
Unsure if it was my stroke or the putters themselves, I continued testing and the same thing happened.
Of course it could have been a freak set of results, but having liked everything about the putters up to the point of actually taking it onto a putting green (where it really counts, of course), my enthusiasm waned rather quickly.
---

---
On the face of it the Cleveland Classic Collection putters are great cheaper versions of the putters produced by the biggest names in the putter business.
With so much going for them in the looks, feel and roll department, I was, however, just a little disappointed to find that the results on the green were not as good as I would have expected.
With this in mind, I would caution you to try any of these putters out over a series of rounds or an extended period on a practice green before you buy.
Others to consider:
Scotty Cameron Newport 2 Studio Stainless

The "more affordable", but rather unimpressive Scotty Cameron.
Ping Karsten Anser

Unbeatable on price and right up there for feel and design.
Ping Anser

The Anser is the putter that has been copied a thousand times - now available from Ping at a variety of prices.
TaylorMade Rossa Kia Ma Daytona

Good looking Anser style putter - Part of TaylorMade's resurgence as a designer of high quality putters
TaylorMade Ghost TM-110

Beautiful square-designed Anser with great aimlines - well worth a look!
TaylorMade Rossa Daytona

Well constructed Anser style putter - excellent if you're after a good putter at a lower cost - gunmetal color looks classy - feels good too!
Ping Redwood Anser

The design which has won more pro events than any other, made with top quality materials. This Ping is a winner!
Yes Donna (C-Groove)

Wide bodied anser-style head with the amazing C-Groove for a terrific roll.
Yes Carolyne

A straightforward heel and toe design with great roll from the C-Groove
Nike Method 001

The best of the Nike Method putters. Favored by Tiger Woods while he was contractually obliged to use a Nike putter. A standard looking Anser style putter, with nice roll and feel. But not good enough to stay in Woods' bag once Nike gave up on the golf equipment industry.
Nike Method 004

Face balanced version of the Method 001. Favor this putter if you routinely pull your putts or you're trying to produce a straight-back-straight through stroke.
See some of the history and early advertising for the Ping Anser
here
.
Not sure if a Cleveland Classic Collection putter is for you? Click here for our article on choosing a putter to fit your stroke.
Return to the Best-Putter.com homepage