The 3 putting stats that matter
... and how to improve them

There are very few putting stats that really can help you transform your performance. Trouble is, as with all the stats in golf, there are so many you could track, that it's difficult to know which are crucial for lowering your score.
I'm here to simplify this for you today.
These are the three putting stats that matter - in order of importance. You should know about your putting and work to continually improve these if you want to score lower:
Let's look at these one by one:
1. Make percentage inside 5 feet:

Putts inside 5 feet are the "money shots" of golf. Among players of roughly the same standard, you can track the difference between winners and losers with this stat. It's here that your score is often decided.

But not just that...
This is one of the putting stats that matters because you stand a realistic chance of improving it.
Holing more 60 footers wouldn't make much difference, because you don't get that length of putt very often, but you have a putt inside 5 feet anywhere between 12 and 30 times per round depending on handicap  - so a small increase in your make percentage will cut serious strokes off your score!
If you're going to work on anything on the carpet at home or on the putting green before your round, focus on the putts from 5ft and in. Practice tips are the focus of tomorrow's tip in our series (register to receive this by email here).
BTW... If you're looking for the best way to track your putting stats, you might be interested in getting your hands on the Excel sheet I use to analyse my own stats.

For a limited time it's available free with my "How I cut 10 shots off my putting game ... and how you can too!" ebook.

It's an Excel sheet that took me around a year to develop and will collect all of your putting stats, compare them against a benchmark for your handicap and show you - through color coding - which elements of your putting game you need to work on to save the most shots.

It really is a short cut to lowering your score.

Click here to take a look at the package. (It's very reasonably priced!)
2. Percentage of putts inside 20 feet left short:

Moving a little further from the hole, you still have a chance to make putts up to 20 feet. So it's important to give them a chance at the hole.
It's a fact that the lower your handicap, the less often you'll leave a putt inside 20 feet short and over the course of several rounds, you'll hole a greater number.
But please hear me accurately: we're talking about ALL putts inside 20 feet here - anything from a 1-inch putt to a 20-footer.
Be smart!
There is a time to lag your putts close and not take a "must get it to the hole at all costs" approach.
A 20-footer on a slick downhill or sidehill slope when you have two putts to win a hole in a match isn't the time to putt aggressively!
The thing that will kill you, though is if you consistently leave short putts short of the hole. Pros virtually never do this.
Obviously your control of speed is crucial for this (and all of the putting stats that matter) and I cover that in my putting email series (of which this page is a part).
You can register to receive these emails below:
---
3. Your "3-putt avoidance" number:

The ability to two-putt greens is number one in the putting stats that matter list for mid to high handicap players.
Avoiding 3 or 4-putting limits the scores you'll shoot. Not many players score over 100 with fewer than 36 putts.
At the other end of the spectrum, not many lower handicap players win tournaments with more than the odd 3-putt. The average PGA Tour player only 3-putts 2.9% of the greens they play or about once every 2 rounds - and that's on some of the fastest and most sloped greens in the world.
Being able to two-putt from distance is a combination of your pace judgment on putts outside 20 feet and your make percentage inside 5 feet.
Again, I'll give you drills for improving your pace putting in my next email (REGISTER HERE) with drills you can try at home.
Why you should record these putting stats that matter: 

I've found that the quote "What gets measured gets managed" from business guru Peter Drucker is absolutely true about golf. If you want to move the needle on one part of your putting, then measure it!

Calculate the three putting stats we've gone through here and something magical will happen, the more you count, the more they will improve.
So get a piece of paper and start working out these putting stats that count, or better still use my stats sheet - available free when you pick up a copy of my "How I cut 10 shots off my putting game ... and how you can too!" e-book.
You won't regret it!
William John
www.best-putter.com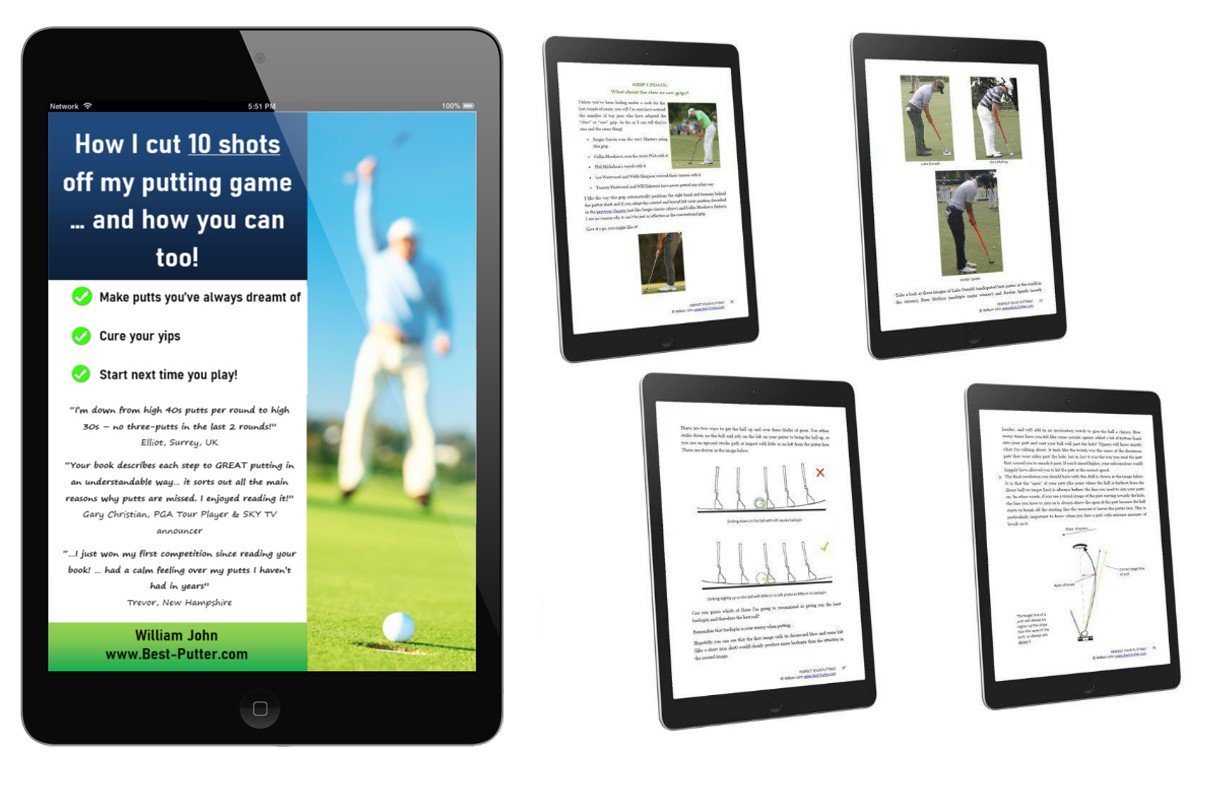 CLICK HERE to pick up a copy of our ebook: "How I cut 10 shots off my putting and how you can too!"...
"… I just won my first competition since reading your book! … Felt calmer over my putts than I have in years"
Trevor, Portsmouth, NH, 14 handicap
"Your book describes each step to GREAT putting in an understandable way... it sorts out all the main reasons why putts are missed. I very much enjoyed it!"
Gary Christian, Former PGA TOUR Player and SKY SPORTS / Golf ChannelAnnouncer
"My putting has been good over the last few rounds - 30 putts last time out and holed some good 18-20 footers which never seemed to happen before... and I've only read the first 5 chapters"
Julie, Berkshire, UK, 3 handicap