Building an Outdoor Putting Green DIY Style...
Inspiration, how to do it, best materials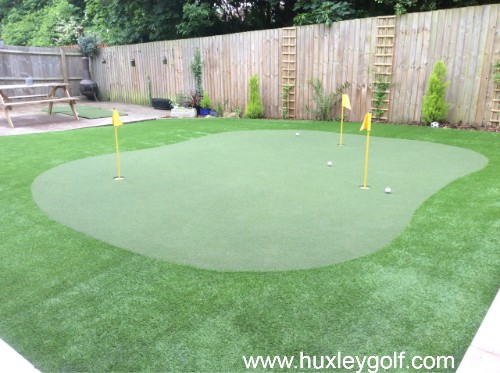 I've just finished building an outdoor putting green DIY style, so I've learned a good bit about the installation process.
Taking on a DIY outdoor putting green isn't for everyone, but if you've got time, physical strength and a bit of landscaping knowledge, you can do it yourself... and it doesn't have to cost the earth.
Green kits, artificial turf, how to get the best putting surface at the best cost, I'll cover it all!
But first some inspiration... The world's best backyard greens
---
Step-by-step process for building an outdoor putting green DIY style
Artificial grass or natural grass... the process is quite similar:
Step 1: Find a relatively flat location - this makes it so much easier. Avoiding the lowest lying land (if you have the option) is also a good idea if your climate is wet.
Step 2: Get digging! - regardless of whether you install synthetic turf or plan to seed real grass, you're going to need a solid foundation with good drainage.
5-10 inches of digging will be enough. Manual labor will be fine if you're planning a small green (up to about 250sq ft / 24sq m) but for large sizes you'll be best off hiring a digger. Remember you'll need to dig out some of the surrounding area to allow for fringe grass.
Step 3: Add some slope to your green - don't go overboard, but unless you want a totally flat area, you'll want a bit of challenge when you putt. As a guide, a 2% slope is a pretty decent break on a normal green. Buy a spirit level and don't exceed this by much.
Step 4:
    Real grass - Install herringbone shaped drainage in trenches cut into the ground. The standard drainage pipe is a 4-inch diameter perforated pipe. fill the trench around the pipe with porous material pea gravel is best.
    Artificial grass - Lay a base layer of aggregate - crushed granite works well. Use a plate compactor this to give a firm base.
Step 5: Put down a layer of porous sand - The depth of this layer varies depending on the surface:
    Real grass - 12 inches of sand based root-zone mix
    Artificial grass - 1/2 inch-layer of PGA washed sand
Do NOT use "builders" or "construction" sand, as the grains will lock together and not allow water to pass easily through.
Step 6:
    Real grass - seed or sod your green. Consult a local specialist to give you a fine-grained grass for putting greens which combines climate resilience and ease of care.
    Artificial grass - install a weed suppressing membrane - available from home depot - just needs pegging down with some landscape spikes / staples.
Step 7:
    Real grass - care for your lawn - weeding, feeding, rolling, mowing with a specialist greens mower, hollow tining and sanding at least annually - these are all things the superintendent does at your local golf course, so you'll have to do them too (which is why I think most of use would be better off with synthetic putting greens rather than natural turf).
    Artificial grass - roll out, shape and secure your putting green turf. Shape the edges, secure with landscape spikes / staples and then lay some longer fringe turf. Cutting holes in "fake grass" greens is more difficult than in a natural golf green, but of course you only have to do it once.
To see how, take a look at this video - it's the one I found most useful when I did my project:
Outdoor putting green DIY FAQs
Real Grass vs. Artificial Grass?
There's no doubt in my mind that artificial grass is the better option unless you have all the time in the world and a healthy chunk of cash for ongoing maintenance.
If you're a time-starved but avid golfer you'll want to spend you're time practising your short game, rather than mowing your backyard green in order to get it to a decent green speed.
Even then, you're unlikely to have the smooth surface you're hoping for.
Remember greens staff mow greens many times per week at a country club and several times a day to get to the level of tour greens.
With artificial putting greens, you have virtually the perfect putting green surface every time you step onto it with barely any upkeep.
What size of putting green?
Obviously this depends on the size of your yard!
You'll certainly want several hole locations and so that you can vary the length and slope of your putts and play the odd putting game, but you probably don't need as large a green as you think.
My DIY backyard green project was just under 250sq ft 24sq m (and I hit off the turf into a net at one end for long game practice) but I still have enough room for 4 holes. Limited space needn't be a serious hindrance to a decent putting green.
How much does an outdoor backyard putting green DIY project cost?
This depends on the size, materials used and whether you're using real or synthetic turf. Here's a guide to average cost: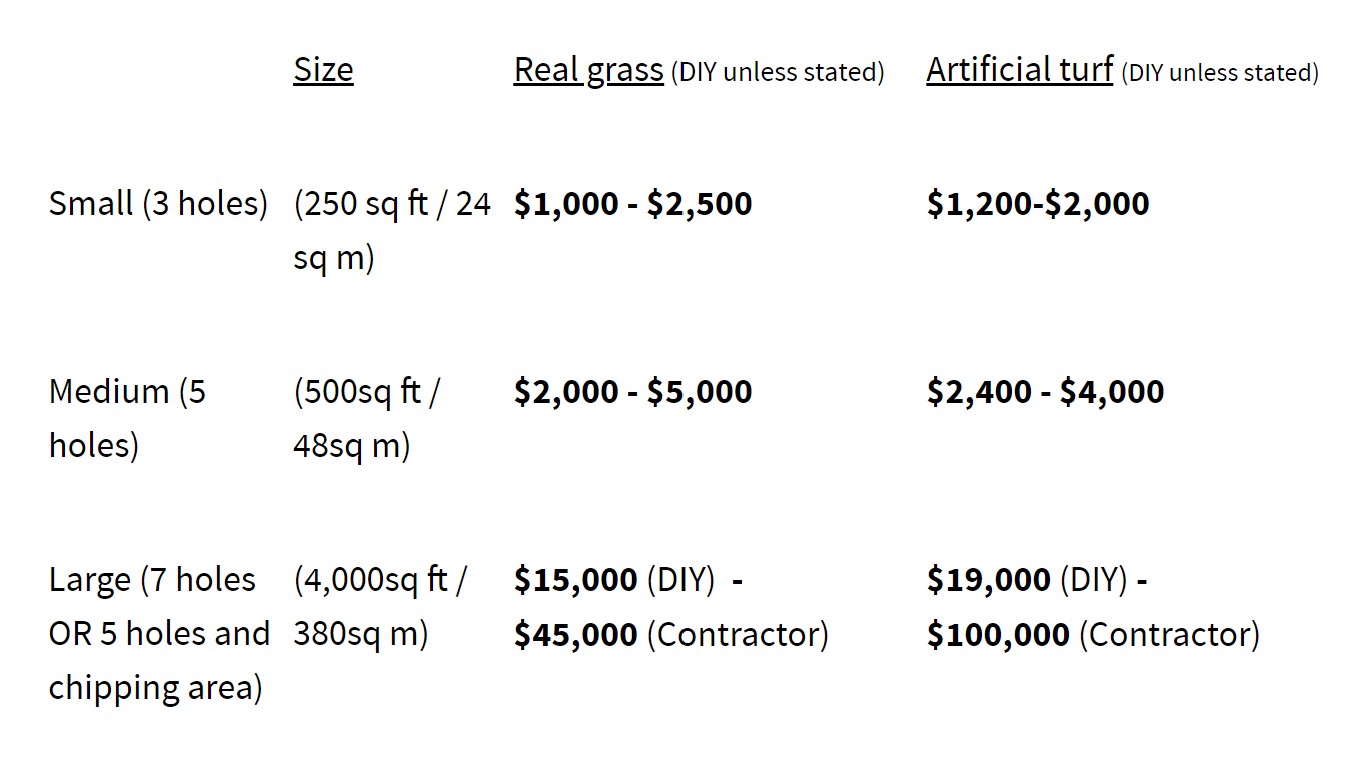 What is the best putting green turf (natural grass)?
This is dependent on your climate:
The most common cool season fine grass varieties are "bent grasses", "poa annua" or "ryegrass". Use these if your winter is cold and damp

Warm season fine grass varieties include "bermuda", "zoysia", "paspalum", all of which are available in several cultivars. These are designed to withstand extremely hot summer temperatures, but usually go dormant (brown) in colder periods. 

You're best to speak to a local turf specialist to find the best option, ideally a golf superintendent.
What is the best putting green turf (artificial)?
The biggest names in the industry are: Southwest Greens (USA) and Huxley (Europe), but to my knowledge they only offer professional installation.
For your DIY project, I suggest you shop around and order several sample squares from artificial turf suppliers to find the pile height you want.
As I didn't have a lot of money for my DIY green installation, I didn't pick the most expensive and it's worked out well so far. Certainly I get an excellent and realistic ball roll.
Do outdoor putting greens add value to your property?
Tough to say.

A realtor I spoke to recently said it depends enormously on the buyer. Some would look at a DIY putting green as hassle and will see only the costs involved with taking it out.
Serious golfers on the other hand will love it and see value in practising from the comfort of their own backyard.
What is the simplest possible way to build an outdoor putting green?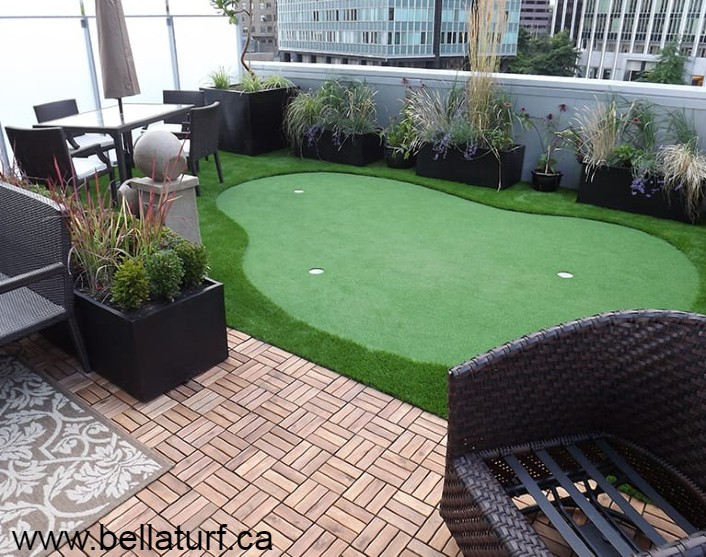 An artificial putting green kit like those available from Bella Turf or Xgrass are good options if simplicity is your goal.
You get all the materials you need, the turf is pre-cut, so you don't need to worry about the shape of the putting green - cutting artificial turf is the most challenging part of the DIY installation.
An artificial putting green kit like those available from Bella Turf or Xgrass are good options if simplicity is your goal.
You get all the materials you need, the turf is pre-cut, so you don't need to worry about the shape of the putting green - cutting artificial turf is the most challenging part of the DIY installation.

What is the best pile height for a putting green?
Around 1/2 inch (c. 15mm) is the best pile height for artificial grass putting greens. This is the same whether you're installing an outdoor or indoor putting green. 

I used 15mm pile height on my outdoor putting green DIY project. (See below)
What are the negatives of artificial grass?
I feel the positives of using artificial grass in your outdoor putting green DIY project outweigh the few negatives, but for full disclosure here are some:
Aesthetics - a perfectly mown natural grass green does look better than artificial grass. Synthetic turf can never have stripes!
(Slightly) higher initial cost and work to install, but you'll more than get your money back over the cost of maintaining a real lawn green.
You do get some unusual rolls on synthetic turf. Brushing a small amount of sand into the pile helps this, but it's still there.
It's harder to remove - either for you or your property's prospective buyers.
Is there any maintenance with artificial grass?
Yes - a little.  
In the 18 months since mine has been down I have had to:
Lift the putting surface and the weed barrier membrane to remove worm casts (obviously the worms don't know that there's no way to reach daylight in that part of my garden any more!)
Reposition the putting surface to realign with the holes
(whether I didn't secure my putting green surface well enough or whether this has to do with the fact that I effectively hit full shots off my green surface into the net, I don't know - hopefully this won't be a problem for you).
Brush and vacuum the surface 
(I sound mad to be doing getting a vacuum out on a part of the garden, but on artificial surface which has such a uniform pile, any garden debris on the green surface makes your ball jump off line dramatically and needs to be removed - the vacuum has been the easiest way I've found to do it - just hope the neighbours don't spot me!)
Is a backyard putting green worth it?
I really think you'll be pleased with a DIY outdoor putting green. Here are some benefits you might not anticipate:
Great fun for your kids
Guests to your house often want a go.
You can practice your golf game without spending time travelling to a course.
That said, I really don't think I would have kept a natural grass green in anywhere near usable state, so none of those benefits would have been available.
Building an outdoor putting green DIY style - my project:
As you can see from the pictures below, I built a combined putting green / full shot net in limited space in my backyard.
It's effectively a strip of putting green grass with 4 holes in it, some fringe grass around the edges and a hitting net at one end with a slope to return the ball back to you for the next shop.
The total cost was just over $1,500 for the raw materials and I put everything in myself. I'm really pleased with it.
Holing out short putts has helped my putting and I often use it to warm up both my long game and my putting where I haven't touched a club for a few weeks.
It's been a great addition to our garden and my kids and guests love it, especially when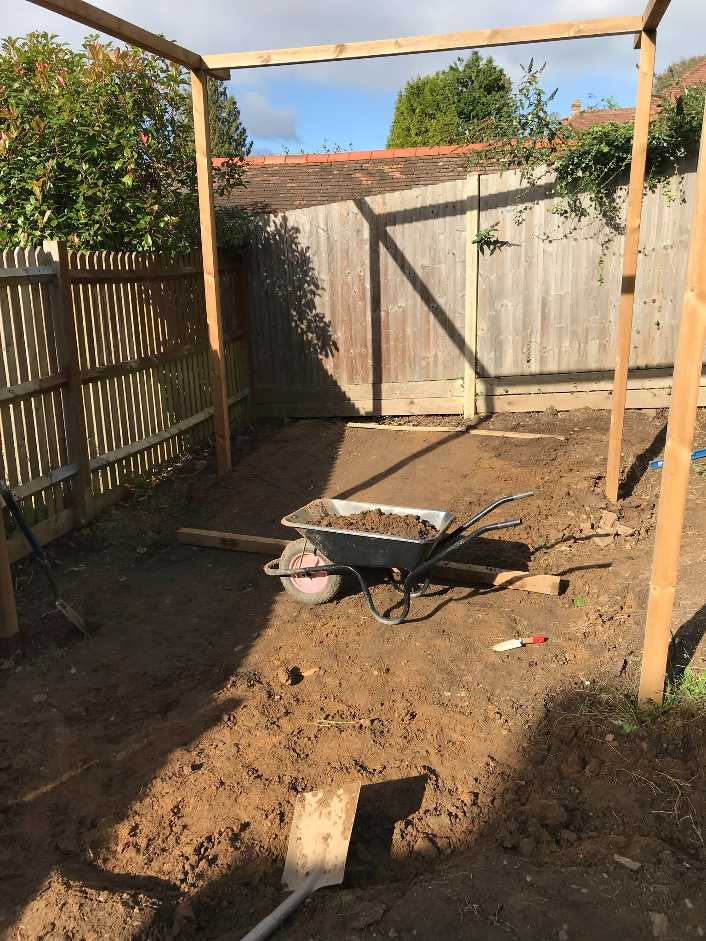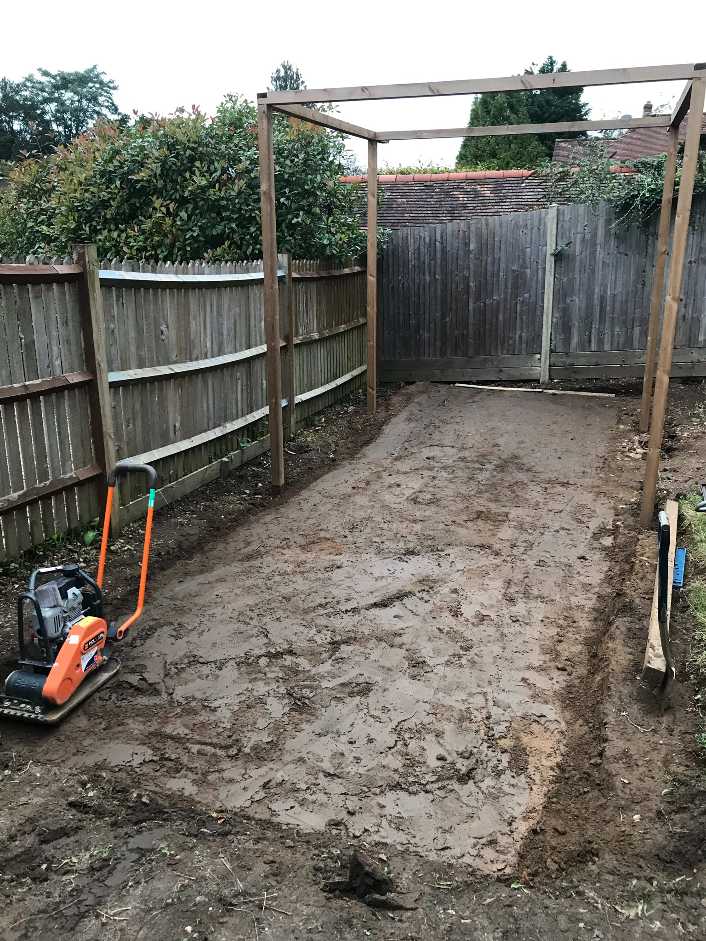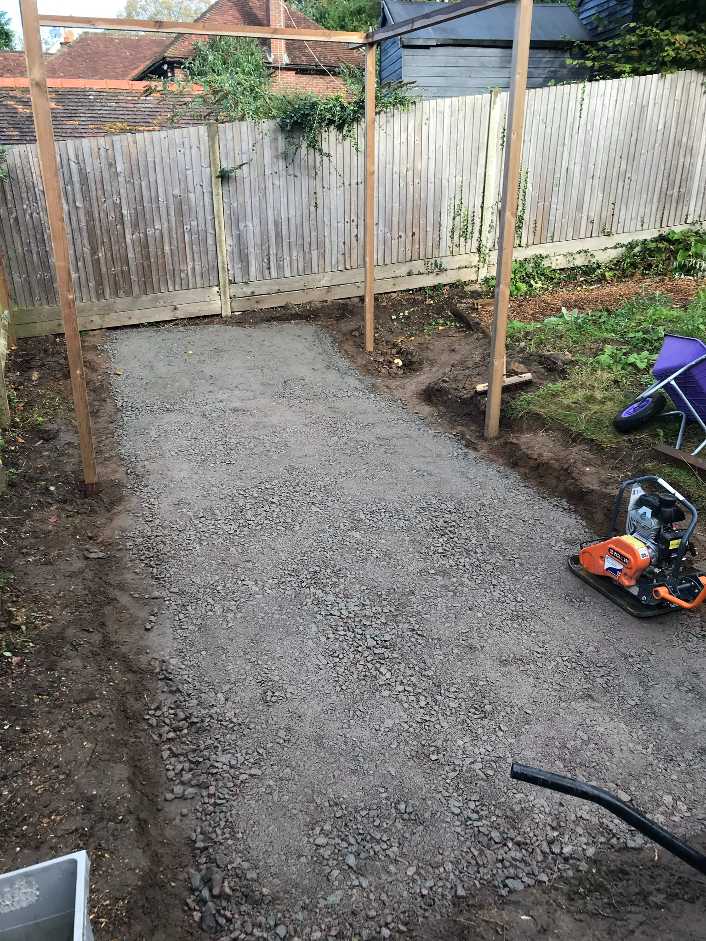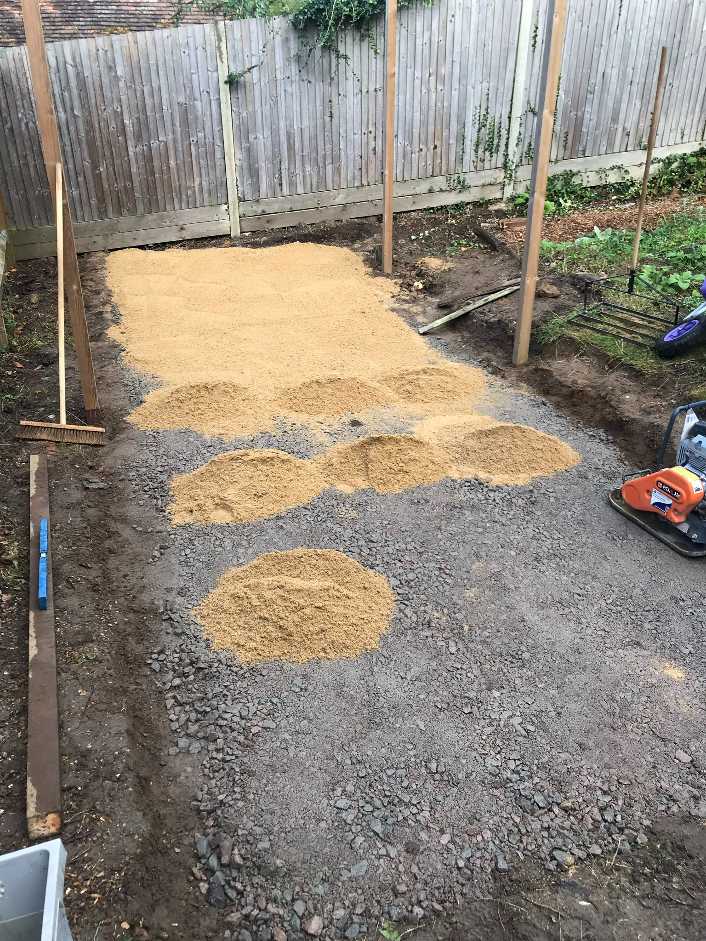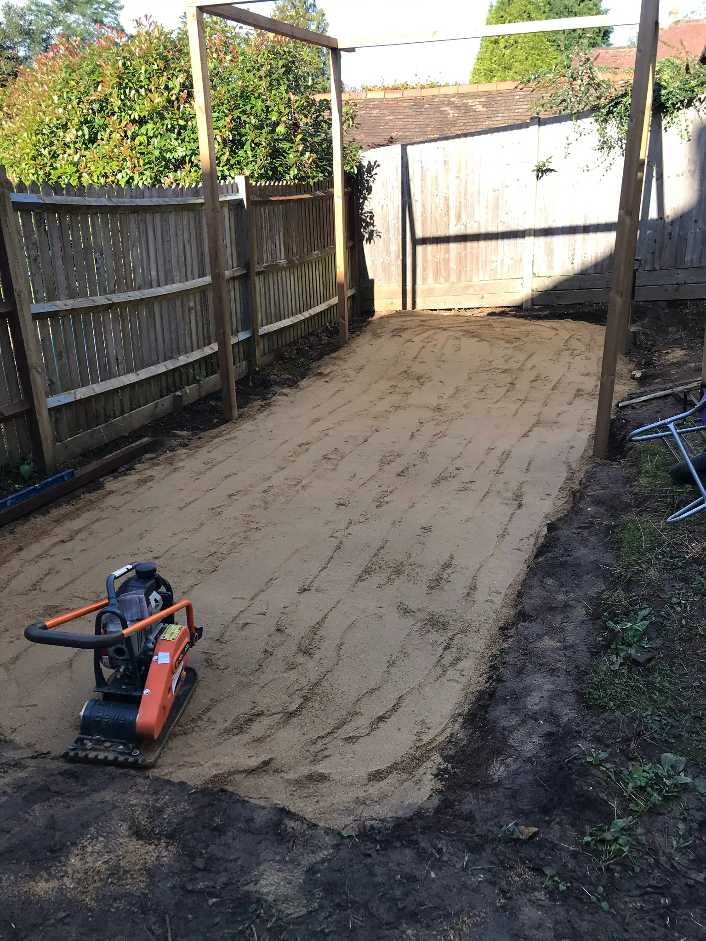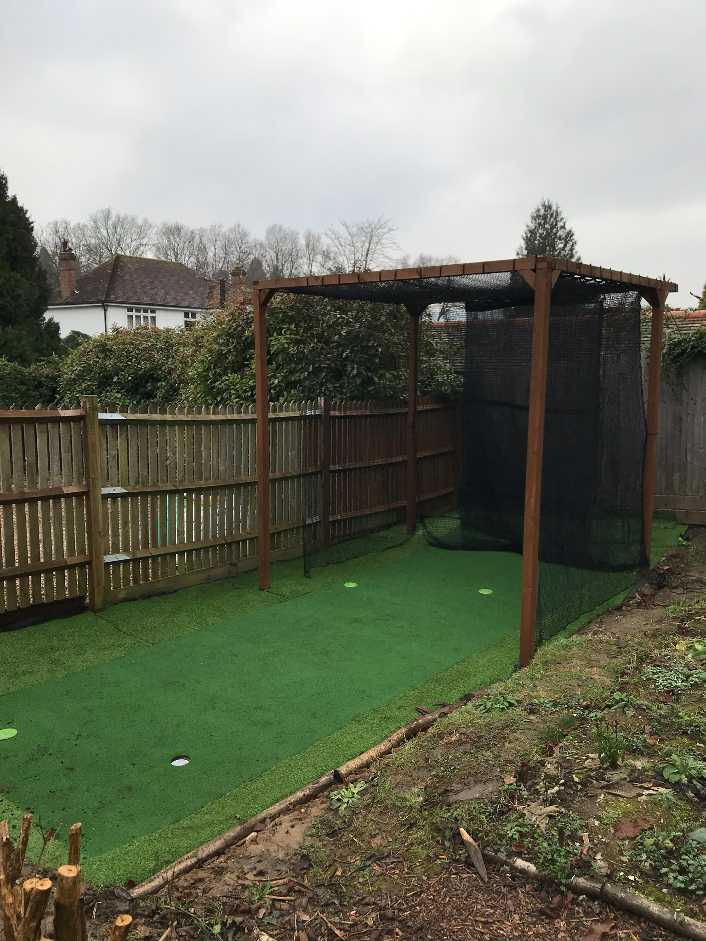 Good luck with your project.

If you need any help building an outdoor putting green DIY project, send me a message via the "contact us" page and I'll do my best to answer your questions. 
I'd also love to show more pictures of self-installed greens. If you've completed building an outdoor putting green DIY project, then send me some photos by the submission box below: 
Share your pictures if you're building an outdoor putting green DIY style!
Submit photos and details of how the project went
Return to the Best-Putter.com homepage