Solheim Cup 1990 Ping Putter
by Robin Higgs
(UK)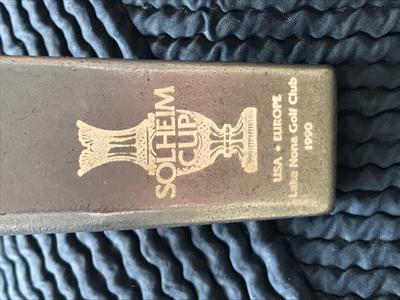 Hello
I should be grateful if you could give me an approximate idea how much my putter is valued at.
It is a Ping Anser 5 Putter with Commemorative Stamp on the sole of the putter "Solheim Cup USA Europe Lake Nona Golf Club 1990"

It has never been used and all the labels are in very good condition. See attached photos.

Many thanks
Robin




Dear Robin,
Thanks for your message. I get quite a number of requests for valuations of commemorative putters.
The value of these putters is extremely difficult to determine, because the supply of such models is so small.
To a collector or golf organisation looking - say - to display it in a glass case, the value largely depends what the commemorative connection is. In general, you'll get more if your putter commemorates an individual, especially a significant major win, rather than one commemorating a tournament.
Scotty Cameron commemorative putters which are so-called duplicates of Tiger Woods's putter is the prime example of something that would be worth quite a bit. Putters associated with other big-name players - the older the better - will also have high values.
The other question that will have a bearing on value is whether the putter is actually any good to use. This would be the base-line value of the putter as someone may just be looking for that model of putter to use and may struggle to find a "regular" version.
While the Ping Anser 5 was fairly popular in its day, it isn't one of the classic Ping models, so if it's going to be bought by someone to use, you're probably looking somewhere in the $50-$150 range.
Sorry I can't be more precise. The only true way to find out the value is to post it on ebay and see how the bidding goes.
Good luck!
William John (site owner)