<!body-starts-here> <!Top headline>
The Never Compromise Voodoo Daddy
<!Top image>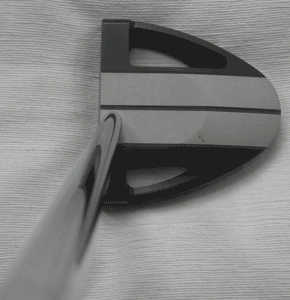 <!Text begins>
How does it look behind the ball?
The Never Compromise Voodoo Daddy is a bit of an exception to my dislike of hollow backed space-ship-style putters, is a bit of an exception. I have used this belly putter on and off for many years with some success.

If you like a long aiming line to aid alignment, then this could well be the putter for you. The line which extends from hitting surface to the back is a huge selling point.
<!Logo image>

<!find-best-used-price-icon>

on a Never Compromise Voodoo Daddy Putter...

<!geo-targeted-ebay-link> <!other-ads>

Counting aginst this putter, however, is its curvy shape. You really do have to rely entirely on the line to aim it properly. I also found the fact that the putter looks longer from front to back than from toe to heel took a bit of getting used to.

The black and silver finish - the previous trademark of all Never Compromise putters - works well. It's excellent at preventing glare from the sun.

Despite what the picture above shows, you can easily see the whole of the leading edge of the putter (from heel to toe) when you address the ball, since the straight shaft inserts into the head behind the hitting surface.


How does it feel?
The soft lightweight polymer material in the middle portion of Never Compromise putters gives this putter a soft - almost dead - feel. Although I don't dislike the feel particularly, there's not much response off the face.

Longer putts do sometimes give you a slight ringing sensation.


How does it roll the ball?
On all but the longest putts the roll off the Never Compromise Voodoo Daddy is "good". Not quite "outstanding", but certainly "good". It's sometimes a challenge to get a great roll on longer putts when you're swinging a bit harder, and I find from time to time that a very slightly miss-hit putt comes up short of the hole. Nothing to do with me of course (!), but I do feel that other putters are a little more forgiving in this regard.






A winner if you're looking for a wide backed belly putter with a great aiming line and a reasonable price tag.


Others to consider:



Never Compromise Alpha

This putter seems to stay square for ever! Feel's not great, but you'll love it if you use a square-to-square stroke



Odyssey 2 Ball Blade

Padraig Harrington used this combination of blade and 2 ball design to win majors, but what's it like?



Odyssey Backstryke

One of the most revolutionary designs in putting. Love it or hate the look, the results are good



Odyssey White Ice 5

Classic face balanced D shape with silky soft Ice White insert!



Scotty Cameron Newport 2.5 Center Shaft

The classic shape, different hosel ... but same awesome feel.



Yes Donna (C-Groove)

Wide bodied anser-style head with the amazing C-Groove for a terrific roll.



TaylorMade Rossa Kia Ma Fortuna

A highly refined mallet from TaylorMade - recommended!



Ping Crazy E

One of the easiest putters to line up we've ever tested, but feel is hollow







Return to Never Compromise Putters Page
Return to the Best-Putter.com homepage
For more info on the Never Compromise Voodoo Daddy, click here


<!standard-footer-starts-here>