Odyssey White Hot 9
What does it look like behind the ball?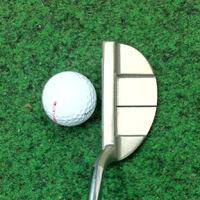 The Odyssey White Hot 9 is hands down one of the great blade putters available in the humble opinion of the Best-Putter testing team. It has a classic shape with beautiful flowing lines, but also has the benefit of perimeter weighting, with bumpers to distribute the weight, as far as possible to the heel and toe of the club.
This is the style of putter used by Phil Mickelson to great effect for so many years.  Sure, he's used other designs and a variety of grips, but this is the putter he returns to again and again and again. 
| | |
| --- | --- |
| | on an Odyssey White Hot 9 putter... |
Not in the US? Click here for eBay and Amazon listings for an Odyssey #9 putter in your region
The White Hot 9 has a very subtle offset and this, along with the shaft's heel attachment into the head allows you to see almost the whole of the putter's top edge which is another great strength of the design, making alignment easier.
Add to this the clear black aimline and the parallel bumpers on the toe and heel, and you'll find aiming this putter a lot more straightforward than the traditional blade putter, which can sometimes be so curvy that you don't really know where it's pointing.
How does it feel?
The fact that the weight is so much on the toe end of the Odyssey White Hot 9 undoubtedly sets you up knowing that the face is going to close through impact and you've got to be happy with that before you begin. You can feel a pronounced "toe flow" to use the words coined by
Scotty Cameron
right from your first swing of this putter.
If you're looking to produce a straight back and straight through putting stroke as suggested by Dave Pelz, then this would be the worst possible putter for you, as you can see and feel the putter head wanting to rotate open on the backswing and closed on the throughswing.
Supposing that you're the kind of putter who wants to putts with an arc-shaped stroke stroke (and about 90% of all putters naturally do this), then you will absolutely love the feel of this putter. The sensation of weight in the head is fabulous and you can get a genuine feeling of the clubhead's momentum through the swing.
As a result it doesn't feel like you will ever have to "hit" your putts, but rather that you're going to "swing" the putter and allow the head's weight to smoothly roll the ball to the hole.
Another big plus about this putter is the white hot insert. The feel you'll get off the putter face is a quite extraordinary combination of softness and connection. The
White Hot inserts
have been around since the mid 1990s and the fact that they have been sold without a major rebrand or alteration shows you just how successful and popular these faces have been.
How does the Odyssey White Hot 9 roll the ball?
The roll you get off the Odyssey White Hot 9 is also quite sensational. The amount of momentum your ball will have and with practice your ability to judge distance with this putter is likely to increase, especially if you're used to a
face balanced
design which has very little sensation of toe weight.
The only downside to the roll and sensation you'll get from the Odyssey White Hot 9 is that whilst you're getting accustomed to the extra toe-weight, you may find yourself overhitting putts on very fast greens. It is, however, perfectly possible to get used to this and great putters such as
Ben Crenshaw
, Phil Mickelson and Billy Caspar all used toe-weighted, blade putters like this, and had amazing feel for distance as a result.
---

---
This is very much a putter for the purists.
The insert in the Odyssey White Hot 9 gives you great feel off the face and distance control with this design of putter should be considerably easier, after some practice, due to the momentum of the toe which will make for a faster roll with less need for a "hit", than a
face balanced
or
anser style
putter.
by

William John
Site Owner
Nike
Nike Method 001

A minimalist anser head that looks just a little lightweight. The roll is pure and the feel is good.
Nike Method 004

Face balanced version of the Method 001. Favor this putter if you're trying to produce a straight-back-straight through stroke.

Odyssey
Odyssey Black iX 1

Perhaps Odyssey's best effort yet to eclipse the Scotty Cameron and Ping Ansers.

Ping
Ping Anser

The Anser is the putter that has been copied a thousand times - now available from Ping at a variety of prices.
Ping Redwood Anser

The design which has won more pro events than any other, now with top quality materials.
Ping Karsten Anser

Unbeatable on price and right up there for feel and design.
Ping Anser G5i

A hideous beast to look at, but beautiful to use.

Scotty Cameron
Scotty Cameron Newport 2.5 Center Shaft

The classic shape, different hosel ... but same awesome feel.
Scotty Cameron Newport 2 Studio Select

The affordable Scotty Cameron.
TaylorMade
TaylorMade Rossa Kia Ma Daytona

Good looking Anser style putter - Part of TaylorMade's resurgence as a designer of high quality putters
TaylorMade Ghost TM-110

Beautiful square-designed Anser with great aimlines - well worth a look!
TaylorMade Rossa Daytona

Well constructed Anser style putter - excellent if you're after a good putter at a lower cost - gunmetal color looks classy - feels good too!

Yes C-Groove
Yes Tracy 2 (C-Groove)

In our view the classiest Yes putter - anser-style head with the amazing C-Groove for a terrific roll.
Yes Donna (C-Groove)

Wide bodied anser-style head with the amazing C-Groove for a terrific roll.
Yes Carolyne

A straightforward heel and toe design with great roll from the C-Groove
Return to the Best-Putter.com homepage