<!body-starts-here>


<!Top headline>
Ping B60
<!Top image>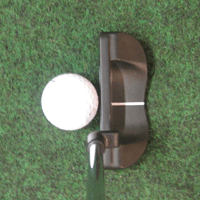 How does it look behind the ball?
The Ping B60 is one of the classic shapes of the the last 50 years in putting. Used by Nick Faldo for two of his major victories in Beryllium Copper form, it has been manufactured by Ping in many different materials over the years.

The shape of the two bulges at back of the putter is what gives it its "B" name, and you should be aware that optical research has proven that rounded shapes are more difficult to align than straight, perpendicular ones, but the long aimline on the B60 does go some way to make up for this.

<!find-best-used-price-icon>

on a Ping B60

<!geo-targeted-ebay-link> <!other-ads>


How does it feel?
For me the overwhelming feeling of the B60 is that of a ringing sound when you make contact with the ball. It's not in the same "pinging" league as some of the older Anser models whose "soundslot" make them really sing. The sound here more that of a muted bell.

But there's no delicate feel from the B60, along with this distinctive sound, which is a bit of a disappointment. This is compounded by the fact that the putter head isn't as dainty as many thinner styles of putter.


How does it roll the ball?
The ball comes off the face slowly with a fairly dull thud and this is a characteristic that you'll like if you regularly putt on superfast greens, but may otherwise disappoint you.

Nevertheless this almost unique delivery of the ball from the clubface probably accounts for why Nick Faldo used this putter to such good effect at the end of his career on the slick greens of Augusta National.








Although it has an attractive appearance and great roll, the B60 has been the lesser relation to the Anser in Ping's stable for several decades, and for my money I wouldn't opt for a B60 because of the dull feel.

The feel may well leave you unimpressed as well, but it is a great putter for slippery putts on fast greens and this alone will keep golfers buying and using the Ping B60 for many years to come.


Others to consider:



Ping Anser
The Anser is the putter that has been copied a thousand times - now available from Ping at a variety of prices.



Ping Redwood Anser

The design which has won more pro events than any other, now with top quality materials.



Ping Zing 2

A much more attractive version of the original without the copper head that oxidizes in the sun!



Ping Karsten Anser

Unbeatable on price and right up there for feel and design.



Ping Crazy E

One of the easiest putters to line up we've ever tested, but feel is hollow



Ping Anser G5i

A hideous beast to look at, but beautiful to use.



Ping 1A

The first putter Ping ever made. A collectors' piece now. Not great to use, and very loud!



Ping Scottsdale Pickemup

This cross between the Batman sign & a Star Wars fighter has surprisingly good feel



Ping iN Wack-E

A radical spin off from the successful (but hollow-sounding) G5i Craz-E



Ping Tess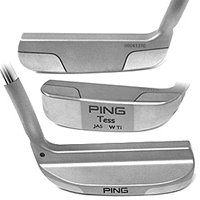 In our opinion, Ping's best effort at a blade putter



Ping IN

Technology has led the Ping designers to create a holy mess of a putter. If you love the weird and the whacky, you might (just) like this



Ping J Blade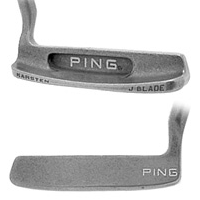 Possibly the ugliest putter Ping has ever made ... and it feels dreadful too!



Not sure if a Ping B60 is for you? Click here for our article on choosing a putter to fit your stroke. Return to the Best-Putter.com homepage




<!standard-footer-starts-here>